Where is the Thor cast now? Quire a while ago now, Chris Hemsworth picked up Mjolnir for the first time in the movie Thor, bringing the iconic Marvel superhero to the big screen as part of the biggest franchise ever.
Since then, the MCU has seen four solo Thor film and several Avengers team-ups to help us get to know the MCU character, but Asgard is so much more than just Thor. The superhero movies introduced us to a vast range of Thor characters from the comics; all brought to life by charismatic, committed, and dynamic actors.
We're bound to see some of them return ahead of the Avengers: Secret Wars release date, so it's only right that we look back at the Thor cast and characters.
Thor cast and characters:
Chris Hemsworth as Thor
Natalie Portman Jane Foster
Tom Hiddleston as Loki
Anthony Hopkins as Odin
Kat Dennings as Darcy Lewis
Idris Elba as Heimdall
Stellan Skarsgård as Erik Selvig
Jaime Alexander as Lady Sif
Chris Hemsworth as Thor
With Thor being a member of The Avengers, the 2011 movie was just the start of Chris Hemsworth's journey with the MCU. As well as appearing in three standalone sequels, The Dark World, Ragnarok, and Love and Thunder, he also appeared in various Avengers movies, including Age of Ultron, Infinity War, and Endgame.
Away from the MCU, Hemsworth has made a name for himself in the thriller movie scene with films like 2020's Extraction and 2019's Men in Black: International.
Natalie Portman as Jane Foster
From Padmé in Star Wars to The Mighty Thor, it's hard to dispute Natalie Portman's range. A year before appearing in Thor, she won an Academy Award for her role in the thriller Black Swan and got a further Academy Award nomination for her role as Jackie Kennedy in 2016's Jackie.
She's reprised the role as Jane Foster in Love and Thunder, but this time round, she's not just any female lead: she's ripped as hell, wielding the Hammer of Thor, and has become The Mighty Thor.
Tom Hiddleston as Loki
While hardly a member of The Avengers, Tom Hiddleston's portrayal of the God of Mischief was a breakout moment for both the character and the actor. Despite dying more than once in various Thor and Avengers movies, Loki just kept coming back, even leading a solo Marvel series, Loki, in 2021.
With the Loki season 2 release date to come in the near future, Hiddleston will certainly be busy, but that isn't to say he's limited to the Marvel villain. He's also starred in films like Kong: Skull Island and series such as The Night Manager and The Essex Serpent.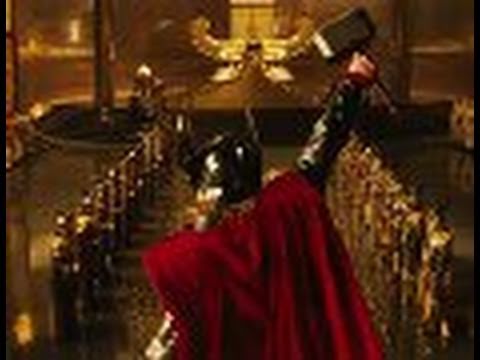 Anthony Hopkins as Odin
Anthony Hopkins is one of the most celebrated and acclaimed actors in the UK. Through his role in The Father, where he plays a father suffering from dementia, he became the oldest Best Actor winner at the Academy Awards.
He's also appeared in classics like Bram Stoker's Dracula and The Elephant Man, but in recent years, has been celebrated for his role in sci-fi series Westworld, for which he received an Emmy nomination.
Kat Dennings as Darcy Lewis
Dennings' sharp humor was a great addition to Thor, so it was no surprise that until 2017, she starred in the sitcom 2 Broke Girls, which ran for an impressive six seasons.
She then fronted the Hulu comedy series Dollface and has also lent her voice to various comedy series like Adult Swim's Robot Chicken and Big Mouth. To the delight of fans, she reprised her role as Darcy Lewis for the 2020's WandaVision and returned for Thor 4, too. We don't know where she's next showing up in the MCU, but we need her back.
Idris Elba as Heimdall
Oh, Idris… In the 11 years since Thor was released, it's no stretch to say he has become a megastar.
Part of that is due to the BBC TV series Luther, which gave him wide critical acclaim and released a movie in 2023, and his role in HBO's series The Wire, but he's definitely shown his rage in movies, too, trying his hand at everything from a racing driver in Hobbs & Shaw, a cowboy in the western The Harder They Fall, and an echidna in Sonic the Hedgehog 2.
Only Elba can be widely rumored to be the next James Bond while simultaneously playing a nude singing cat as Macavity in Cats. In the superhero world, he also appeared in James Gunn's The Suicide Squad as well as Thor: The Dark World. He's also rumored to return in the third installment of Guardians of the Galaxy.
Stellan Skarsgård as Erik Selvig
You might know him from his collaborations with Lars Von Trier or Pirates of the Caribbean — but to me, he'll always be Bill from Mamma Mia. He reprised the role in 2018 in Mamma Mia 2, and, most recently, appeared in the blockbuster Dune and the acclaimed series Chernobyl.
You can also find Stellan in the Andor cast, where he does incredible work as Luthen Rael as part of the Rebellion.
Jaimie Alexander as Lady Sif
Jaimie Alexander was Lady Sif in every Thor movie bar Ragnarok and even helped to synthesize the MCU with Agents of S.H.I.E.L.D by appearing in the TV series.
Outside of Marvel, Alexander had a leading role in NBC crime drama Blindspot, which ran for five years between 2015 and 2020.
Cate Blanchett as Hela
Hela is the goddess of death and Thor and Loki's older sister. Powerful and cruel there was a time when Hela and Odin rampaged across the Nine Realms together, conquering everything in their path. As Odin began to realize the value of peace, however, he was forced to seal Hela away as he knew her bloodthirst could never be sated.
Two-time Academy Award winner Cate Blanchett played Hela. While Blanchett's probably best known for her roles in Elizabeth, the Aviator, and Blue Jasmine, she's got an extensive filmography that includes the Oceans franchise, Cinderella, and she even played a monkey in Guillermo del Toro's Pinocchio.
Most recently, Blanchett even won more critical acclaim for playing world-famous composer-conductor Lydia Tár in Tár. You can see her next in 2024 when the Borderlands release date finally comes around.
Christopher Eccleston as Malekith
Malekith may not be the most memorable of Thor villains, but the leader of the dark elves had his moments and once he came into possession of the Aether (Later revealed to be the Relaity Stone) made him a dangerous opponent even for the strongest Avenger.
A legend in his own right, Christopher Eccleston is best known for playing the ninth incarnation of The Doctor in the BBC series Doctor Who, but he actually got his start on the stage, specifically in a Bristol Old Vic production of A Streetcar Named Desire.
Eccleston now divides his time between treading the boards and making TV and film, most notably working with Danny Boyle on Shallow Grave and 28 Days Later. You can see him next in True Detective season 4.
That's the Thor cast. We have guides to the Marvel movies in order and the Thor movies in order if you want to go even more in-depth. If you'd like to know more about the MCU, check out our guide to the Iron Man cast. Or, you can see everything we know about new movies in guides such as Thor 5 release date, The Marvels release date, and Captain America 4 release date.