When is the Sweet Magnolias season 4 release date? Although season 3 is still fresh in our minds, we're already looking ahead to when we can return to Southern Carolina to revisit some of our favorite ladies.
Sweet Magnolias, the Netflix series based on the novel of the same name, follows a trio of friends, Maddie, Dana Sue, and Helen, who go through the bumpy motions of life with the support of one another. Taking a page out of some of the best rom-coms, Sweet Magnolias shines a light on how difficult it can be to juggle romance, careers, and family.
Fans of the show have been lucky to be on the receiving end of three seasons so far, but it's not enough. When can we expect the Sweet Magnolias ladies to return, and what will happen when they do? Well, we've done some digging and have everything you need to know about the Sweet Magnolias season 4 release date. Read on!
Sweet Magnolias season 4 release date speculation
There's no Sweet Magnolias season 4 release date just yet because Netflix hasn't confirmed another season for the time being, but all signs point to mid or late 2024.
But don't panic because the third season has only just aired, having dropped on the streaming service on Thursday, July 20, 2023. Since Netflix waited two months after the first season to announce the second and three months after season 2 aired to announce season 3, we may just need to be a little patient.
Since the seasons have been pretty spread out until now, with two years between seasons 1 and 2, and roughly a year between seasons 2 and 3, we'd be willing to bet on the summer of 2024 for the continuation. (This, of course, all depends on how the 2023 Writers Strike and actors strike progresses.)
Who'll be in the Sweet Magnolias season 4 cast?
Since season 4 hasn't been confirmed, the cast list is yet to be announced. That said, we think it's safe to say that the main cast, including JoAnna Garcia Swisher, Brooke Elliott, and Heather Headley, will return as the usual trio.
Since the series has always focused intently on the tight-knit group of friends, it would make sense to see the main three return, along with their families.
Here's the expected Sweet Magnolias season 4 cast list:
JoAnna Garcia Swisher as Maddie Townsend
Brooke Elliott as Dana Sue Sullivan
Heather Headley as Helen Decatur
Logan Allen as Kyle Townsend
Anneliese Judge as Annie Sullivan
Carson Rowland as Tyler "Ty" Townsend
Justin Bruening as Cal Maddox
Chris Klein as Bill Townsend
Jamie Lynn Spears as Noreen Fitzgibbons
Dion Johnstone as Erik Whitley
Brandon Quinn as Ronnie Sullivan
Ella Grace Helton as Katie Townsend
What will Sweet Magnolias season 4 be about?
Sweet Magnolias season 4 will likely continue where season 3 left us, leaving the three friends in a much easier stead than the finale of season 2 did.
There were a lot of relationship developments during season 3, including weddings and break-ups, so we imagine these would be a central focus of the continuation. On Helen's end, she was rattled after Ryan left because he couldn't commit to staying in Serenity, even though he had just proposed to her. She left to be with her mother for a while but ultimately returned to continue her "pour it out" sessions with the girls.
Also, there's always the lingering question mark of her relationship with Erik, so whether they remain friends or spark up a romantic connection is something that we could expect to see.
Meanwhile, Maddie had been going through the ups and downs of her relationship with Cal. It wasn't easy since the two established a 'no touching' rule for the first few weeks of their relationship. That said, they got through, and Maddie is now working on a book with her daughter Katie and mother Paula, so we may well see what happens with that once they return.
Dana Sue and Robbie had a bit of a bumpy road for a while with the arrival of his crazy sister Kathy, but the end of the season saw them having their vow renewal with the whole town in tow, marking both a happy ending and a new beginning for the couple.
Is there a trailer for Sweet Magnolias season 4?
Since season 4 isn't even in production, there likely won't be a trailer until early 2024.
We'll keep an eye out for any further news and trailer drops. But in the meantime, revisit the trailer for season 3 above, and you can get a full recap of everything that went down in season 1 in the video below.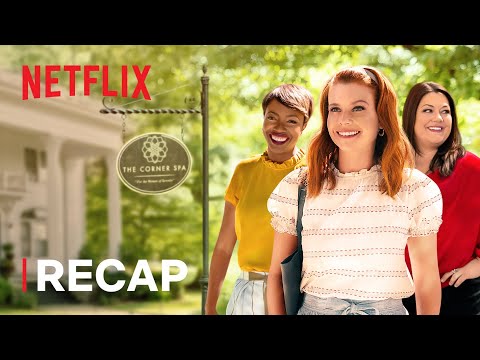 Where can I watch Sweet Magnolias season 4?
You'll be able to watch season 4 on Netflix when it eventually drops.
Thankfully, this is also where you can binge seasons 1-3. If the recent price updates have you confused, you can take a look at our guide to the Netflix pricing plan changes to see where you stand. And once you've done that, you can find out what's new on Netflix this month to see what else is available until season 4 lands.
How many episodes of Sweet Magnolias season 4 will there be?
It's very likely that there will be ten episodes of Sweet Magnolias season 4.
This is because every season until now has consisted of ten episodes, so we doubt season 4 would be any different.
That's all we know about Sweet Magnolias season 4 so far. For more on Netflix, take a look at all the best Netflix series available to watch now, so you can make sure you set your sights on some of the best TV series around. If it's the romance you like, check out our list of the best romance movies and best romance anime to watch now.
You can also take a look at everything we know about the Bridgerton season 3 release date and Ginny and Georgia season 3 release date for some more drama!