Is Saw X streaming? Jigsaw has become one of the most prolific cinematic serial killers of all time. From a small first outing to an entire series of progressively gory movies, we've watched the Saw franchise grow to something far bigger than anyone could have imagined.
With the newest Saw movie almost here, it's no surprise that one of the best movie villains of all time is getting his share of the spotlight. The Saw X release date is set to turn the tale to John Kramer and takes place between Saw 1 and 2. While the Saw franchise may not appear on some people's list of the best horror movies of all time, it's certainly grown to be as iconic as Billy the Puppet himself.
So, how can you watch the new blood-soaked outing? What traps lay ahead when it comes to the best streaming services? Well, don't panic because we've got you covered with our guide on how to watch Saw X.
Where can I watch Saw X?
The only way to watch Saw X at first will be in theaters from Friday September 29, 2023, since it's set to be a theatrical-only release to begin with.
After this, we expect to see it appear on streamers (or at least available to rent or buy on digital platforms) sometime before the end of 2023. Saw movies have always been known for being wild and spectacular when it comes to gore, so you may favor a theatrical experience to watch with friends when it comes to this one.
Is Saw X streaming?
Right now, Saw X isn't streaming, though it'll likely be available on streaming services before the end of 2023.
We imagine that Lionsgate would want to get the movie out on digital platforms before Halloween, depending on how successful the theatrical run becomes, since this is prime time for slasher movie rentals.
When it does come out, we expect it to land on Starz or Peacock, since this is where most of Lionsgate movies end up based on their distribution deal with the latter.
As it stands, most of the other Saw movies in order are available through Fubo, Peacock Premium, or Starz, with the exception of Spiral and Jigsaw. Spiral is available on Fubo and Hulu, while Jigsaw is available on Prime Video and Fubo.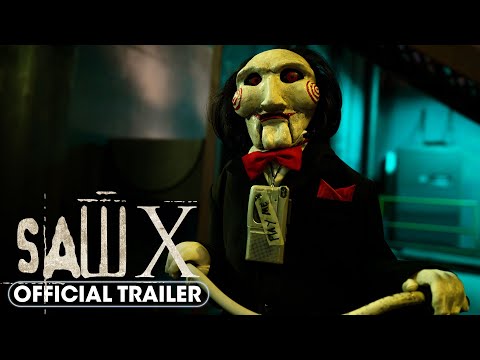 Is Saw X on Netflix?
No, Saw X isn't currently on Netflix, and it's unlikely to ever end up there.
The other Saw movies can be found elsewhere, so it doesn't look like Netflix has a streaming deal with this particular franchise. Don't worry — there's plenty else new on Netflix to justify paying the Netflix price.
Is Saw X on Disney Plus?
Saw X isn't on Disney Plus right now, and it likely won't end up on there unless the rest of the franchise becomes available on the platform.
Be honest: can you imagine seeing the Saw flicks appear next to the best Disney Plus movies? We can't, either. Horror isn't really Mickey's expertise, especially when it comes to explicit movies of this nature.
Is Saw X on Prime Video?
Good news — Saw X is likely to become on Prime Video by the end of 2023!
It'll likely become available on Prime Video as a rental or a digital purchase before it appears on any other streaming services as part of a subscription. Right now, you can rent the other Saw movies for as little as $3.99. So, if you're a fan, you might as well start that marathon now!
Is Saw X on Blu-ray?
We think Saw X will be available on Blu-ray a few months after the initial release.
If you've already got a physical Saw collection going (the movies, not the tool), then you should be able to add Saw X before long. Right now, you can buy the complete Blu-ray collection of the previous Saw movies, so it makes sense that Lionsgate would add the latest addition as an option.
There you have it — that's how to watch Saw X right now. To find out more about the new movie, take a look at our guide to the Saw X age rating and find out when Saw X takes place.
When you've done that, check out our list of the best body horror movies of all time for more toe-curling gore. We've also got a list of all the best movies to watch right now, as well as all the new movies to come, like The Exorcist: Believer release date and the Five Nights at Freddy's release date. If that's not enough, check out our feature on why PG-13 horror can be great.