Who is in the Good Omens season 2 cast? After a long old wait, Good Omens season 2 is almost here! It arrives on Amazon Prime on July 28, and several things have changed in some significant ways. Some characters have been re-cast, and some season 1 cast members are playing new roles. So, who exactly is in the Good Omens season 2 cast?
Don't worry. The two stars of one of the best fantasy series of recent years, Good Omens – David Tennant and Michael Sheen – are back. Tennant plays the black-clad demon Crowley, and Sheen plays the white-suited angel Aziraphale in the Amazon Prime series. Some fun casting details to look out for in the upcoming Good Omens season 2 release date include Tennant's father-in-law Peter Davison playing the biblical figure Job, and Tennant's son Ty playing Job's son Ennon.
Jon Hamm is also back as Archangel Gabriel but has amnesia and has gone AWOL from heaven. It's all fresh and exciting, and there is plenty to look forward to in the next chapter of one of the best TV series around. So here is the full Good Omens season 2 cast list!
Here is the full Good Omens cast list:
David Tennant as Crowley
Michael Sheen as Aziraphale
Jon Hamm as Gabriel
Nina Sosanya as Nina
Maggie Service as Maggie
Miranda Richardson as Shax
Shelley Conn as Beelzebub
Doon Mackichan as Michael
Liz Carr as Saraqael
Gloria Obianyo as Uriel
Quelin Sepulveda as Muriel
Peter Davison as Job
Ty Tennant as Ennon
Reece Shearsmith as Furfur
Mark Gatiss as Mr Harmony
Steve Pemberton as Mr Glozier
David Tennant as Crowley
Crowley is a fallen angel who was cast out of heaven during the great war (as described in the Book of Revelations). Crowley enjoys being a demon who resides on Earth, and enjoys earthly delights such as his beloved Bentley car.
He also likes to be left alone by both hell and heaven. Crowley knows that his temptations/curses cancel out the angel Aziraphale's blessings/miracles, so they come to an agreement not to do any 'work' if they can possibly get away with it. Crowley is in the dog house and is 'persona non grata' in hell after the events of season 1, and trying to keep an especially low profile at the start of season 2.
David Tennant is, of course, best known for playing the tenth doctor in Doctor Who. He is also known for the detective series Broadchurch and the Marvel Netflix series Jessica Jones. He also stars in Staged alongside Michael Sheen. His movie roles include Bright Young Things (which Sheen was also in), and one of the best vampire movies Fright Night. He played one of the best Harry Potter villains, Barty Crouch Jr, in The Goblet of Fire. Tennant has also starred in many plays, including appearing in Much Ado About Nothing opposite Catherine Tate.
Michael Sheen as Aziraphale
Aziraphale is an angel who resides on earth and has come to enjoy the finer things that earth has to offer – such as his beloved bookshop, eating in the best restaurants, and listening to classical music on vinyl. He has become close friends with the demon Crowley, and they often work together rather than as the enemies they are supposed to be. Aziraphale experiences frequent feelings of guilt and worry, in contrast to his carefree friend. Aziraphale is trying to keep a low profile after the events of season 1.
Michael Sheen is best known for playing real-life figures such as Tony Blair and David Frost. He's also known for his role in one of the best werewolf movie Underworld and for being a highlight of the Twilight cast. He starred in the TV series Masters of Sex alongside Lizzy Caplan and in Staged with David Tennant.
He is a highly lauded stage actor and has played roles such as Henry V, Amadeus, Caligula, and Hamlet. In 2011, he mounted a large-scale outdoor production of The Passion (which lasted for 72 hours) in his hometown of Port Talbot, Wales.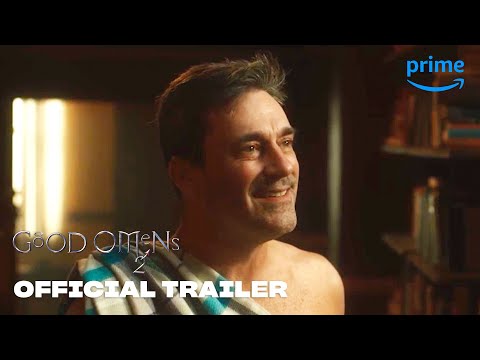 Jon Hamm as Gabriel
In season one, the Supreme Archangel Gabriel is a considerable thorn in the side of both Crowley and Aziraphale. He is seen as someone not to be toyed with and someone that you do not want to be summoned before – because, you know, that means you're in big trouble. In season 2, episode 1, Gabriel arrives at the door of Aziraphale's bookshop naked, holding a cardboard box. He has amnesia, and Aziraphale gives him the alias Jim in an attempt to hide him from both heaven and hell.
Jon Hamm is best known for playing Don Draper in one of the best TV series of all time – Mad Men. His movie roles include Friends with Kids, Keeping Up with the Joneses, Baby Driver, and Top Gun 2 (read our Top Gun 2 review for more info!). Other TV series roles include Fargo, Unbreakable Kimmy Schmidt, and Legion.
Nina Sosanya as Nina
Nina Sosanya returns to Good Omens season 2, playing the new character of Nina, who runs a coffee shop called Give Me Coffee or Give Me Death. Her shop is in Soho, close to Aziraphale's bookshop and Maggie's record shop. Nina has a partner called Lindsey, who we don't see, but who sends Nina a lot of phone messages which suggests they are controlling. Maggie has a crush on Nina, and Aziraphale and Crowley attempt to intervene in their romance. Sosanya played the completely different character of Sister Mary Loquacious in season one.
Nina Sosanya is known for the TV series Teachers, which she starred in alongside Andrew Lincoln, as well as Last Tango in Halifax, Marcella, W1A, Killing Eve, and His Dark Materials. She also has a recurring role in Staged (starring Tennant and Sheen).
Maggie Service as Maggie
Maggie Service returns to Good Omens season 2 as the new character of Maggie, a record shop owner. Aziraphale is her landlord, and she owes him thousands in rent, which he lets slip because he likes having a source for vinyl close by. Maggie has a crush on Nina, the owner of her local coffee shop. Maggie Service played the completely different character of Sister Theresa Garrulous in season one.
Maggie Service appeared alongside Michael Sheen in Quiz, about the real-life scandal surrounding Who Wants to be a Millionaire? She has also appeared in episodes of Doctor Who, Call the Midwife, W1A, and in one of the best sci-fi series – Red Dwarf.
Miranda Richardson as Shax
Miranda Richardson returns to Good Omens season 2 as the new character of Shax, a demon who is Crowley's replacement in hell and is hell's representative in London. Shax quickly becomes embroiled in Gabriel's disappearance from heaven and, along with Beelzebub, is extremely keen on tracking him down. Richardson played a completely different character of Madame Tracy in season one – a masseuse and medium who was the landlady of Witchfinder Sergeant Shadwell (Michael McKean).
Miranda Richardson has 130 acting credits across TV and film, going back to 1981. Her breakthrough role was as Queenie in one of the best comedy series of all time, Blackadder (1986). Her movie roles include Steven Spielberg's Empire of the Sun, Tim Burton's Sleepy Hollow, and David Cronenberg's Spider. She played Rita Skeeter in Harry Potter.
Shelley Conn as Beelzebub
Shelley Conn plays Beelzebub in Good Omens season 2, taking over the role from Anna Maxwell Martin. Crowley asks them, "is that a new face?" and they respond, "What, this old thing? I've had it for ages." Beelzebub has power over Crowley, and they offers him amnesty (from the trouble he got into in S1) in exchange for bringing Gabriel to hell.
Shelley Conn is currently best known for playing Mary Sharma – the mother of Kate and Edwina Sharma, in Bridgerton season 2. Other TV series she has appeared in include Mistresses, Terra Nova, The Lottery, Heartbeat, and Liar.
Doon Mackichan, Gloria Obianyo, Liz Carr, and Quelin Sepulveda as angels
Doon Mackichan and Gloria Obianyo return to Good Omens season 2 as Archangel Michael and Archangel Uriel, reprising their roles from the first season. In Gabriel's absence, Michael attempts to step up as the 'supreme' Archangel, to Uriel's chagrin. Liz Carr joins season 2 as a seemingly high-up angel called Saraqael, and Quelin Sepulveda plays the nervous Muriel. Muriel heads to earth disguised as a 'British Bobby' in episode 3.
Mackichan is a comedic actress who has worked on many of the best comedy series since the '90s, such as The Day Today, Brass Eye, I'm Alan Partridge, Smack the Pony, and Toast. Obianyo has had small roles in Dune (2021) and Mission: Impossible 7 (2023), as well as the TV series Outlander. Sepulveda appeared in the sci-fi series The Man Who Fell to Earth.
Liz Carr has used a wheelchair since the age of seven owing to arthrogryposis multiplex congenita. In episode 2, there is a scene with a group of angels behind Gabriel, who is talking to Job. Several other actors with disabilities can be seen playing angels – and this is a great addition to the second season. Carr is a stand-up comedian and actress who is known for Silent Witness and The OA. She also appears in another fantasy series – The Witcher.
Peter Davison as Job and Ty Tennant as Ennon
Good Omens season 2 has become a family affair for David Tennant. Episode 2 features a flashback to Job being tormented by both God and Satan (and therefore Aziraphale and Crowley), all in the name of a bet. Tennant's father-in-law Peter Davison, who is best known for playing the fifth Doctor in Doctor Who, plays Job.
Job's son Ennon is played by David Tennant's son Ty. Ty has made a name for himself recently by appearing in Game of Thrones prequel House of the Dragon as Aegon Targaryen. He also appeared in the TV series War of the Worlds and the movie Tolkien.
Reece Shearsmith as the demon Furfur, Mark Gatiss as Mr Harmony, and Steve Pemberton as Mr Glozier
Reece Shearsmith returns to Good Omens season 2 as a different character from season 1. He now plays a demon Furfur, who is an enemy of Crowley (as are most of the demons in hell). Shearsmith played William Shakespeare in season 1, in a scene where Aziraphale and Crowley watch Hamlet in a nearly-empty Globe Theatre.
Mark Gatiss and Steve Pemberton briefly appeared in season 1 as Nazis named Harmony and Glozier. Crowley arranges for a bomb to be dropped on the church they are in, sending them to hell. In season 2, episode 4, they are sent from hell as zombies to find evidence that Aziraphale and Crowley are in cahoots.
Shearsmith, Gatiss, and Pemberton met at Bretton Hall Theatre School and started performing as The League of Gentlemen on stage in 1994. In 1999, they transferred the show to the BBC, to great acclaim. In 2014, Pemberton and Shearsmith began the successful TV series Inside No. 9. Gatiss is the co-creator (with Steven Moffat) of the Sherlock TV series starring Benedict Cumberbatch and has written several episodes of Doctor Who.
So, that's all of the main stars who appear in Good Omens season 2. For more on the series, check out our Good Omens season 2 review, and our guide on how to watch Good Omens season 2. For more streaming picks, check out everything new on Amazon Prime this month and the best Amazon Prime movies that you can watch right now.
Or for more fantasy series, check out our guides to The Sandman cast, The Witcher cast, and the House of the Dragon cast. You may also be looking forward to The Wheel of Time season 2 release date, The Sandman season 2 release date, and The Rings Power season 2 release date.