Who's in The Wheel of Time season 2 cast? Amazon's fantasy show, The Wheel of Time, was so promising that it was renewed for season 2 before season 1 had even aired on the streaming service.
Wheel of Time has given us what we've been missing since Game of Thrones ended: an adaptation of beloved, sprawling, and ambitious fantasy novels. Along with Rings of Power season 2 and House of the Dragon season 2, The Wheel of Time's sophomore season has attempted to win the battle of the best TV series in the magical genre: a battle that is hotly contested.
Unlike Robert Jordan's novels, this guide to its second season is very accessible and very concise. Here's the Wheel of Time season 2 cast, plot, reviews, and everything else you need to know about one of the best fantasy series around.
The Wheel of Time season 2 cast
The Wheel of Time season 2 brought with it some new and expanded characters, along with a notable casting change: Barney Harris was no longer playing Mat.
Rumors abound regarding the reasons for this, but they all seemed like speculation without confirmation from any party. Harris was replaced by Dónal Finn; you might recognize him from The Witcher or How to Build A Girl.
Other characters expanded into recurring roles, including Guy Roberts as Uno Nomesta, the one-eyed soldier from the end of the last series. Arnas Fedaravicius (The Last Kingdom) also joined the Wheel of Time cast as Masema Dagar, a soldier turned prophet.
Here's The Wheel of Time season 2 cast list:
Rosamund Pike as Moiraine Damodred
Daniel Henney as Lan Mandragoran
Zoë Robins as Nynaeve al'Meara
Madeleine Madden as Egwene al'Vere
Josha Stradowski as Rand al'Thor
Marcus Rutherford as Perrin Aybara
Dónal Finn as Mat Cauthon
Guy Roberts as Uno Nomesta
Arnas Fedaravicius as Masema Dagar
Ceara Coveney as Elayne Trakand
Meera Syal as Verin Mathwin
Kae Alexander as Min Farshaw
Kate Fleetwood as Liandrin Guirale
Álvaro Morte as Logain Ablar
Emmanuel Imani as Ihvon
Hammed Animashaun as Loial
Johann Myers as Padan Fain
Priyanka Bose as Alanna Mosvani
Taylor Napier as Maksim
Jennifer Cheon Garcia as Leane Sharif
Sophie Okonedo as Siuan Sanche
Fares Fares as The Man
The Wheel of Time season 2 release date and reviews
The Wheel of Time season 2 was released on Amazon Prime Video on Friday, September 1, 2023, and attracted mostly positive reviews.
Many critics said that the second season was an improvement on the first, and proved that the sprawling fantasy had managed to find its footing. What's more, they say that the newest continuation feels more epic. That said, it's not all positive. It seems that this series doesn't quite hold a match against some of its fantasy counterparts and that the plot still feels a little blurry and the characters aren't strong enough.
Here are some review snippets:
"Wheel of Time struggles to pull itself back into focus, & while it manages to find its footing, it is plagued by the same issues it faced in season 1," said Graeme Guttmann, Screen Rant.
"To put it bluntly, the second season is an improvement on the first, not least of all because it feels more assured," wrote Kayleigh Dray, AV Club.
"The Wheel of Time Season 2 continues to embrace the riches of its source material's lore and worldbuilding, diverting from the books when it makes the most sense to but never sacrificing depth of character and overarching plot," said Carly Lane, Collider.
Is there a The Wheel of Time season 2 trailer?
The Wheel of Time season 2 trailer was released on 19, July, 2023.
You can watch it below! In the clip, we saw our first look at the show's next chapter, complete with combat and magical powers flying about. It also seemed to have a hint of horror to it too, with one shot lingering on what looked like a blood-soaked figure. Of course, sprawling landscapes and impressive set design were all part of the mix, too.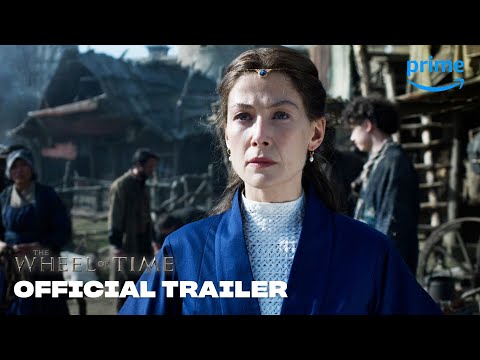 What's The Wheel of Time season 2 about?
The Wheel of Time season 2 followed new and ancient threats seeking the friends from the Two Rivers, who have been scattered. Moiraine could no longer assist them, so they had to find strength elsewhere.
In season two, things seem quite a bit bleaker, with Moiraine no longer able to guide other characters as she once did. It also saw its various factions of characters converging for one major battle. Everyone had a different purpose going forward, but we knew they would all come to unite in one way or another.
The season ended with the defeat of the Seanchan, and with Moirane using her powers to proclaim Rand as the Dragon. We also saw Lanfear vowing to protect Rand, and things were left pretty open for season 3.
Where can I watch The Wheel of Time season 2?
Like the first season, you can watch The Wheel of Time exclusively on Prime Video. The first three episodes were dropped first, with a new episode following each week until the finale on October 6, 2023.
If you've not got an account on the streaming service, you can sign up for Amazon Prime here using our affiliate link. Once you've done that, check out everything new on Amazon Prime Video this month!
How many episodes of The Wheel of Time season 2 are there?
There are eight episodes in The Wheel of Time season 2.
This matches the episode count of the first season, so there are no surprises there. I mean, why mess with a good thing, right? Also, with episodes running for close to an hour each, less is more in this case.
Check out our guide on the Arcane season 2 release date for more great fantasy. You can also read about the relatable reason Brian Cox turned down Game of Thrones, and find out about the disastrous results when we asked an AI to write a Game of Thrones sequel based around Jon Snow.
Or, if that's a little too much fantasy for you right now, you can read about all the new movies heading our way in 2023, as well as see what's on our list of the best movies of all time.