Two years ago, the Fast and Furious movies went to space. It felt like a logical conclusion for the franchise and something that had become such a meme that it basically had to get it out of its system. The best movies in this series had done everything possible on four wheels, so the only option was to strap a rocket to those wheels and send them into orbit. To be honest, it was very disappointing.
Thankfully, having conquered the final frontier, Fast and Furious 10 changes tack and, as a result, the new movie feels a lot less desperate. In fact, this might be the tightest the franchise has grasped the laws of physics in a decade. I mean, there's still a muscle car reversing out the back of a plane and an enormous explosive device bouncing through the streets of Rome like a cross between a Slinky and the boulder from Indiana Jones, but these things are relative.
This isn't a franchise trying to top itself for scale anymore, and it's all the more healthy and inventive for it. With the focus away from looking to the stars and back on terra firma, it's the best Fast and Furious movie in a long time.
Part of that comes down to its narrative simplicity. The most recent outings have sent the Fast and Furious cast hunting for all manner of baffling tech MacGuffins, in lieu of any real character depth. Fast 9 had the team hunting for two halves of a weapon, as well as a key to launch the weapon — a key that was actually a woman. You can understand why people have trouble keeping up.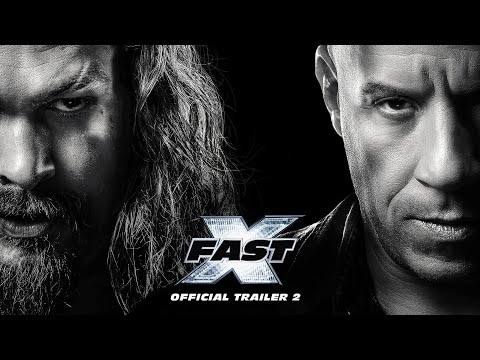 But there's none of that in Fast X. The action begins when Charlize Theron's malevolent hacker Cipher turns up at Dom Toretto's (Vin Diesel) house. Given that Dom still wants to kill her to avenge the mother of his child, that's a strange move.
However, Cipher is badly beaten and says she has "met the devil" in the shape of Jason Momoa's Dante Reyes. See, Dom killed Dante's father at the end of Fast Five, and that has made Dante so angry that he wants to systematically tear our hero's life apart by targeting his family, both biological and chosen.
That's right; more than ever before, it's about family. Dom's obsession with the word seems to have infected the world around him, with several supporting characters earnestly referring to Dom's crew as his family as if it's not a ridiculous thing to say.
It's a great example of the beautiful way in which Fast X uses its straight-faced tone as a cudgel, battering the audience into comedic submission and almost daring you to take it seriously, even for a second. No one on screen is laughing, and that just makes it funnier. To steal some social media parlance, they understood the assignment.
It helps that incoming director Louis Leterrier, who reportedly rewrote much of the script while flying to the set, has decided to focus things squarely on Dom. The increasingly enormous ensemble cast gets relatively little to do, with the yin and yang face-off between Diesel and Momoa at the center of everything. They're the two rampaging ids whose feud pulls in everyone around them, with bodies piling up in their wake.
Momoa waltzes off with the whole thing, turning in one of the best movie villains in the history of the franchise and delivering delirious camp – smiling through punch-ups, painting the fingernails of corpses, and greeting his nemesis with a curtsey. But he's also utterly ruthless and unpredictable, so his comic shtick never undercuts the level of threat he poses to everyone on screen, however fleeting their appearances.
After all, we've spent decades with the best Fast and Furious characters, so they're able to shine even with reduced roles. Tyrese Gibson is a real highlight this time around, and John Cena relishes the opportunity to ditch his super-serious villain act and embrace the goofy side we've seen in his comedic roles. At one stage, he's watching a Minions movie for reasons that are never made clear, and a crunching fight scene drops in a perfect easter egg for WWE fans.
The newbies, sadly, are a little wasted. Rita Moreno gets just a single monologue and Brie Larson, in particular, is mostly relegated to swaggering into each of her scenes wearing a different (and instantly iconic) look. Her costume team played a blinder, but she herself is mostly muscled out of the movie — and that's a real shame because she seems to be having fun as the daughter of Mr Nobody.
Of course, these are first and foremost some of the best action movies that Hollywood has to offer, and Leterrier's skill set lends itself perfectly to the job. The hand-to-hand combat is thrilling and nasty, while they're still finding different ways to turn a freeway car chase into something utterly unique.
There's still oodles of CGI, naturally, but this definitely feels more practical than other new movies in the franchise. Every somersaulting cop car and felled helicopter feels lived-in and real, which gives the over-cranked action a sense of stakes – even though Dom's still saving lives by catching people on the rock-hard hood of his car.
The aforementioned Rome sequence is utterly batshit, while the fiery climax finds time to blow up just about everything while leaving us on a big old cliffhanger for the next lap in Fast and Furious 11.
And that's certainly worth noting. This is very much the first chapter of a story we now know will take two more movies to complete. But, freed from the restrictions of having to tell a stand-alone tale, Fast X simply relaxes into something completely ecstatic and joyful. It slams the gas pedal to the floor, puts the Corona on ice, and drives off into the completely unpredictable unknown. We have no idea what will come next, but this is one family reunion we can't wait to attend.
For more from the Fast family, check out why we think the Fast and Furious movies are really a gritty Power Rangers reboot and look at how Tommy Lee Jones in Fast and Furious would've changed cinema.
We've also got everything you need to know about the most exciting 2023 movies on the way, including the Dune 2 release date and the Mission Impossible 7 release date.
Fast X review
Blockbusters don't come much more thrilling than this. It's a punch-the-air juggernaut of silliness, which sets the franchise up for a nitrous burst of a finale.