Who is in The Flash cast, and what else do we know about the latest exciting DCU flick? For one of the fastest superheroes, The Flash's first solo adventure has certainly taken its time getting to cinemas.
Sure, The Flash appeared in some of the best superhero movies, like The Lego Batman Movie and Zack Snyder's Justice League, but Barry Allen had yet to lead a DCU adventure himself, until now.
Ezra Miller picks up the signature red and gold once again for the new movie, which is a mind-bending time travel movie bringing together characters from across DC history (We" start rewriting the DC movies in order guide now). There's plenty to be excited about, so here's our complete guide to what we know about The Flash movie cast list, reviews, plot, and much more.
The Flash cast
The Flash cast is led by Ezra Miller in two roles, alongside a returning Michael Keaton as Batman and Sasha Calle as Supergirl.
Because one Batman isn't enough, The Flash cast also includes Ben Affleck's Bruce Wayne. Kiersey Clemons also finally gets some of the spotlight as Barry's love interest, Iris West.
Ron Livingston is replacing Billy Crudup as Henry Allen, Barry's father, who is wrongly convicted of murdering his wife and Maribel Verdú is playing Nora Allen. On the side of the antagonists, Michael Shannon, who played General Zod in Man of Steel, returns too.
The Flash cast list:
Ezra Miller as The Flash
Sasha Calle as Supergirl
Michael Shannon as General Zod
Ron Livingston as Henry Allen
Maribel Verdú as Nora Allen
Kiersey Clemons as Iris West
Antje Traue as Faora-Ul
Michael Keaton as Batman
Ben Affleck as Batman
Just as the rumors promised, there are multiple DC characters from across the multiverse and DC history making major cameos, but we won't be spoiling the excitement here. For a more detailed breakdown on The Flash cast, we have you covered.
What happens in The Flash plot?
The Flash is based on the Flashpoint Paradox comic by Geoff Johns, as Barry Allen tries to travel back in time to stop his mother from being murdered when he was a young boy.
Barry's attempts to save his mom have huge unintended consequences for the DCU. Ben Affleck's Batman seems to be completely erased from the timeline as well as other Justice League members who aren't alive to protect Earth.
In place of Affleck's Batman, in the new timeline Barry finds the Michael Keaton version. Similarly, in this new timeline, Henry Cavill's Superman was killed by Zod as a child, and Sasha Calle's Supergirl was kept in a government facility. Zod arrives to invade the unprotected Earth, leading to the death of Keaton's Batman, and Supergirl too.
Barry decides to reverse his change to the timeline as the multiverse begins to collapse, but the dark speedster tried to prevent this from happening and so Barry must fight a future version of himself in order to fix his mistakes for good. For more detail, check out our guide to The Flash ending explained and everyone who dies in The Flash, if you want to mourn all over again.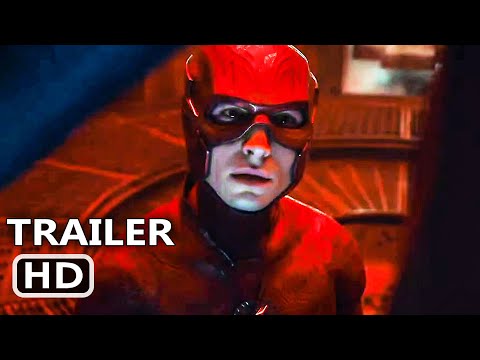 The Flash reviews
The Flash has received mostly positive reviews. Early reactions were particularly positive, and the new movie now holds a solid 67% critics score on Rotten Tomatoes, with an over 80% score from audiences.
In our own The Flash review we said it made good use of, "time travel, multiverses, an enjoyably trippy visual style, and enough cameos to make Doctor Strange blush," and that this resulted in a lot of fun. And that's what we all wanted from a Flash movie, right?
The Flash release date
The Flash is out now, having released on Friday, June 16, 2023. After multiple delays the new movie is the first release from the DCU since Shazam 2.
Next in line will be Blue Beetle, followed later down the line by Aquaman 2 before James Gunn's DCU kicks itself into gear for good.
Is there a The Flash trailer?
If you want a taste of The Flash before committing to buying a cinema ticket, there are multiple trailers for The Flash which you can check out first.
The newest trailer was released in late May 2023 and gave an even more indepth look at Keaton's Batman than before. Check it out below:
Where can I watch The Flash?
The Flash raced into theaters exclusively on Friday June 16, 2023. Several months down the line, the movie will likely hit streaming service Max (previously HBO Max) for you to revisit from your own couch.
In the meantime, check out the Aquaman 2 release date, as well as our complete guide to the upcoming slate of James Gunn DCU movies from Chapter 1: Gods and Monsters with the Superman Legacy release date, The Swamp Thing release date, and the Brave and the Bold release date.
For the biggest film fans, we've also got a guide on all the new movies coming in 2023, or broaden your horizons with our picks for the best movies of all time. Oh, and if you're curious, we've worked out how fast the Flash is exactly.