Who is Vi in Arcane? She has red hair, she punches first and asks questions later, and she has the most problematic little sister in the Undercity… she's our favorite.
Arcane's take on the League of Legends ass-kicker took some liberties and added an emotional foundation and a gritty art design, creating one of the best Arcane characters.
Netflix's adaptation of the LoL champion introduced a new version of her to the world. But there's a lot to her story in the streamer's best animated series, so here we take Jinx's colorful rocket and aim for the stars — seeking out the answers to all your questions about one of the most important cogs in the Arcane cast. This is Vi in Arcane explained.
Who is Vi in Arcane?
Vi is a rough-and-tumble brawler who is dedicated to ridding Zaun of Silco's influence and fighting for equality with Piltover. She is also an orphan and the older sister of Jinx, whom she becomes estranged from.
Vi spent most of her teenage years with Vander, who took her and her sister, then-named Powder, in after they lost their parents. Vi grew up inspired by Vander's revolt against Piltover but often felt he wasn't doing enough, so often got into trouble.
In season 1, we find an older Vi looking for her younger sister after being incarcerated. With shifting priorities, she now seeks to prevent all-out war and pull Jinx, now unstable and bloodthirsty, back from the darkness.
Vi in League of Legends explained
Vi is a playable character in the League of Legends game, described as a former criminal from Zaun who is hotheaded with a loose respect for authority. Growing up alone, Vi developed skills to survive, as well as a wicked sense of humor.
In the game, she works with the Wardens of Piltover to keep the peace, wielding mighty hex-tech gauntlets (like what we saw in the TV series) that can punch through just about anything and anyone.
What age is Vi in Arcane?
Writer Amanda Overton thinks Vi is around 14-16 years old in the first act of Arcane season 1, which means she's around 20-23 after the time jump.
Vi is older than Jinx by a few years (more on the latter in our how old is Jinx guide), and by the time Caitlyn retrieves her from prison, she is an adult.
Who is Arcane Vi voice actor?
Actor and music artist Hailee Steinfeld plays Vi in Arcane, voicing the character in every episode of the series.
You may have heard Hailee Steinfeld as Gwen in Spider-Man: Into the Spider-Verse, or seen her in one of our best TV series, Dickinson. She also starred in Pitch Perfect 2 and 3 and is Kate Bishop in Disney Plus' Hawkeye.
Vi's backstory in Arcane explained
After losing her parents in the failed revolution against Piltover, Vi was taken in by Vander. She grew up undertaking dangerous missions with her friends and little sister, Powder, often getting into fights.
The earliest we see Vi is in the opening sequence of season 1. Powder is holding onto the young teen's hand, and they walk through a destroyed city. Vander collects them, understanding that they have been orphaned by the war. As for exactly how Jinx and Vi's parents died in Arcane, there's some mystery there.
Vi grows up to be understandably angry, with more of a penchant for violence and trouble than Powder. She tries to make Powder feel included but has some stumbles along the way, which ultimately leads to the tragic events of episode 3: Vander's death at Powder's hands.
Vi and Caitlyn's relationship in Arcane explained
Vi and Caitlyn have a star-crossed lovers situation going on as they are from two totally different worlds: Piltover and Zaun. They both are fighting for the same things, however, and are now working together.
Vi and Caitlyn had completely different childhoods. While Vi grew up under oppression and crime lords, Caitlyn had a wealthy upbringing with a channel into becoming a Piltover Enforcer. This causes friction between the two, but they ultimately empathize with one another, particularly after Caitlyn comes to the realization the Enforcers are a corrupt institution. When the Arcane season 2 release date arrives, we expect the pair to spend most of the season together.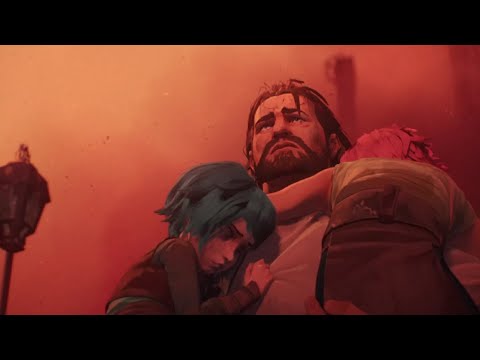 Until then, we have guides on Jinx explained, the 10 League of Legends characters we want in Arcane season 2, and more fantasy with the Warrior Nun season 3 release date.
For something else, we've also got lists of the best TV series of all time and everything new on Netflix.