Who's the killer in A Haunting in Venice? Ever since Murder on the Orient Express was released in 2017, we've been obsessed with the Poirot movies. They're really something. With an eternally stacked cast, questionable accents, and plenty of meme potential, the Agatha Christie murder mysteries are addictive.
A Haunting in Venice, the latest of new movies in the franchise, sees the famous detective Poirot encounter his trickiest subject yet: a ghost. Of course, the detective movie isn't here to prove or disprove the existence of the spiritual world, but it does give us everything we would expect from the best drama movies. Murder, suspicion, and plenty of twists…it's all there.
But as always, audiences will be keen to know: who's the killer in A Haunting in Venice? Well, we're here to solve the mystery for you, so read ahead for everything you need to know about the ghost movie. (Warning: major spoilers ahead for A Haunting in Venice!)
Who's the killer in A Haunting in Venice?
In a shocking twist, the killer in A Haunting in Venice is revealed to be the victim's own mother, Rowena Drake (Kelly Reilly), after she accidentally poisoned her daughter and staged it to look like a suicide.
That's right — the Yellowstone cast member was the killer all along! (Classic Beth Dutton.) You might be wondering how or why Rowena kills her own beloved daughter. Well, let's add a bit of context, shall we?
The movie follows Hercule Poirot (Kenneth Branagh) as he's dragged into witnessing a seance in order to uncover whether it's real or fake. It transpires that the mysterious medium Mrs Reynolds (Michelle Yeoh) was hired by Rowena Drake to try to find out what really happened to her treasured daughter after she was found thrown from the window into the canal below.
It was originally ruled a suicide, but during the seance, the ghost of the daughter comes to life and reveals that someone killed her. As you can probably guess, various detective antics ensue. Trapped in the house overnight while a storm rages, the attendees are forced to prove their innocence and avoid being picked off one by one by the vengeful spirit…or murderous guest.
By the film's end, Poirot has it all worked out. The daughter, Alicia, was engaged to be married to a dashing young man, Maxime. Rowena, driven mad by jealousy, takes the opportunity to put a leash on her daughter when she and her betrothed have a fight and she returns home. Using honey harvested by poison flowers from her rooftop garden, Rowena slowly starts to drug Alicia with tainted tea.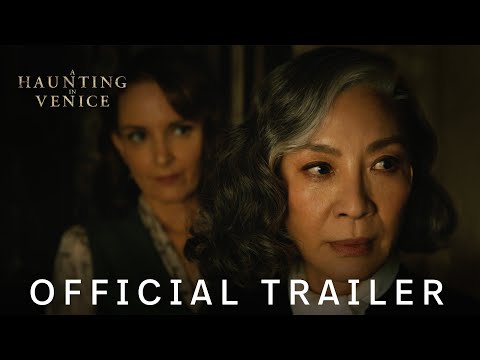 The poison causes visions and hallucinations, rendering Alicia bed-bound and traumatized. Because of this, Rowena is able to care for her and prevent her and Maxime from reuniting. However, this all goes horribly wrong when Rowena goes to bed for the night and Alicia's nurse, who is unaware of the poisoned honey, makes her a tea which causes her to overdose and die.
When Rowena discovers the body, she flings it from the window to make it look like her heartbroken daughter did it herself. Of course, there's no case that Poirot can't solve, and he winds up confronting Rowena after he realizes that he himself drank tea with the honey and had been experiencing strange ghostly hallucinations throughout the night.
There you have it! That's the killer in A Haunting in Venice, explained. For more mysteries, take a look at our list of the best plot twists in movie history and best thriller movies. You can also find out more about the A Haunting in Venice age rating, and see if there's an A Haunting in Venice post-credit scene.
Elsewhere, check out what new movies are to come with our guide to the Killers of the Flower Moon release date and Dune 2 release date. You can also get to know our list of the best movies of all time, and see which 2023 movies are our favorites.