Who is in The Night Agent cast? In 2023, Netflix took its subscribers by storm with a high-stakes show packed with espionage, action, and threats to national security. There is no denying that The Night Agent has become a bona fide hit, but you may be wondering, who are the stars behind all your favorite new characters in this thriller?
Led by Gabriel Basso as the low-level agent Peter Sutherland, The Night Agent tells the story of our hero manning a phone in the White House that never rings…until one day it does. Peter is thrown into the field and must protect a civilian while also navigating a massive conspiracy that leads all the way back to the president's people. Arguably one of the best TV series of 2023, The Night Agent is filled with talented actors. From award winners to TV legends, this Netflix series has it all.
So, without further ado, here is an in-depth look at The Night Agent cast, going over the star's careers, characters, and future in the hit show.
Who's in the Night Agent cast:
Gabriel Basso as Peter Sutherland
Luciane Buchanan as Rose Larkin
Fola Evans-Akingbola as Chelsea Arrington
Sarah Desjardins as Maddie Redfield
Eve Harlow as Ellen
Phoenix Raei as Dale
Enrique Murciano as Ben Almora
D. B. Woodside as Erik Monks
Hong Chau as Diane Farr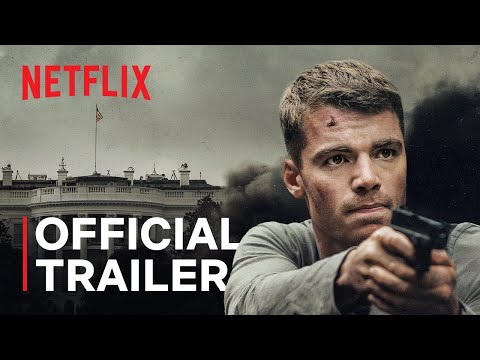 Gabriel Basso as Peter Sutherland
Peter Sutherland may have led a pretty boring life — stuck in the basement of the White House and manning a phone that never rings. However, soon the low-level FBI Agent gets more than he bargained for once he is flung into a dangerous conspiracy involving the Oval Office.
Throughout season 1, we've seen poor old Peter be put through the wringer – however, his time in the dangerous limelight isn't over just yet. Fans can look forward to seeing him return to the field in The Night Agent season 2! Gabriel Basso plays our surprised protagonist in The Night Agent and is no stranger to the landscape of TV.
In 2009, Basso starred in one of the best TV series on Nickelodeon, iCarly, and has since gone on to star in thrillers such as The Red Road and Perception. The actor has also had some big screen work, having appeared in the JJ Abrams science fiction movie Super 8 and the Keanu Reeves movie The Whole Truth.
Luciane Buchanan as Rose Larkin
Luciane Buchanan plays Rose Larkin in The Night Agent, aka the young tech entrepreneur and series rule breaker. Throughout season 1 of the Netflix series, fans saw Peter and Rose band together in a bid for survival and we couldn't help but fall in love with this character's charm in the process.
Buchanan is a firm member of the Netflix family, having starred in shows such as The New Legends of the Monkey and the fantasy series Sweet Tooth. Born and raised in New Zealand, the star has also worked on a number of short films and has even penned her own upcoming project titled Mother Tongue.
Fola Evans-Akingbola as Chelsea Arrington
We couldn't have a show involving national security without a hard-working Secret Service agent, now could we? Fola Evans-Akingbola plays the part of Chelsea Arrington in the Netflix show – the agent in charge of protecting the Vice President's daughter and determined to prove herself in a male-dominated industry.
Prior to catapulting into the acting spotlight, Evans-Akingbola worked as a model. However, she always had the acting bug, with her first credits being in the BBC series Youngers and Holby City. The star has also worked on hit TV series such as Game of Thrones, Death in Paradise and the sci-fi series Black Mirror.
Sarah Desjardins as Maddie Redfield
Being under surveillance can't be easy; neither can living in your father's shadow. Sarah Desjardins is Maddie Redfield in The Night Agent, the Vice President's daughter who struggles to live her life as a normal college student.
Desjardins knew that she wanted to act by the time she was six years old (talk about having your life together), and has already starred in a number of projects across film and TV. Fans may recognise the actor from her brilliant work across multiple horror series such as Yellowjackets, Chilling Adventures of Sabrina, and Van Helsing.
Eve Harlow as Ellen
Eve Harlow plays Ellen in The Night Agent, the highly trained assassin and Dale's partner in crime. However, Ellen isn't a total killing machine. In fact, she wants to escape her life of constant bloodshed – too bad Peter isn't too keen on letting her get away with her crimes.
Harlow is an award-winning actor, having earned recognition for her work on the drama series The Guard in 2009 and 2010. And she is still going strong, having an impressive, ongoing TV career. Harlow has worked on the Star Trek series Discovery, been a part of Marvel with Agents of S.H.I.E.L.D., and has even taken a trip to DC with her work on Titans. Fans can also look forward to seeing the star in the upcoming show The Edge of Sleep in a leading role.
Phoenix Raei as Dale
Why have one assassin when you can have two, right? Phoenix Raei plays the part of Dale in The Night Agent, a killer for hire and Ellen's romantic and work partner. But before Raei was shooting bullets on the set of the hit Netflix series, the star was a massive figure in the TV soap world.
In 2019 Raei won the award of 'Rising Star' for the Casting Guild of Australia and captured hearts in the two-season series The Heights. Since then, the actor has been deep in thriller work. In 2020 he worked on a Cate Blanchett show called Stateless, and in 2021, Raei appeared on the Netflix show Clickbait. The actor isn't slowing down anytime either, as he has recently finished work on the thriller movie Black Site.
Enrique Murciano as Ben Almora
Ben Almora is the director of the secret service and isn't afraid to throw around his title. However, let's be frank, Ben is often overshadowed by Chelsea, isn't he? Still, despite Ben's struggle to be a firm fan favourite character, Enrique Murciano plays the role perfectly and gives fans all the bravado that we need from a seasoned boss.
Besides his work with Netflix, Murciano is no stranger to playing the part of law enforcement. His best-known role is that of FBI agent Danny Taylor in the drama series Without a Trace. But besides his TV work, viewers can also see him tangled up in crime and action through his appearances in the war movie Black Hawk Down and the comedy Miss Congeniality 2.
DB Woodside as Erik Monks
Erik Monks was the best character in The Night Agent season 1; no if, buts or maybes about it. Played by DB Woodside, Erik was a veteran Secret Service agent who had an emotional character arc which proved him to be a true hero. With his dedication to protecting his chargers, and ability to cope with Chelsea's anger, Erik lived with honour and died with honour, too. (I'm not crying, you are.)
Woodside is a well-known face on TV. You may recognise him as the bass singer in The Temptations, as Robin Wood from Buffy the Vampire Slayer, or as Amenadiel in Lucifer. While it is unlikely that we will see Woodside return for The Night Agent season 2, fans can at least look forward to the star's new movie. Woodside is set to appear in The Perfect Find, which releases on June 23, 2023.
Hong Chau as Diane Farr
Hong Chau plays the role of Diane Farr in The Night Agent. Diane is the U.S. President's White House Chief of Staff and also a firm ally in Peter's corner, period. In season 1, fans saw Diane take the rookie agent under her wing as he investigated what happened to Rose's family. So yeah, without her, our protagonists wouldn't have gotten very far.
Chau is a highly acclaimed actor, with her most recent recognition being an Oscars 2023 nomination for Best Supporting Actress for her work on The Whale. Some of her award-winning performances can be seen in hit drama movies such as Inherent Vice, Downsizing, and Driveways. And Chau's Hollywood streak is still going strong.
The star's next project is one of the most exciting 2023 movies – Wes Anderson's Asteroid City. So keep your eyes on the big screen, folks.
And that is The Night Agent cast list, folks! For more top picks, here is our list of the best movies of all time. Or, for more Netflix fun, here is everything that we know about Squid Game season 2, and The Witcher season 3.