Who's in The Equalizer 3 cast? Back in the '80s, The Equalizer was one of the best action series around. So it should come as no surprise that, in 2014, director Antoine Fuqua and Denzel Washington put their heads together to work out how to bring The Equalizer to a new generation.
The result was The Equalizer, which starred Denzel Washington as Robert McCall: a retired US Marine and spy who feels compelled to put his mysterious past and dangerous skills to use in order to help people in need. Violent and stylish, the action movie received a lukewarm critical response. Still, it brought in an eye-watering $190 million worldwide against a $62 million budget.
Naturally, this commercial performance meant the studios were keen for a sequel, and when 2018's The Equalizer 2 did similar numbers, it wasn't long until a third movie was announced. So, that's where we are now. We know you're full of questions about Washington's new movie, so we've searched high and low to find out everything we can about The Equalizer 3 cast, plot, reviews, and more.
Who's in The Equalizer 3 cast?
Denzel Washington and Dakota Fanning lead the cast of The Equalizer 3 as Robert McCall and Emma Collins, respectively.
Robert McCall is a former U.S. Marine turned DIA agent who uses his vast knowledge of how to hit thugs in the face to help those who can't help themselves.
Fanning, who previously worked with Washington on the Tony Scott film Man on Fire when she was a child, stars in the movie as an FBI agent, Emma Collins. You can learn more about her in our guide to who Dakota Fanning plays.
Here's The Equalizer 3 cast list:
Denzel Washington as Robert McCall
Dakota Fanning as Emma Collins
Eugenio Mastrandrea as Gio Bonucci
David Denman as Frank Conroy
Sonia Ben Ammar as Chiara Bonucci
Remo Girone as Enzo Arisio
Gaia Scodellaro as Aminah
Andrea Scarduzio as Vincent Quaranta
Andrea Dodero as Marco Quaranta
Salvatore Ruocco as Salvatore
The Equalizer 3 release date and reviews
The Equalizer 3 release date was September 1, 2023 in the US, and August 30, 2023 in the UK. Overall, it's received generally positive reviews, and is sitting at a 92% audience score on Rotten Tomatoes.
We thought it might have been the best Equalizer movie so far, and you can read all about our thoughts in our The Equalizer 3 review. Elsewhere, critics are saying that it's a satisfying ending for Washington's run in the series, and the action (as always) delivers greatly.
"It delivers the goods, thanks to Washington's performance and Fuqua's zest for going graphic," wrote Vulture's Alison Willmore.
"Washington's swagger and charisma that compels. His face and voice, his distinctive walk, his trademark gestures — the smirk and pursed lips — are so recognizable that this journey through Italy feels like a visit with a benevolent but ruthless friend," said Variety's Murtada Elfadl.
Is there an Equalizer 3 trailer?
The first The Equalizer 3 trailer arrived on April 25, 2023.
The first glimpse of The Equalizer 3 featured plenty of ice-cool dialogue for our favorite benevolent killer. And no one can deliver those lines quite like Washington.
There's some beautiful Italian scenery, more Mafia goons than you can count, and a bit where Denzel forces the barrel of a gun into a bloke's eye socket. Wow. Watch it for yourself below: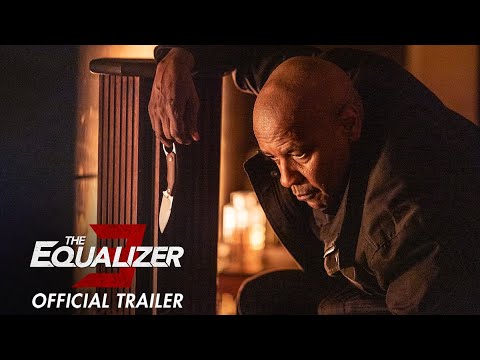 What is The Equalizer 3 plot?
The Equalizer 3 plot follows Robert McCall facing off against the Italian Mafia. That's right; our main man just can't stay away from conflict.
Sony released the official plot synopsis for The Equalizer 3 in March 2023 and confirmed that Washington is back in the firing line for the final chapter of McCall's story.
After moving on from his life as a government assassin, Robert has struggled with the things he did in his past but finds solace in serving justice on behalf of the oppressed. In Southern Italy, he finds his new friends are under the control of local crime bosses. When things get dicey, Robert decides to protect his friends and take on the mafia.
Where can I watch The Equalizer 3?
You can watch The Equalizer 3 in theaters across the country now.
It'll be a theatrical release at first, but will no doubt end up on some of the best streaming services around after a short while. The first two movies are split across platforms right now (with the first movie being on Starz and the second being on Hulu), but you can rent or buy both on Amazon Prime).
Will there be a The Equalizer 4?
Denzel Washington has said that this is his last turn as Robert McCall, meaning that this may very well be the last Equalizer movie we get.
"I don't want to say he's found happiness, and I don't want to give it all away, but he meets someone lovely, he's in a lovely town and he seems to be at peace," he told Empire. "That seems to be a good place to stop."
Director Antoine Fuqua also said: "This is it. Robert McCall, the working-man hero, at some point he's got to walk away from it. At some point someone else has to pick up the ball and serve justice. He's served his justice. He's in a foreign place, he's trying to find a home, find a place in the world. That's really what's important."
Once you've seen The Equalizer 3, check out our list of the best Denzel Washington movies or the best spy movies. You can also learn more about one of his other upcoming projects with Ridley Scott in our guide to the Gladiator 2 release date.
If that's not enough, we've got a guide to all the 2023 movies still to come, including the Killers of the Flower Moon release date and Wonka release date. We've also got a list of the best movies of all time that you won't want to skip out on.