Who's in The Nun 2 cast? The 2023 sequel brings the evil demon Valek (ie. the nun) back to The Conjuring universe for more blasphemy, frightful adventures, and nervy action.
The first The Nun may have not been our favorite of The Conjuring movies so far, but it still managed to earn some jumps from us thanks to one of the best movie villains ever, Valak.
So, with The Nun 2 now out, are any of the characters from the first film returning for new movies? Here's The Nun 2 cast list, as well as some information on the characters in what Warner Bros. hoped would be one of the franchise's best movies (update: our The Nun 2 review says it isn't)
The main The Nun 2 cast list:
Taissa Farmiga as Sister Irene
Jonas Bloquet as Frenchie
Storm Reid as Debra
Anna Popplewell as Marcella
Bonnie Aarons as Valak / the Nun
Katelyn Rose Downey as Sophie
Anouk Darwin Homewood as Celeste
Suzanne Bertish as Madame Laurent
Maxime Elias-Menet as Jacques
Taissa Farmiga as Sister Irene
Taissa Farmiga leads the cast of this sequel and is a returning character from the original. Sister Irene was a nun in training in the first movie, and when she's called to St. Carta monastery to investigate, things go south. In this sequel, connections to the past and future of the universe are revealed. Irene has a soft and kind quality to her but holds up remarkably well under pressure, demonstrating that there's no one type of hero.
Farmiga is the younger sister of Vera Farmiga, who plays Lorraine throughout the franchise. Most known for her work in American Horror Story, particularly the magic-themed season 3, Farmiga isn't a stranger to horror; she also appeared in one of the best horror movies (or at least one of the most underrated) of the 2010s: The Final Girls.
Jonas Bloquet as Maurice "Frenchie"
Jonas Bloquet stars as Frenchie. You'll recognize this Belgian actor from The Nun. He's back alongside Farmiga. Maurice "Frenchie" Theriault is a French-Canadian farmer who aided the characters in the first film. He's not done bravely lending a helping hand but unfortunately for him… Valak had other plans.
A TV and film actor, Bloquet is perhaps best known for his work in the now-cancelled Netflix series 1899. You also may have seen him in one of the more controversial erotic thrillers of the 2010s, Paul Verhoeven's Elle. Additionally, he appeared in the films Father & Soldier, Working Girls, Savage, Tonnerre, and 3 Days to Kill
Storm Reid as Debra
One of the characters situated at St. Mary's, sister Debra is one of the characters who has to survive Valak's reign of terror and face her fears in the dark halls. A defiant and reticent nun in training, Debra agrees to assist Irene, despite her shaky faith.
We have a lot to say about the talents of this young actor. Storm Reid recently blew us away as Riley in The Last of Us, and she had her breakout role in Euphoria playing Zendeya's younger sister. Movie-wise, Reid starred in Missing, the follow-up to the innovative thriller Searching, in 2022.
Anna Popplewell as Marcella
Anna Popplewell joins in a supporting role as Marcella, a school teacher at St. Mary's and the mother of ten-year-old Sophie, who we'll talk a bit more about later. Marcella also ends up having a connection with Maurice.
Popplewell is most known for her work in The Chronicles of Narnia movies as Susan, the eldest sister. Some of the best fantasy movies of their decade, she's a familiar face from many childhoods. Outside of Narnia, Popplewell starred in the CW's period piece Reign.
Bonnie Aarons as Valak / the Nun
The unrecognizable Bonnie Aarons in the role of Valak has been providing nightmare fuel since the first The Conjuring. The dark entity wears the visage of a nun in a cynical attempt to offend. Unsurprisingly, she is back in The Nun 2 spreading evil in France, and this time she has her beady eyes set on a relic.
Aarons is a perfect example of how actors can bring something to the table even behind extensive makeup or VFX. Seemingly fantastic at being creepy, Aarons was also in Mulholland Drive, appearing as the infamous jump scare figure from the start of the movie. Outside of The Conjuring, she's also been in horror movies such as Sam Raimi's Drag Me to Hell.
Katelyn Rose Downey as Sophie
Katelyn Rose Downey plays Sophie, Marcella's daughter. This is her first appearance in the universe. Sophie attends the school in the movie and is bullied by her peers at times and has trouble making friends her own age. But there's much more to her than that. We won't spoil here, but elements of her character are important to The Conjuring Universe at large.
Downey is at the beginning of her career, being so young, but she recently was in The Princess action movie with Joey King and the 2023 TV series Clean Sweep.
Anouk Darwin Homewood as Celeste
Anouk Darwin Homewood plays another young character living at the Monastery. We saw Celeste getting spooked in the trailer, and she's one of the many kids in the movie being frightened by the demonic nun, Valak.
13-year-old Bi-lingual English/French actor Homewood was also in Le Deluge in 2023. We're sure she has a bright future ahead of her.

Suzanne Bertish as Madame Laurent
Suzanne Bertish brings headmistress Madame Laurent to life. Despite her best efforts to keep the kids away from locations they shouldn't dabble, she ultimately can't prevent them from turning over dangerous stones. This is a horror movie, after all.
Bertish is an English actor who was in the Royal Shakespeare Company, appearing in numerous stage productions, including its eight-and-a-half-hour version of Charles Dickens's The Life and Adventures of Nicholas Nickleby, in which she played no less than three roles. She's got a lot of film credits behind her name, most notably Magic Mike: The Last Dance.
Maxime Elias-Menet as Jacques
There are a lot of young characters in The Nun 2, and Maxime Elias-Menet brings another to the table: Atar Boy Jacques.
Outside of this new movie, Elias-Menet is known for the films Arthur, malédiction, A Good Doctor, and 10 Days with Dad.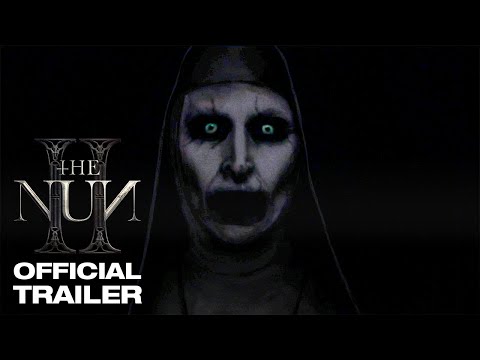 Everyone in The Nun 2 cast list:
Taissa Farmiga as Irene
Jonas Bloquet as Maurice
Storm Reid as Debra
Anna Popplewell as Kate
Bonnie Aarons as The Demon Nun
Katelyn Rose Downey as Sophie
Suzanne Bertish as Madame Laurent
Léontine d'Oncieu as Simone
Anouk Darwin Homewood as Celeste
Peter Hudson as Father Ridley
Tamar Baruch as Sister Amara
Natalia Safran as Sister Chloe
Maxime Elias-Menet as Jacques
Pascal Aubert as Father Noiret
Alexandra Gentil as Sister Astrid
Florence Mestais as Double Demon Nun
Margaux Borel as Double Demon Nun
Viviana Moin as Sister Maria
Aaron-Jon North as Demon Goat
Catch up with Valak by watching The Conjuring movies in order, or find out about The Conjuring 4 release date and The Conjuring TV series release date. There's also the likelihood of a The Nun 3 release date coming down the pipeline, so find out how to watch The Nun 2 now!
We also have lists of the best horror movies and best ghost movies for more spooks.