For those who've been waiting for the first Rebel Moon trailer to drop, you won't be disappointed. Rebel Moon marks Zack Snyder's biggest foray into an entirely new IP, and is his attempt to earn a place among the best science fiction movies. (It's been said that this is Snyder's Star Wars story. This trailer proves just how accurate that statement really is.)
The DCU director and superhero movie maestro has turned to a whole new universe to tell his next story — one that he has created entirely from his own imagination. But Rebel Moon also marks the beginning of a new era. One that will span at least two movies.
The first trailer has finally landed, and it provides a truly breathtaking look into the new world of Rebel Moon. Frankly, it's one of the coolest trailers for any of 2023's new movies. After watching this, you'll struggle to contain your anticipation for the upcoming Netflix movie.
The trailer introduces us to the collection of characters that form a rebel alliance of sorts. Leading them is Kora (Sofia Boutella), who goes in search of rebels across the galaxy to form a new opposing force against the tyrannical Mother World government.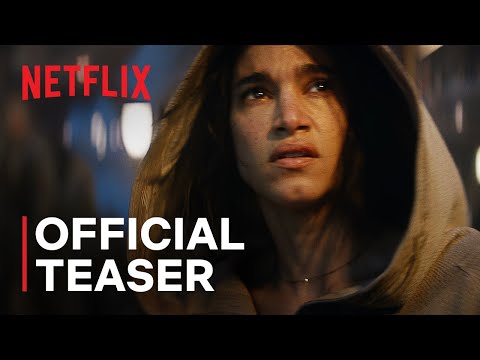 We meet Kora and see hints of her oppressed child-of-war past. Clearly, her old life is riddled with violence and grief. With her comes her band of rebels, including General Titus (Djimon Hounsou), Kai (Charlie Hunnam), and several other incredible-looking characters who show off their various skills and combat abilities.
One character who occupies a large amount of trailer time is Jimmy, a robot voiced by Anthony Hopkins. We know that Jimmy is an ex-knight who served under the fallen king of Mother World, and it certainly looks from the trailer like he has a big part to play in Kora's uprising.
Of course, part of what makes this trailer so great (and the main reason we're so obsessed) is the jaw-dropping visual style. Detailed world-building and impeccable fight sequences are previewed in the first look and, naturally, there seems to be plenty of Snyder slow-mo in this space opera.
Plus, the science fiction-inspired technology and weaponry mixed with the unique-sounding mythology and legacy of the fictional world implies that we might be looking at a Star Wars meets Game of Thrones situation here. Honestly, is there anything that sounds better? We don't think so. The countdown to the Rebel Moon release date begins.
If you're reading this, you're probably into sci-fi. You can also find out how to watch the Star Wars movies in order, and learn everything you need to know about the Star Wars cast. You can also check out the Andor season 2 release date, and take a look at all the new Star Wars movies to come.
Or, if fantasy is more your thing, check out our breakdowns of the Game of Thrones cast and Rings of Power cast. Plus, you can get to know the House of the Dragon season 2 release date. What's more, you can check out our list of the best movies of all time. If it's a long read you seek, check out the five things we want to see from James Gunn's new DCU and the one we don't.