Following the release of Oppenheimer, everyone has been raving about select members of its cast. Cillian Murphy, of course, has received praise for his harrowing, gaunt portrayal of the man who gave humanity permission to destroy itself. Robert Downey Jr. has (rightly so) been applauded for proving that he's much more than a quippy man in an iron suit. Emily Blunt came, served, and left. And then there's Matt Damon.
Matt Damon, who lingers in the background of many of Oppenheimer's most shocking scenes. He's just as present as the rest, if not more so. But not much has been said about his performance in one of 2023's best movies, and he's a neglected member of the Oppenheimer cast when it comes to critical reverence.
It seems unfair that one of the most reliable and best actors ever known isn't getting the same attention as the rest of his Oppie comrades. Damon plays General Leslie Groves, the man who enlists Oppenheimer to work on the Manhattan Project, and subsequently puts together the entire affair, enlisting scientists and building the conditions needed to house the development of the atomic bomb.
It's a role just as important as the rest, but because it lacks flair and moral complexity by comparison, it's not being talked about.
Make no mistake: I'm aware that Matt Damon does not need my defense. The man is a bona fide Hollywood superstar. But it seems apt that if we're going to wax lyrical about Downey Jr.'s compelling performance as Lewis Strauss, and sit and contemplate the casting of Diary of a Wimpy Kid's Devon Bostick, then we ought to give Damon the discussion he deserves.
Damon is there throughout the drama movie, quietly working away in a supporting role that takes on the typical Nolanian task of being the audience's guide through the complex narrative. He's neither there to give the audiences shivers of horror, nor entwine us in political debate. He's there to talk to Oppenheimer, keep everyone in check, and say cool, almost out-of-place lines like: "Let's go recruit some scientists."
Damon's Leslie Groves is there to ask questions and state the obvious. And he does it well, just as he always does. These days, he may be looked upon as a utility player. But if that's what he is, then he's the best of his kind.
Of course, all this isn't to say that Damon hasn't received the accolades he so rightly deserves. But, unlike many, he was given his flowers early in his career, having won the Academy Award for Best Screenplay alongside Ben Affleck at the ripe age of 27 for Good Will Hunting. In this sense, he was a silver screen wunderkind. Since 1998, he's only received three Oscar nominations, and won none.
During that time, he's worked on 74 pictures, in either an acting or producing capacity. That includes uncredited cameos, of which there are a few. On paper, he's done it all. He voiced one of the best animated movies of all time with Spirit: Stallion of the Cimarron. (Yes, it is one of the best, and that's a hill that anyone who's seen it is willing to die on.) He's led his own action movie franchise. He's proven himself in white-knuckle thrillers and starred in one of the best Western adaptations of the 2010s.
It's quite a feat to achieve meme status as an actor through movies like We Bought a Zoo and Jason Bourne, but to also make genuine artistic contributions to the industry. It's not an overstatement to say that he's one of the biggest movie stars around.
And yet, from an audience's perspective, his most recent roles have been to serve rather than take command. He's usually working with other cast members rather than leading them, in roles that more egotistical performers might have a problem with.
What's more, Damon never gives the impression that he wants to be anywhere other than where he is at the exact moment you're watching him. Whether it's designing sneakers in Air, breathlessly kicking ass in the Bourne movies, or occupying the empty vastness of Space alone in The Martian, he never phones it in.
Matt Damon is the cinematic dream incarnate. He's worked with the best directors of all time, including Steven Spielberg, Martin Scorsese, and Ridley Scott. He's killed it in two Christopher Nolan movies, and shone in a Coen Brothers picture. He's made us laugh in the maddest of cameos, from Thor: Ragnarok to Deadpool 2, and made us fear for the lives of everyone on-screen in The Talented Mr Ripley. And he's done it all across the years with the same gleam in his eye.
When he was young, he was a bright-eyed, enthusiastic actor who didn't have anything to prove, because he had already proven it. Nowadays, he continues to take that same soft approach. He's the most extraordinary everyman.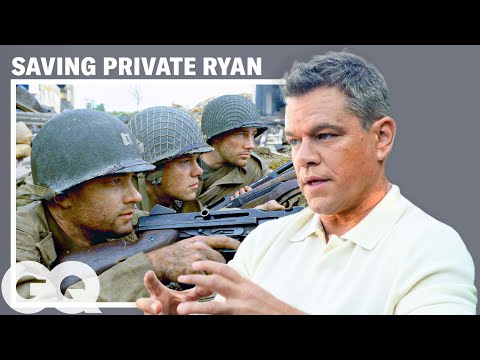 When you're watching a movie and he steps onto the screen, it's not an exaggeration to say that most would feel a wave of ease wash over them. He's your kind uncle. Your friend you haven't seen in years, but always feel familiar with. He's the gentle warm breeze on a late summer night. He's Matt Damon, and he's always going to deliver.
We love Matt Damon around here, so we've got plenty to share. Check out our list of the best Matt Damon movies and our Oppenheimer review. You can also see how Hollywood has spent around $900 billion rescuing Matt Damon in the movies.
And if you'd like to check out some other greats, take a look at our lists of the best Ben Affleck movies, best Margot Robbie movies, and best Robert De Niro movies. You can also make note of all the new movies coming out. If that's not enough, get to know the Dune 2 release date and Killers of the Flower Moon release date.