What are the best Robert De Niro movies? If we could divert your attention for a moment to recall 2014's Bad Neighbours, you'll probably remember that there's a scene included where the party-animal frat boys host a 'Robert De Niro Party'. They dress head to toe in costumes representative of De Niro's filmography, from Taxi Driver to Meet the Parents, complete with a mohawk wig and toy cat, respectively.
There's a reason Robert De Niro was the actor selected for the gag. Not because he has the best character costumes, or the joke was funnier that way, but because he's the best. The undisputed King of dramatic cinema. From intense gangster fiction to thriller movies to straight-out comedies, De Niro has range. So with that in mind, we've tried to approach his filmic history with a sense of openness and appreciation for his many different roles.
This list isn't ranked, for who are we to rank the man? We're just grateful he's been here, churning out some of the best movies ever made since the '70s, and this list is how we've chosen to pay homage to the Hollywood legend. So, without further ado, here are some of the best Robert De Niro movies.
What are the best Robert De Niro movies?
Goodfellas
The Godfather Part 2
Cape Fear
Taxi Driver
A Bronx Tale
Meet the Parents
Silver Linings Playbook
The Irishman
The King of Comedy
Raging Bull
Heat

Goodfellas (1990)
Perhaps one of his most iconic roles, everyone remembers Goodfellas as either the movie that made them love movies, or the movie that made them love Robert De Niro. There's no shortage of gangster movies within the grand cinematic universe, but Goodfellas is about as good as it gets. (Plus, it's based on a true story, which is always a bonus.)
Playing the memorable Jimmy Conway, De Niro is not only a formidable criminal mastermind and frightening mafia boss, but serves as the looming sense of danger over the film. Eternally slick and with a yo-yo-like tension that frequently keeps audiences guessing, it's clearly one of De Niro's best characters.
The Godfather Part 2 (1974)
The general consensus has always been that The Godfather Part 2 is the superior instalment within The Godfather trilogy. And we're not trying to make a point here, but it just so happens that The Godfather Part 2 is when De Niro came into the fray. …We're just saying.
Playing the young Vito Corleone, he joined the cast for the sequel and brought in a fresh new twist, aptly inserting himself into the highly-renowned drama movie. Doing what he does best and inserting his own youthful flair, he also kept on-brand with Brando's original portrayal of the patriarch.
And though the actor has Italian roots, he spent four months learning to speak the Sicilian dialect in order to accurately play the part. The dedication would ultimately pay off, as he was later nominated for and won the Oscar for Best Supporting Actor in 1975 for the role.
Cape Fear (1991)
If he didn't scare you enough with his unparalleled intensity in Taxi Driver or Goodfellas, then you're due for a viewing of Cape Fear. And if you haven't seen it, you're probably already bizarrely familiar with the concept on the basis of The Simpsons parody episode. (So, in a weird way, we have Robert De Niro to thank for one of the best Simpsons jokes: "Bartdoyouwannaseemynewchainsawandhockeymask?!")
Cape Fear is De Niro at his most vicious. As the vengeance-seeking stalker hunting down his ex-lawyer and his well-to-do family on vacation, he is the human personification of dread. Through his dark and threatening persona, we already know what he is capable of, and we really don't want to find out what will happen when he finally decides to pounce.
Quite frankly, he's nothing less than terrifying. And though the film is flanked by successful performances from Jessica Lange, Juliette Lewis, and Nick Nolte, the concept simply wouldn't have the same impact unless De Niro was there to sell the evil that lurks throughout.
Taxi Driver (1976)
If you wanted to take a quick break and peruse some 'Best Movie Quotes' lists, then we'll allow it. But we'll save you the time and let you know that the famous "Are you talkin' to me?" riff will probably appear on each and every single one you find. This perfectly delivered line is the backbone of Taxi Driver's legacy. (That, and the poster that exists on the bedroom walls of most young male film students.)
Taxi Driver is De Niro allowing himself to be gloriously unhinged, and gives us a performance that not only has value in his pitch perfect delivery and intense lunacy, but also his entire being.
His inherent twitchiness and coiled essence puts the audience on edge and keeps them there, always trying to predict what he's going to do next, and leaves us completely in the belief that we couldn't even guess if we tried. But the genius in his performance can also be found in moments where he holds back, just hinting at the madness that lays beneath.
A Bronx Tale (1993)
A Bronx Tale isn't necessarily one of the most talked-about De Niro roles, but it should be. One of the lighter instalments on his list (and directed by the man himself), A Bronx Tale puts him in one of those rare 'good guy' roles, where he swaps being a criminal mastermind for being a concerned father trying to redirect his young son from the alluring world of gangs.
An almost poetic turn, since De Niro has built a career off the back of many characters that are morally questionable at best. Now instead of joining the ranks, he's a desperate parent, pushing back against them.
And if you watch the coming-of-age film for anything, it should be for the scene in which De Niro confronts the mafia boss for trying to initiate his son into the criminal underworld, and delivers a cutting and emotionally charged speech to his son about what it really takes to be a man. It's an effective monologue, made all the better by De Niro's sincerity and deep desire to uphold the morality of the fragile world they inhabit.
Meet the Parents (2000)
As well as his turns in demanding drama, De Niro has also tried his hand several times at comedy movies. Though sometimes appearing in farces that miss the mark (such as Dirty Grandpa and Last Vegas), Meet the Parents is a perfect example of De Niro's surprising comedy instincts and how his straight-man persona can amplify the humour in a situation.
In what is perhaps the most cringe-inducing movie ever made, he plays the role of stern and secretive father figure that instantly takes a dislike to his daughter's boyfriend (played by Ben Stiller).
His cinematic criminal expertise earned through his own filmography acts as a benefit here, as he is able to play scenes of intimidation and negotiation perfectly. And at moments where the film slips into more absurd scenarios, De Niro plays into the hilarity without fault.
Silver Linings Playbook (2012)
When people consider Silver Linings Playbook, they usually think of Bradley Cooper or Jennifer Lawrence. But spare a moment to think about how De Niro's presence makes the romance movie infinitely better. It's not the first time he's played a father figure, but it's perhaps the most effective. His on-screen relationship with Bradley Cooper is fraught with underlying tension and misunderstanding, without ever pushing into the realm of the cliché or predictable.
His overly-superstitious and quick-to-criticise Pat Solitano acts as a strong supporting act for Cooper and Lawrence, and some of his scenes wind up being the most memorable in the film.
And in moments where he's working the sharp and witty dialogue, we're reminded that De Niro's talent goes beyond strongly defined characters and movies, and he knows how to blend genres and give us something we feel we haven't seen before.
The Irishman (2019)
When The Irishman was released, it caused something of a stir. Not just for its lengthy runtime, or its heavy reliance on de-aging technology, but because the Netflix movie symbolised an Endgame-style collaboration of what are essentially the Three Wise Men of the crime genre; Robert De Niro, Al Pacino, and Joe Pesci, with Martin Scorsese acting as The Star of Bethlehem. For mafia movie lovers everywhere, The Irishman was the most anticipated contribution to the genre in decades.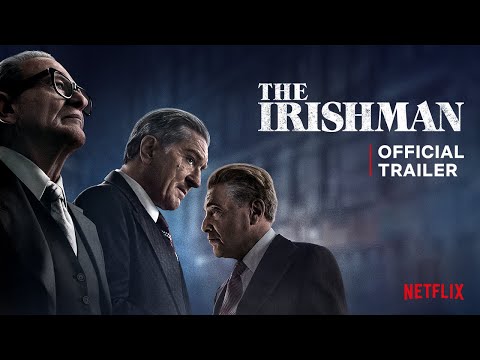 Utilising astounding de-aging technology, The Irishman's story spanned the course of decades, covering the life of De Niro's Frank Sheeran, as well as his family and those around him.
The three and a half hour long extravaganza eventually ended up dividing opinion on whether the indulgent runtime was justified, but De Niro's performance is undeniably a return to form and acts as a little treat for fans who have been waiting for him to step back into those expensive mobster shoes.
The King of Comedy (1982)
Fans of Joker will already be familiar with The King of Comedy due to the striking parallels acknowledged between the two movies (and the fact that Robert De Niro appears in both). In both films, the protagonists are tragic wannabe comedians, tortured by their own lack of self-awareness. Another collaboration between Scorsese and De Niro, The King of Comedy is a tightrope act of both comedy and crushing reality.
De Niro is both maniacal and real, delivering genuine moments of comedy while also teetering on an effective sense of pathetic-ness, swapping his usual brash personas for something a little more melancholy.
It's a film about loneliness, about reaching out for recognition, for purpose, and never quite getting there. His ability to inhabit the role of isolated Rupert Pupkin will leave you feeling uncomfortable, and never quite sure of whether you root for him.
Raging Bull (1980)
If you're a lover of the Rocky franchise, then you'll be wanting to check out Raging Bull. Not because the two sporting stories are similar in tone, but because, in a way, Raging Bull is what Rocky could have been if he had gone down the darker path (and had been based on a real-life fighter).
The Robert De Niro sports movie can be credited with igniting a love for boxing as a visual sport, the Martin Scorsese-Robert De Niro collab can be attributed for raising the bar when it comes to portraying sports on-screen, thanks to its innovative cinematography and gripping atmosphere. Make no mistake ⁠— Raging Bull is a relentless character study that, whilst brilliant, isn't the lightest of watches.
It's also a fantastic role. Jake LaMotta is torn between the best and worst of himself, and though he has the talent and determination to win, he is at the mercy of his own insecurities and lack of control. Ultimately, Raging Bull is a sports movie that skips the uplifting montages, patriotic declarations, and chart-topping motivational songs. It's raw, brutal, and unflinching, and would ultimately win De Niro the Oscar for Best Actor in 1981.
Heat (1995)
If you're a film fan who gets a kick out of artfully crafted heist scenes with unbearable tension, then Heat is an unmissable addition to this trend. In a way, it was the film that raised the bar on such a concept. Heat prides itself on its ability to cast a sense of reality and authenticity, utilising the streets of Los Angeles incredibly and dropping you right into the action. It's an action movie that can also upstage many drama movies out there.
De Niro, alongside his co-star Al Pacino, holds his own amid the frantic nature of his criminal epic, and together, they give us one of the most recognised scenes in all of history when the two meet in a diner and exchange a verbal joust that is both bubbling with unbearable tension and calmly towing the line.
There you have it! A selection of some of the best movies starring one of the best actors to have ever graced our screens. If you're looking for further deep dives into filmographies for whenever you've completed your De Niro binge, then be sure and take a look at our lists of the best Keanu Reeves movies, Michelle Yeoh movies, and Ryan Gosling movies.
And don't forget to bookmark all the new movies coming out this year.