What are the best John Wick movies? There's nothing we love more than watching Keanu do his thing. And in the John Wick movies, the thing is most certainly done.
And of course, by 'thing', we mean him using his best action movie expertise to run around and cause delicious chaos through beautifully choreographed fight sequences and high-octane narratives. For this reason, Keanu Reeves is the ultimate annihilator of the best movie villains. And with the John Wick 4 release date only just passing by, we thought it apt to take a moment and collect our thoughts on the brutal franchise so far. Check out our John Wick 4 review for more on the new movie.
From the moment John Wick decided to go on a hellbent rampage in order to avenge his beloved puppy, we were sold. So here is our collection of the John Wick movies ranked for your binging pleasure.
The John Wick movies ranked worst to best:
John Wick: Chapter 2
John Wick: Chapter 3 – Parabellum
John Wick
John Wick 4

John Wick: Chapter 2 (2017)
For the record, we love all the John Wick films: they're some of the best movies of all time within the action genre. John Wick: Chapter 2 holds its own against many others in the genre, but we have to compare it reasonably against its own brethren, hence its placement on the list.
John Wick: Chapter 2 is a serviceable bridge between the other two instalments, with its only failure being that it doesn't quite live up to the originality of its predecessor, nor the sheer perfection of its follow-up.
It succeeds in upping the ante, and pushes for more adrenaline and showmanship over the first film, but at times it gets bogged down by the prioritizing of world-building and expanding the universe. However, without this movie we wouldn't have John Wick: Chapter 3 – Parabellum, so at least it has that to boast about.
John Wick: Chapter 3 – Parabellum (2019)
Coming in next is the third film in the series. Serving as a direct continuation of the sequel, John Wick 3 jumps straight into the action with barely enough time to breathe before we're taken directly to the next step of this rocket-speed quest for revenge.
It's obvious that the franchise has found its footing by this movie, and settles on the perfect balance between emotional punches and…well, the other kind of punches. Steadily on beat, and with plenty to look at, John Wick 3 is the result of its own formula firing on all cylinders.
John Wick (2014)
It should come as no surprise that we're giving John Wick second-to-top billing. The neo-noir action flick hit the cultural zeitgeist hard and fast, stunning audiences with its original approach to the genre and giving us non-stop fun. Best of all, it knows exactly how to utilise Keanu and his star power, embedding the character in our heads forevermore.
The original relishes in the silliness without being overly tongue-in-cheek, knowing very well when it has us sincerely on the edge of our seats and when to play into its own outrageousness.
It's a tough task, to place yourself amongst the ranks of other action heavy-hitters, but John Wick stood out from day one with an unshakable sense of confidence and supremacy in both the action scenes and overall style.
John Wick 4 (2023)
John Wick 4 should have been called 'John Wick more'. It takes an already adrenaline-fuelled movie series and injects even more into it. More of what? Well, everything.
There's more fighting, more death, more action, more stunts, and – most or all – more of the movie. It has a huge runtime, and it uses that to its fullest effect. There are no moments of boredom as John Wick 4 plays out a break neck pace.
With so many set-pieces, John Wick 4 is often genuinely stunning. Somehow, the John Wick movie series has managed to peak with its fourth outing. What other franchise can say the same?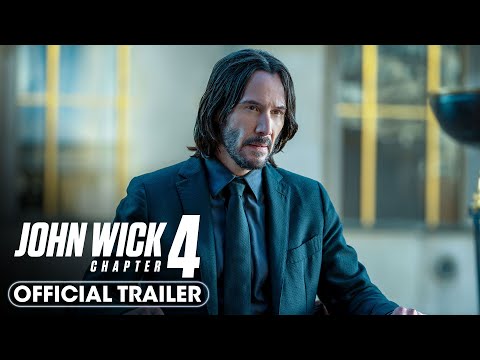 For all things Wick, be sure and check out our thoughts on the Marvel characters that Keanu Reeves could play, as well as the lowdown on who trained John Wick. You can also prepare for spin-offs with the Ballerina release date and The Continental release date.
Or find more nail-biting moments in our list of the best thriller movies, plus all the 2023 movies you should be excited about, including the Mission Impossible 7 release date and The Equalizer 3 release date.