Meet the Insidious cast and characters. Back in 2010, horror movie maestro James Wan redefined terror for a new generation when he released the terrifying Insidious, a film about ghosts, demons, and other things that go bump in the night.
It's no exaggeration to say Insidious is one of the best horror movies of the last decade or so, and it put Wan on the path to superstardom (They don't let just anyone make superhero movies like Aquaman, you know). Still, as much as we love Wan, it's impossible to deny a lot of Insidious's success is down to its wonderful cast.
So as the Insidious 5 release date has been and gone (Check out our Insidious 5 review here) and as director Patrick Wilson has brought back all of our old favorites from across the franchise (Trust us, we just finished watching the Insidious movies in order, we know this stuff), we thought it would be fun to break down the complete Insidious 5 cast as well as their characters.
The major Insidious 5 cast and character list:
Ty Simpkins as Dalton Lambert
Patrick Wilson as Josh Lambert
Rose Byrne as Renai Lambert
Lin Shaye as Elise Rainier
Andrew Astor as Foster Lambert
Joseph Bishara as the Lipstick-Face Demon
Ty Simpkins as Dalton Lambert
We met Dalton Lambert during the events of the first Insidious movie, where the sinister Lipstick-Face Demon trapped the young boy's astral form in The Further. Thankfully Dalton's dear old dad, Josh, managed to rescue him from the clawed clutches of his captor, although that wasn't the end of the story.
In Insidious 5, it looks as though the mental blocks put in place to keep Dalton safe from The Further have crumbled, and he once again finds himself tormented by friends from behind the Red Door.
Ty Simpkins played Josh in the first Insidious film, and he'll reprise the role in the new movie. You may recognize Josh from his appearances in the Marvel Cinematic Universe (he's in Iron Man 3 and Endgame) or from The Whale, which he starred in last year.
Patrick Wilson as Josh Lambert
Josh Lambert's no stranger to the paranormal. The poor guy has been tormented by ghosts and demons his entire life (Not that he remembers that). When we met Josh in Insidious, he was a firm non-believer in the paranormal, but his experiences in The Further and run-in with the Lipstick-Face Demon changed that.
Poor Josh spent the majority of Insidious 2 possessed by the murderous Parker Crane, aka the Bride in Black. Thankfully Josh was able to steal his body back, but Insidious 5 will see him come face to face with beings from beyond the veil once again.
Patrick Wilson has played Josh since the first film and is a frequent collaborator of James Wans. You'll probably recognize him from The Conjuring movies or maybe even as the DC villain Ocean Master. You'll be able to see Wilson next when the Aquaman 2 release date rolls around, and he's set to appear in the Conjuring 4 as well. You can read our interview with Patrick Wilson about Insidious 5 here.
Rose Byrne as Renai Lambert
Poor Renai, first she lost her son to a demon, then her husband got possessed by a dangerous serial killer. Is it any wonder she spends the majority of these films screaming and running in terror? That's exactly what we'd do if we lived in a haunted house.
In all seriousness, Rose Byrne does great work in these films as a distressed mother who's desperately trying to protect her kids from unimaginable horrors. Byrne is, of course, a tremendous actor and a veteran of the small and silver screen.
She's probably best known for playing Ellen Parsons in the thriller series Damages or for her work in one of the best comedy movies of recent years, Bridesmaids. You can see her next in the animated movie Teenage Mutant Ninja Turtles: Mutant Mayhem.
Lin Shaye as Elise Rainier
The psychic lynchpin of the Insidious movies, Elise Rainier, was such a popular character that the third and fourth films are all about her. Elise was critical in saving Dalton from The Further, and even when she was killed, she couldn't be stopped. Elsie returned from the next life to help Josh claim his body back from the Bride in Black. If being dead doesn't stop you from kicking ghost butt, then you know you're a badass.
A veritable scream queen, Lin Shaye's appeared in basically every horror franchise ever, most notably A Nightmare on Elm Street, Critters, Amityville, Ouija, and The Grudge. With a filmography like that, is it any wonder Wan wanted her in his movie?
Andrew Astor as Foster Lambert
The middle child of the Lambert family, Foster did not have much to do in the Insidious films so far, but to be fair, he was 10 when we last saw him, so it's not like we expected him to get in a fistfight with a demon.
In Insidious 5, Foster's the one who accidentally reminds Dalton about The Further instigating the return of the Lipstick-Face Demon. Astor's not got many credits under his belt (his last role was in Insidious 2), but we're excited to see what he does next.
Joseph Bishara as Lipstick-Face Demon
You can't have an Insidious film without a great monster, and none have ever been as terrifying as the Lipstick-Face Demon. Also known as the Man With Fire on His Face, the Red-Faced Demon, or Sixtass, it doesn't matter what you call him.
This creature is malice made manifest and spent the first movie terrorizing the Lamberts when it attempted to steal Dalton's body. While he only made cameo appearances in the sequels and prequels, there were clues this monster still had plans for the Daltons, which will finally come to fruition in Insidious 5.
Joseph Bishara is an interesting actor. He's played the demon in all the Insidious films, and seems to be Wan's go-to monster man as he's played demons and monsters in The Conjuring movies and the Annabelle films, although he wasn't Gabriel in Malignant. Fun fact, though, he's also the composer on a lot of Wan's films as well, including Malignant.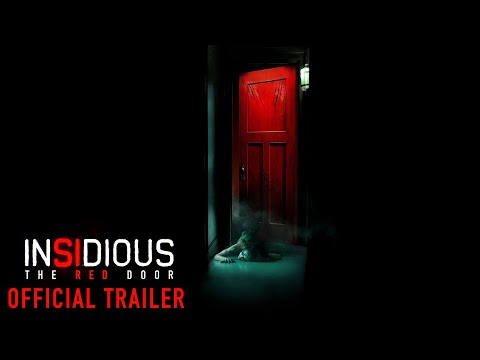 The complete Insidious 5 cast list:
Ty Simpkins as Dalton Lambert
Patrick Wilson as Josh Lambert
Rose Byrne as Renai Lambert
Andrew Astor as Foster Lambert
Lin Shaye as Elise Rainier
Joseph Bishara as Lipstick-Face Demon
Sinclair Daniel as Chris Winslow
Hiam Abbass as Professor Armagan
Juliana Davies as Kali Lambert
Steve Coulter as Carl
Peter Dager as Nick the Dick
Justin Sturgis as Alec Anderson
David Call as Smash Face / Ben Burton
Stephen Gray as Sick Kid
Robin S. Walker as Supervisor Robbins
Leigh Whannell as Specs
Angus Sampson as Tucker
Bridget Kim as Sorority Girl #1
Logan Wilson as Paige
Kasjan Wilson as Young Dalton / Young Josh
Mary Looram as Mourner (as Mary Frances Looram)
Adrian Acosta as Frat Boy #1
AJ Dyer as Frat Bro #2
Kalin Wilson as Server Frat Boy (as Kal Wilson)
E. Roger Mitchell as Dr. Bower
Dagmara Dominczyk as Priest (voice)
That's everything we know about the Insidious 5 cast right now. If you want to learn more about this terrifying film, check out our interview with the cast of Insidious, or you can read our article revealing if Insidious 5 has a post-credit scene.
If you're a big fan of Wan's work, though, you should check out our guide, breaking down how to watch all The Conjuring movies in order.
We've also got articles on all the new movies coming in 2023 and separate guides breaking down everything you need to know about the Saw 10 release date and The Nun 2 release date. Finally, check out our list of the 101 best movies ever made, and while you're at it, our list of the best ghost movies. Why? Well, you clearly like a good scare.