How do you watch the Insidious movies in order? The horror franchise jump-scared its way into our lives in 2011, and since then, we've traveled to 'The Further' four more times.
2010's Insidious came to life before James Wan was making DCU movies and directing some of the best horror movies of the genre's modern era. With inventive swooping camerawork, the use of inspired makeup and prosthetics, and a family-movie-based approach, Wan became a prolific and uniquely identifiable horror director.
The Insidious 5 release date sees the franchise go back to the original, with the first set of characters and star Patrick Wilson directing. But before we talk about any new movies, let's revisit the Insidious timeline and look at how to watch the Insidious movies in order. We've got you covered with the release order (our recommended viewing order) and the chronological order, too.
How to watch the Insidious movies in chronological order:
Insidious: Chapter 3
Insidious: The Last Key
Insidious
Insidious: Chapter 2
Insidious: The Red Door
Insidious: Chapter 3 (2015)
Where to watch: Apple TV, Amazon Prime Video
In terms of the Insidious timeline, chapter 3 is the very beginning. It's not the best of these movies, which is why we recommend the release order if you're marathoning them to avoid starting off on bad terms.
But, it is first in chronological viewing order due to being a prequel to the original. Set in 2007 (3 years before 2011's Insidious) and following a different family being stalked by demonic entities, Chapter 3 finds its footing in the excellent Lin Shaye: a franchise staple who plays the psychic Elise Rainier. Leigh Whannell directs because Wan was off making Fast and Furious 7 at the time of production.
Insidious: The Last Key (2018)
Where to watch: Apple TV, Amazon Prime Video
The fourth movie released but second in the chronology is The Last Key, which again changed directors. This time, Adam Robitel is at the reigns. At this point, we're quite excited to get to the other films. But if you're anything like us, you'll power through because there's something really unusual about watching movies in order like this.
The Last Key casts a new group of characters and has a nifty flashback to 1563, where we get some backstory for Elise. As we said, she's a staple! In the present, she receives a cold call from the man living in her childhood home. Spoilers, the home is haunted.
Insidious (2011)
Where to watch: Max, Netflix, Amazon Prime Video
The original movie, and the best one, was shot in under a month for an impressive $1.5 million — an example of how the 'cheap' reputation horror films have can sometimes be a lucrative boon rather than a fault.
Insidious follows the Lambert family after they move into a new home. Josh (Wilson) and his wife Renai (the fantastic Rose Byrne) aren't even done packing boxes when their son Dalton (Ty Simpkins) falls into a coma. Turns out, his spirit is trapped in The Further: a limbo between this world and the next. Worse news, demons are clamoring for his body. The film is inspired massively by Poltergeist, both in its family unit storytelling and supernatural concepts.
We'll warn you, though, it's considerably colder in tone and aesthetic and responsible for many of our nightmares. It has earned a reputation as being the jumpscare movie. Like those or not, it's the finest on this list.
Insidious: Chapter 2 (2013)
Where to watch: Max, Apple TV, Amazon Prime Video
Thankfully, we're back with the Lamberts for this sequel, as is Wan. Chapter 2 follows on from the original movie's terrifying cliffhanger ending (Need a clip? We've got one below).
In this story, the family moves in with Josh's mother (Barbara Hershey), attempting to recover from the events of the first movie. Chapter 2, surprisingly, also ends on a cliffhanger. This sequel isn't as highly rated as the original, but it retains the spirit of it and has Wan's direction to its credit.
Insidious: The Red Door (2023)
Where to watch: In theaters now
The Lamberts are back, and their little lipstick-faced friend has returned to give them hell once again. Skipping forward several years, The Red Door finds Dalton on his way to college. Although he's all grown up, his demonic troubles haven't quite been left behind. Both he and Josh no longer have any memory of The Further but, as you can imagine, that doesn't last long.
This new installment is significant for many reasons, but most notably because Patrick Wilson is now sitting in the directors chair. With a member of the Insidious 5 cast at the helm, we think this movie earns another level of value and is definitely one for the fans.
If you've seen the movie and need a refresher, we've got you covered with our guide to the Insidious 5 ending explained. You can also check out our interview with Patrick Wilson, where we asked him about the most important Insidious question: Will there ever be a musical?
Now, as for the other viewing option…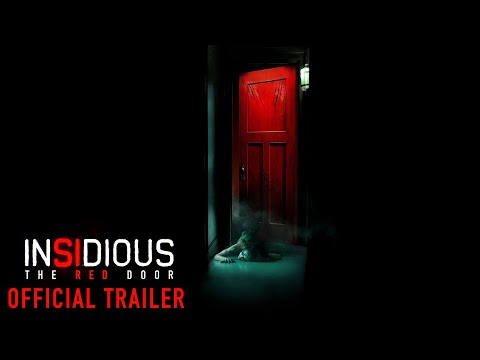 How to watch the Insidious movies in order of release:
Insidious (2011)
Insidious: Chapter 2 (2013)
Insidious: Chapter 3 (2015)
Insidious: The Last Key (2018)
Insidious: The Red Door (2023)
That's all of the Insidious movies. How you watch them is up to you, but however you do it, have some holy water with you.
For more scares, check out the best vampire movies, best werewolf movies, and the best movies of all time. You can also check out our guides to The Exorcist: Believer release date, and check out how to watch all The Conjuring movies in order.