What is the Dungeons and Dragons movie release date? Dungeons and Dragons is one of the most influential tabletop roleplaying games, period. And fans have been dying to see a decent fantasy movie based in the Forgotten Realms for years. Following the last box office flop, aka the 2000s D&D movie starring Jeremy Irons, and its equally lacklustre sequels in 2008 and 2012 – finally, we have a new adaptation in cinemas, titled Dungeons & Dragons: Honor Among Thieves.
Directed by the creators of Game Night, Jonathan Goldstein and John Francis Daley, the new Dungeons and Dragons movie sees a bunch of adventurers battling puzzles, monsters, and of course, some fire-breathing reptiles on their dangerous quest for a lost relic. But who are these players? What is their mission exactly?
Like any good Dungeon Master, The Digital Fix has done its homework and is ready to walk you through the new fantasy movie. From the new Dungeons and Dragons movie release date, cast, trailer, and more, here is everything you need to know about Dungeons & Dragons: Honor Among Thieves.
Dungeons and Dragons movie cast
The Dungeons and Dragons movie cast is stacked with A-listers, all of which are playing a different class type. If you are unfamiliar with D&D gameplay, during the character creation stage, one of the steps is you picking a D&D class that you want to embody on your adventure, e.g. a Wizard, Cleric, or Fighter.
You shall not pass! Best Lord of the Rings characters
The main group of adventures are Chris Pine as the Bard Edgin, Regé-Jean Page playing the Paladin Xenk, Michelle Rodriguez as the Barbarian Holga, Justice Smith as the Sorcerer Simon, and finally, Sophia Lillis will be playing the Druid Doric.
Here is the cast list for the Dungeons and Dragons movie:
Chris Pine as Edgin Darvis
Michelle Rodriguez as Holga Kilgore
Regé-Jean Page as Xenk Yendar
Justice Smith as Simon Aumar
Hugh Grant as Forge Fitzwilliam
Chloe Coleman as Kira Darvis
Daisy Head as Sofina
Jason Wong as Dralas
Rylan Jackson as young Xenk
Hugh Grant plays the main villain and rogue Forge Fitzwilliam, while Daisy Head and Chloe Coleman play the Red Wizard Sofina and Kira Davis, respectively.
Is there a Dungeons and Dragons movie trailer?
Yes! In July 2022, a trailer for Dungeons and Dragons: Honor Among Thieves was released, and it is filled with action, special effects and star power.
In the clip, we see Chris Pine, Regé-Jean Page, Michelle Rodriguez, Justice Smith, and Sophia Lillis as the main gang of adventurers setting out on a new campaign for some lost treasure.
The gang faces off against multiple monsters and puzzles, and we even get a glimpse at the movie villain – Hugh Grant. It is all very spicy, and if the footage is anything to go by, DnD fans won't be disappointed by the spectacle of it all.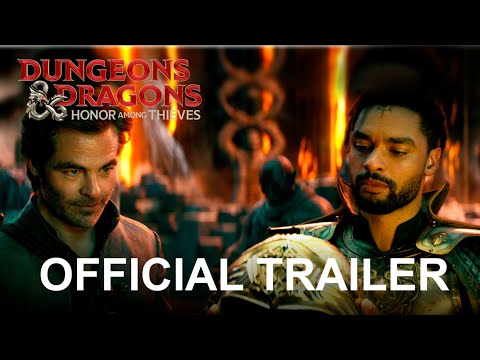 The final trailer dropped just days ahead of the movie's release date in March.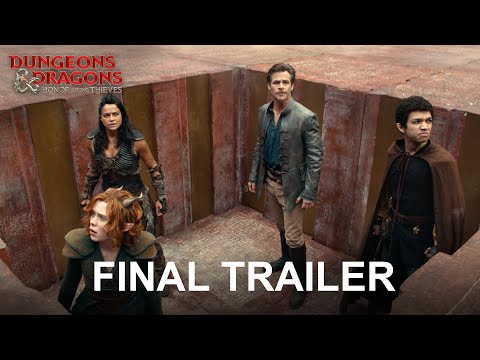 Dungeons and Dragons movie release date
Dungeons & Dragons: Honor Among Thieves hit theatres on March 31 2023, in both the UK and the US.
Our own Emma-Jane Betts had a great time with the adventure movie describing it as a "true adaptation of the DnD experience. You can read her full Dungeons and Dragons movie review here.
Don't take our word for it, though. The film currently sits at an 89% critic score on Rotten Tomatoes and 72% on Metacritic.
Dungeons and Dragons movie plot
The Dungeons & Dragons: Honour Among Thieves plot follows Edgin and a party of adventures on a mission to stop the Red Wizards and reclaim an ancient relic.
Our band of morally dubious heroes will traverse the lands of the Forgotten Realms and explore dangerous dungeons in the hope of retrieving the 'tablet of reawakening while also trying to survive a swarm of powerful enemies.
A dungeon run: Best action movies
The official synopsis for Dungeons & Dragons: Honor Among Thieves reads: "A charming thief and a band of unlikely adventurers undertake an epic heist to retrieve a lost relic, but things go dangerously awry when they run afoul of the wrong people."
"Dungeons & Dragons: Honor Among Thieves brings the rich world and playful spirit of the legendary roleplaying game to the big screen in a hilarious and action-packed adventure."
And there you have it! Everything we know about Dungeons and Dragons movie. If you want to delve into the forbidden lore of spoilers, then give our Dungeons & Dragons: Honor Among Thieves ending explained article a read, or we have a guide explaining if the Dungeons and Dragons movie is streaming.
For more fantasy fun, here are our guides to everything we know about The Rings of Power season 2, Dungeons and Dragons 2 release date, and The House of Dragon season 2 release date.
If you want to know more about all the wonderful new movies coming in 2023, then we've got you covered. Or head to our sister site Wargmer to read about the Best Dungeons and Dragons movies that you can watch right now.