It has long been the dream of fantasy fans and tabletop players that a decent Dungeons and Dragons adaptation would hit the big screen. Yes, there have been a few attempts over the years to bring The Forgotten Realms to life, but none of these past films managed to capture both the lore of the franchise or the fun of roleplaying a DnD campaign – until now.
Directed by Jonathan Goldstein and John Francis Daley, Dungeons & Dragons: Honor Among Thieves is an adventure movie that manages to harness the spirit of tabletop roleplaying among friends while also pulling us into a vibrant, fantastical journey. Instead of diving into established campaigns or DnD lore, the script follows a new straight forward and easily digestible narrative that both fans and newbies can sink their teeth into.
Edgin Darvis (Chris Pine) lost his wife to a Red Wizard due to his past greedy antics while working as an underpaid Harper. After losing the love of his life, Edgin and his barbarian friend Holga Kilgore (Michelle Rodriguez) take care of his daughter Kira (Chloe Coleman), turning to a life of crime with a party of fellow swindlers. However, during one mission to retrieve the tablet of reawakening – in hopes of reviving his late wife – Edgin is betrayed by his friend Forge Fitzwilliam (Hugh Grant).
With the help of the incredibly eery Red Wizard Sofina (Daisy Head), Forge makes away with the treasure and becomes Kira's guardian as Edgin and Holga are arrested. Dungeons & Dragons: Honor Among Thieves is essentially a retrieval story, as Edgin fights to reunite with his daughter and reclaim the tablet.
However, no quest is easy when it comes to fantasy movies, and our heroes must seek the help of a sorcerer and druid as well as uncover the Red Wizards' dastardly plans to get their happily ever after.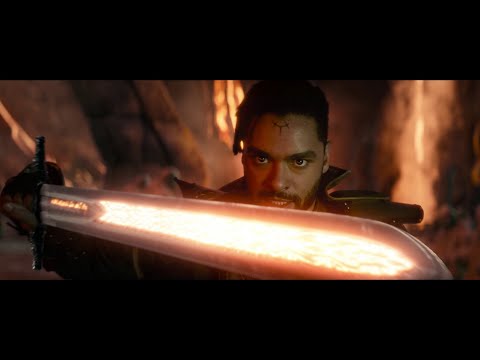 While the plot point regarding child abductions is terribly serious, Dungeons & Dragons: Honor Among Thieves is, first and foremost, a comedy movie that promotes fun and a sense of wonder above all else.
Every actor embraces their DnD class stereotypes, with Grant especially hamming up the role of a noble Rogue baddie to a delightfully absurd level. Throughout the film, we travel to various locations, meet different DnD races and see classic DnD spells and combat moves come into play before our eyes.
In short, the new movie is packed with love and reverence for the game, which pays off massively for fans. Close to every basic aspect of DnD is explored, with the source material and world-building shining brightly as the flick's main stars. As a fan, it is hard not to scream with delight when you see 'Chain Lightning' being cast or characters fumbling during pivotal combat moments – resembling saving throws.
Goldstein and Daley perfectly craft a balance of serious action plot points with hilarious self-referential humour – making our adrenaline spike as our bellies ache with laughter. However, Dungeons & Dragons: Honor Among Thieves – for all the fun that it is – still has plenty of flaws.
Exposition tends to be stuffed in flashbacks, slowing down the pacing of the main quest. Similarly, while it is a blast seeing multiple locations in the film, the sharp cuts to new towns and dungeons in the action movie give you narrative whiplash and breaks the flow of the overall journey. It should also be said that while there are plenty of hilarious jokes, the film isn't without some stale one-liners either.
However, it is easy to look past the clunkiness of Dungeons & Dragons: Honor Among Thieves as the cast constantly pulls viewers back in with their commitment and evident enjoyment of the roles they are playing. Be it the charismatic stylings of Pine's bard, or the rage-filled attacks of Rodriguez's barbarian – it's impossible not to be entertained.
Dungeons & Dragons: Honor Among Thieves is a perfectly imperfect movie made for the fans. It is an undeniable hoot and a half that, apart from the odd Owl Bear, will please most tabletop role-players.
Dungeons & Dragons: Honor Among Thieves hits cinemas on March 31. For more fantasy, here is our list of the best Lord of the Rings characters, and everything you need to know about The House of the Dragon season 2 release date.
Dungeons & Dragons: Honor Among Thieves review
Dungeons & Dragons: Honor Among Thieves is a film for the fans and finally offers a true adaptation of the DnD experience.