What are the best new movies at the Cannes Film Festival 2023? One of the most glamorous events in the cinema calendar is almost upon us, with the great and the good of Hollywood set to swagger through sunny France with their latest movies in tow.
We'll be bringing you plenty of reviews and reactions for the new movies debuting in Cannes, but first we're taking a look at the best movies arriving at the event. There are blockbusters, awards season contenders, several of the best A24 movies on that distributor's catalogue, and a handful of returns for beloved auteurs.
There's a lot to keep track of, so we've put together this list of the Cannes Film Festival 2023 movies we can't wait to see. Dive in and soon you'll know which 2023 movies to add to your watchlists for when they finally arrive in cinemas or on the best streaming services.
Cannes Film Festival 2023 movies we can't wait to see list:
Killers of the Flower Moon
Indiana Jones 5
Asteroid City
Elemental
The Zone of Interest
May December
Monster
Occupied City
Firebrand
Club Zero
Killers of the Flower Moon
It's a Martin Scorsese movie. Need we say more? Well, if we must, then it's worth pointing out that this sprawling epic unites Scorsese's two most devoted collaborators, Leonardo DiCaprio and Robert De Niro.
It's also vying to be one of the best movies based on a true story, as it follows the investigation into a series of murders of Native American people in the 1920s. Expect to talk about this movie a lot between now and the Oscars, especially as we get closer to the Killers of the Flower Moon release date.
Indiana Jones 5
We're all very excited for the Indiana Jones 5 release date later this summer, but Cannes audiences will get to see the return of the Indiana Jones movies a little earlier than the rest of us thanks to the festival's regular blockbuster slot.
Harrison Ford is back in the fedora for the final time, with a rollicking adventure set against the backdrop of the 1960s Space Race. Yes, please!
Asteroid City
Wes Anderson's uniquely recognisable aesthetic is having a bit of a moment on TikTok right now, just as the director's new movie is making its way to Cannes. It follows the events around a stargazing convention at a fictional desert town in the USA.
Of course, this is an Anderson joint and so it has an ensemble cast packed with just about every A-lister under the sun. Expect over-saturated colours, symmetry, and extravagant sets.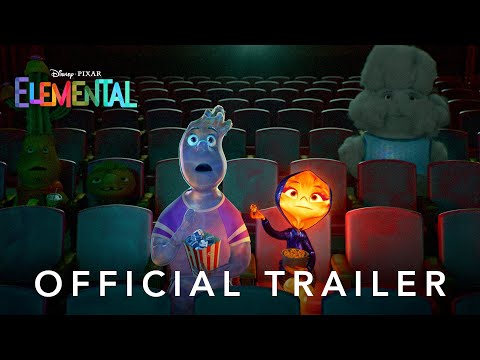 Elemental
The best Pixar movies appeal to parents and children alike, marrying broad emotional swings with intelligence and wit. In the studio's 27th feature, characters representing the major natural elements live in a society damaged by prejudice between the different groups.
A fire element and a water element meet and fall in love, despite the less-than-progressive attitudes of their families. It's Romeo and Juliet with anthropomorphised flames, and it could be one of the best family movies of the year.
The Zone of Interest
Jonathan Glazer's last movie came out a decade ago, with Under the Skin quickly minted as one of the best science fiction movies in years. He's now coming back to our screens with The Zone of Interest, based on Martin Amis's novel of the same name.
The story of the book is told by three separate narrators and is set at Auschwitz during the Second World War, following a Nazi officer who falls for the wife of the camp commandant. It's unclear at the moment how closely Glazer's film will follow the narrative of the novel.
May December
This new drama from Todd Haynes unites two of the best actors on the planet for a knotty tale of converging identities. Julianne Moore plays a woman who married a much younger man 20 years ago, bringing about a tabloid sensation. In the present day, Natalie Portman arrives in the role of an actor who will soon play Moore's character in a movie about the scandal.
The potential for psychological twists and moral murkiness is certainly there, and you can't go far wrong with two stars of this calibre.
Monster
It's always worth celebrating a new movie from Japanese filmmaker Hirokazu Kore-eda. Monster is a knotty drama in which a mother (Sakura Andō) discovers that her son's strange behaviour is connected to one of his teachers. Naturally, it's all more complicated than that.
Kore-eda won the Palme d'Or at Cannes for his outstanding movie Shoplifters in 2018, and he'll be hoping to repeat the feat again five years later.
Occupied City
British filmmaker Steve McQueen has spent the next decade or so making bold and fascinating movies about very complex characters and situations. His 2020 television anthology Small Axe handed plum roles to Letitia Wright and John Boyega.
His latest is a documentary about the occupation of Amsterdam during the Second World War. According to the Cannes website, it's almost four and a half hours long, so we can safely assume that McQueen has left no stone unturned in telling this story.
Firebrand
Another of the best movies based on books set to appear at Cannes in 2023, Firebrand tells the story of Katherine Parr – the sixth and final wife of Henry VIII. Oscar-winner Alicia Vikander is playing Parr, while Jude Law is stepping into the role of Britain's most famous king.
It's another contender for the Palme d'Or and it has a glittering cast, with Sam Riley, Simon Russell Beale, and Eddie Marsan also there along with the two main stars.
Club Zero
Writer-director Jessica Hausner competed for the Palme d'Or back in 2019 with her fascinating curio Little Joe, in which Ben Whishaw found himself a long way from Paddington. She's back four years later with the unusual thriller Club Zero, in which Mia Wasikowska plays a teacher in the midst of shocking events after she bonds with five students. Expect darkness, and things which are never as they seem.
So that's everything you need to get ready for the Cannes Film Festival 2023. For some further reading, check out our guides to some of the biggest movies of the year, including the Dune 2 release date, The Marvels release date, the Oppenheimer release date, and the Barbie movie release date.