What's the Barbie movie ending? It's here. So, as they say, come on Barbies, let's go party! There's a lot to look at and plenty going on in Barbieland, and the ending might leave you wondering what exactly happened to our favorite Barbies and Kens.
Barbie is likely to mark a new era of the best feel-good movies based on toys. At least, it will from Mattel. But it's certainly proved itself as one of the most enjoyable new movies of this year, and our Barbie review speaks for itself on that matter!
Now that the Barbie release date has arrived, you may have a few lingering questions about what exactly went down at the end of the one of the best Margot Robbie movies. Well, don't worry, because we've got everything covered in our Barbie ending explained. Warning: this Barbie has spoilers!
Barbie movie ending explained
The Barbie movie's ending begins in earnest when Barbie (Margot Robbie), Gloria (America Ferrera), Sasha (Ariana Greenblatt), and the few Barbies in hiding — and, of course, Allan — come together to take down the patriarchy of Kendom and free the other brainwashed Barbies.
To do this, they take a page from Gloria's book, since she managed to shake our protagonist Barbie out of her existential crisis by affirming that womanhood is, in fact, hard.
Together, the Barbie freedom team plot to pick off the brainwashed Barbies one-by-one by distracting their Kens. Together, they work through President Barbie, Doctor Barbie, and the rest by acting helpless in front of the Kens. Finally, they manage to reprogram each and every Barbie in Barbieland. Now, their task is to take down their male counterparts. They realize that the only way to do this is to make the Kens turn on each other.
Barbie, who pretends to forgive Ken (Ryan Gosling) and accept the role of being his girlfriend, tricks him by pretending to text other Ken (Simu Liu), which makes him unfathomably jealous. He and his two buddy Kens plot to begin a Ken war on the beach the next day. (…It's a lot, we know.)
The Ken War begins, which is told through an '80s power ballad performed by main Ken. When the Kens finally realize what unites them all (the fact that they are Kens), the fighting stops. The Barbies use the time in which the Kens are distracted to go and sign their Barbie constitution, which saves Barbieland. Finally, power is restored.
The Kens return to the dreamhouses, only to find everything has been changed back. Main Ken has a breakdown and runs upstairs in tears. Barbie comforts him, and tells him that in order to find peace and self-love, he must come to terms with who he is outside of being an accessory to her. Ken has an epiphany, and is happy again.
Meanwhile, the Mattel board members, who have followed them into Barbieland, appear. They say that they can restore Barbieland back to normal, but President Barbie tells them that they don't want to forget. By forgetting about Kendom and the patriarchy, they would also forget everything they've learned.
The Barbies and Kens are happy to accept things as they are. But main Barbie is still unsettled. Knowing what she now knows, how can she ever go back to being Stereotypical Barbie ever again? Ruth, the creator of Barbie she met earlier at Mattel, shows up. She takes Barbie by the hand and the two step into an otherworldly space, surrounded by emptiness.
Barbie tells her that she wants to be a human so she can experience emotion and life. Ruth tells her that being a human isn't always what it's cracked up to be, and shows Barbie a vision of young girls growing up. But Barbie still wants to leave her life of plastic behind, and Ruth tells her that she can do so at any time. Barbie accepts this and Ruth disappears, leaving Barbie to fade away into a white light.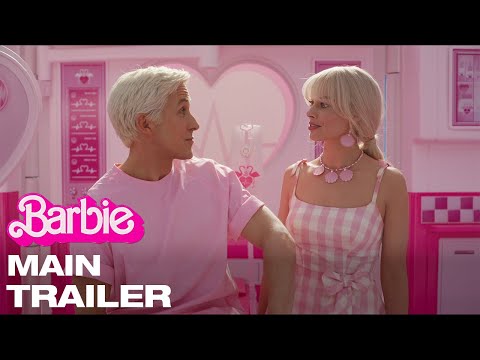 We flash forward some amount of time. Barbie, now human, is back in the 'real world', with Gloria, her husband, and Sasha in the car. They're dropping her off at an undisclosed location, and Sasha tells Barbie how proud she is of her. Barbie steps out of the car in perfectly pink Birkenstocks, and goes into a fancy-looking office building. The receptionist asks her why she's there, and Barbie reveals that she's there to see…her gynecologist. She has genitals now. Yay!
Well, there you have it! The Barbie ending all laid out. If that's not enough, you can check out our guides on whether Barbie has a post-credit scene, everything we know about the possibility of a Barbie 2 release date, and everything you need to know about the Barbie cast! We've also explained why Barbie caused a worldwide shortage of the color pink.
And, for Barbie's slightly more harrowing counterpart, take a look at our Oppenheimer review, and see if we've already added either of these competitors to our list of the best movies of all time!