Who's in the Warrior Nun cast? From canceled cancellations, exciting movie announcements, and a season 2 finale that had us on our knees (and not in prayer), there is never a boring day in the life of a Halo Bearer.
The Warrior Nun actors are an eclectic bunch, with a mix of exciting newcomers in the industry from across the globe creating a deep bench of characters who run the gamut from saviors to demons. With the news of three planned movies happening instead of Warrior Nun season 3 on Netflix, let's revisit the best characters.
If you want to know what the Warrior Nun cast has been in, what new movies the actors have got lined up, and more fun facts, here's our guide, written with fans in mind. The Warrior Nun fan campaign worked, so we'll hopefully see all of them on screen again.
The main Warrior Nun cast list:
Alba Baptista as Ava Silva
Toya Turner as Shotgun Mary
Lorena Andrea as Sister Lilith
Kristina Tonteri-Young as Sister Beatrice
Tristán Ulloa as Father Vincent
Thekla Reuten as Jillian Salvius
Sylvia De Fanti as Mother Superion
William Miller as Adriel
Olivia Delcán as Sister Camila
Peter de Jersey as Kristian Schaefer
Joaquim de Almeida as Cardinal/Pope Francisco Duretti

Alba Baptista as Ava Silva
Ava Silva is the audience surrogate, introduced to a wild world of demon-fighting nuns and a destiny forced on her. After dying at a young age in an orphanage, the formerly paralyzed Ava is resurrected when a divine artifact, the Halo, is embedded in her back. Not the Order of the Cruciform Sword's first choice for the next Halo Bearer (an emergency caused one of its members to hide the Halo in her), Ava's lack of faith, life experience, and tendency to run create problems. Ava finds other reasons to fight, though, and her character development is incredible.
Portuguese actor Alba Baptista began her career in the series Jardins Proibidos before working on A Impostora, Filha da Lei, A Criação, and Jogo Duplo. Warrior Nun was her English language debut, and she appeared in Mrs. Harris Goes to Paris in 2022 as Natasha. With her star on the rise in the US, we think we're likely to see more of her in English-language films.

Toya Turner as Shotgun Mary
Shotgun Mary is an anomaly in the sisterhood: an anti-hero. A previous Warrior Nun, Mary left the OCS for many reasons but is still an ally. Pessimistic and without much tolerance for non-commital attitudes, Mary is somewhat of an older sister figure to many of the girls in the sisterhood and is incredibly reliable as a team member during missions. But her lack of faith in the church and the loss of Sister Shannon have left her cold to much of what goes on.
Toya Turner brought so much to season 1, imbuing Mary with a cool, collected demeanor but lots of wisdom where it counted. Turner is best known for New Amsterdam, where she played Gabrielle, and has had a smattering of small roles in the likes of Grey's Anatomy (Who hasn't guest-starred on that show?).

Lorena Andrea as Sister Lilith
Oh Lilith… chaos personified. Thought to be in line next for the Halo, Lilith grew up in a pressure cooker, fed into the OCS with the intention of rising through the ranks. As a result, when fate intervenes and the unwilling Ava receives that honor instead, Lilith's jealousy and lack of team spirit reveal her to be the wrong candidate, despite her prowess in combat and her studies. Hot-tempered and likely to ally with power, Lilith is one of the series' most unpredictable characters, even if she usually ends up doing the right thing.
You might recognize Lorena Andrea from her small role in Disney's live-action The Little Mermaid remake as one of Ariel's sisters. In 2016, she joined her first feature film, Jesters. She also co-starred in 2017's Unhinged, House on Elm Lake, and starred opposite Chris Routhe in the Western No Man's Land.

Kristina Tonteri-Young as Sister Beatrice
Perhaps the series' subtlest character, Beatrice is a kind-hearted but guarded personality who helps Ava acclimate to the sisterhood. Devoted, surgical in combat, and adept at research, Beatrice's identity is very much wrapped up in the OCS when we meet her. As time goes on, however, her internalized fears around her sexuality and difficulty separating what she wants from what the Order needs create unsettle her.
Speaking no less than four languages (English, Finnish, French, and Russian) Kristina Tonteri-Young brings Beatrice to life beautifully. Warrior Nun was her first on-screen role after graduating from the Guildhall School of Music and Drama, which is remarkable. Since then, she has appeared in a few films such as Netflix's Outside the Wire.

Tristán Ulloa as Father Vincent
Father Vincent is first introduced as the spiritual and strategic leader of the OCS. A troubled past, and a surprising amount of ink on his arm, committing himself to the Church was his way out. Always slightly squirrely, Vincent is a comforting presence but there's always a sense he's keeping his cards close to his chest.
Working since the mid-90s, Spanish actor, writer, and director Tristán Ulloa has appeared in lots of films, notably Lucía y el sexo (Sex and Lucía), a 2001 Spanish drama written and directed by Julio Médem. He also landed the lead role in 2021's Stoyan.

Thekla Reuten as Jillian Salvius
Jillian Salvius is emblematic of Warrior Nun's refreshing nuance when it comes to the opposing philosophies of religion and science. A mother trying to use breakthrough discoveries and ancient artifacts to solve her son's illness, Jillian is frustrated by the Catholic church's secrecy, believing they have access to knowledge that could benefit humanity. To Jillian, the divine artifacts are simply science they don't understand yet. Despite the conflict, Jillian lends a hand and is generally empathetic to the sisters, bridging the gap and proving co-existence in ideologies is possible.
Early in her career, Thekla Reuten won the Shooting Star Award at Berlinale for her work in the film Twin Sisters, which was nominated at the Oscars for Best Foreign Language Film. She also was In Bruges with Colin Farrell (so to speak), Hotel Lux, and The American alongside George Clooney, as well as Iedereen Beroemd!, which was also nominated for Best Foreign Language Film. Reuten, like other cast members, is multi-lingual: German, English, French, Dutch, and Italian.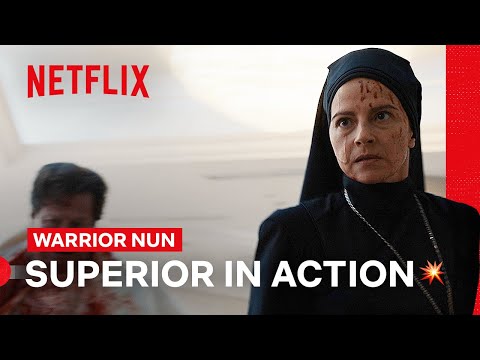 Sylvia De Fanti as Mother Superion
Mother Superion is a seemingly cruel and up-tight figure who evolves as the story goes on. There's a reason she struggles with proximity to Ava at the beginning of the series — which we won't spoil here just in case you've not made it to that reveal yet. There's much more to her than meets the eye, and her battle scars let you know she's not one to mess with.
Outside of Warrior Nun, Sylvia De Fanti is known for the TV series Medici, the mini-series Empire, and a small role in the movie Deception. This is her biggest role yet, and she aces it.
William Miller as Adriel
A presence in season 1 turned outright antagonist in season 2, Adriel is an extra-dimensional being. Originally thought to be an angel who bestowed his Halo upon a dying warrior named Areala, things aren't quite that simple. If you know, you know. Or if you're Lilith… you don't care.
William Miller studied History, Archeology and Performing Arts and is known for several Spanish television series. He has also played supporting roles in Spanish, Mexican, American, British, and French movies like The Midnight Man. Miller has previously worked in theatre and was the frontman of the rock band Deniro.
Olivia Delcán as Sister Camila
Sister Camila is often the series' comedic relief, but she's also one of the most sensitive characters. We love her. Perceptive, funny, slightly impulsive, and emotionally intelligent (she often knows what her sisters are feeling before they do), Camila holds her faith tightly but is also open-minded, supportive, and willing to listen to the likes of Jillian.
Actor and writer Olivia Delcán won the Turia Award for Best New Actress at the 2016 Turia Awards and won the G Award for Best Actress at the 2017 Giffoni Film Festival for the short film El Vestido. After, Delcán played Bambi in nine episodes of Locked Up and was Vicky López in Drug Squad: Costa del Sol. She also wrote and directed the millennial tragedy play About Last Night.
Peter de Jersey as Kristian Schaefer
Kristian is introduced in season 1 on Jillian's side of the fence. A former archivist for the Vatican, he left the church and renounced his faith to join Arq-Tech and help Jillian find Divinium. He does, however, have some wobbly traits which are unveiled as time goes on.
Peter de Jersey was Steve Waring in the UK soap Holby City for a number of years and has plenty of other credits on the small screen. His other TV appearances include Doctors and Dalziel and Pascoe, and he also has an extensive theatre background. Sci-fi fans might remember him as Androgar in the Doctor Who 50th Anniversary episode 'The Day of the Doctor'.
Joaquim de Almeida as Cardinal/Pope Francisco Duretti
Duretti certainly keeps viewers on their toes. Throughout the series, it's difficult to tell if the power-hungry cardinal is acting in the best interests of the world and the young women in the OCS. Luckily, nobody is one-note in this show, and the Cardinal is no different, even if he's slippery.
Joaquim de Almeida steps up to the plate as Duretti. His well-known movies include Behind Enemy Lines, Whore, The Death and Life of Bobby Z, Che: Part Two, The Burning Plain, and The Gilded Cage (not a typo, it's different from The Gilded Age). In the native English-speaking world, most folks are probably familiar with his role in Missing, the sequel to Searching, where he played a helpful hired hand.
Everyone in the Warrior Nun cast:
Alba Baptista as Ava Silva
Isabella Tabares as young Ava
Toya Turner as Sister Mary/Shotgun Mary
Lorena Andrea as Sister Lilith
Kristina Tonteri-Young as Sister Beatrice
Tristán Ulloa as Father Vincent
Thekla Reuten as Jillian Salvius
Sylvia De Fanti as Mother Superion
Isabel M. Hernanz as young Mother Superion
William Miller as Adriel
Olivia Delcán as Sister Camila
Emilio Sakraya as JC
May Simón Lifschitz as Chanel
Charlotte Vega as Zori
Dimitri Abold as Randall
Peter de Jersey as Kristian Schaefer
Joaquim de Almeida as Cardinal/Pope Francisco Duretti
Lope Haydn Evans as young Michael Salvius
Jack Mullarkey as adult Michael Salvius/Miguel
Meena Rayann as Yasmine Amunet
Richard Clothier as Cardinal William Foster
Sadiqua Binum as Sister Dora
Melina Matthews as Sister Shannon Masters
Fred Pritchard as Diego
Frances Tomelty as Sister Frances
Kay Headley as Villa Owner
Guiomar Alonso as Areala de Cordoue
Alberto Ruano as Mateo
Sinead MacInnes as Sister Crimson
Oscar Foronda as Crusader Knight
Julius Cotter as Justin, Archbishop of Canterbury
Christian Stamm as Cardinal Gunter
Miquel Ripeu as Cardinal Rossi
Andrea Tivadar as Reya
For more of the best fantasy series and their actors, check out The Witcher cast, the Ahsoka cast, and the Rings of Power cast. And if you're into demons and nuns (and why wouldn't you be), check out The Nun 2 cast. We've also got lists of the best TV series of all time, as well as what's new on Netflix for those of you still looking for a replacement on the service.