Henry Cavill might be leaving, but The Witcher's Anya Chalotra, Freya Allan, and Joey Batey are in it for the long haul as they prepare to bridge the gap between what's come before and Liam Hemsworth's upcoming era as Geralt of Rivia. Geralt is the face of Netflix's fantasy series, but it's these three actors who embody the majority of the quartet which acts as the show's distinct emotional center.
With the final three episodes of The Witcher season 3 now only hours away, change is in the air. It's not just Cavill's exit, but the entire dynamic between the four main characters is set to shift in new directions, and from Rience to Redania, the lore is getting more complex than ever.
To reflect on their own journeys and those of their characters', we spoke to The Witcher cast stars Anya Chalotra, Joey Batey, and Freya Allan (in an interview conducted before the SAG-AFTRA strike) about their experiences filming the new Netflix adventure, detailing all the highs and lows.
The Digital Fix: When I was watching TUDUM, it looked like you all had an incredibly emotional experience, Henry included.
Joey Batey: It was a wild experience.
Anya Chalotra: It was nerves, I was terribly nervous. I think I was shaking because of that.
Freya Allan: We were laughing because we were watching all the other people before and they were all so incredibly confident, and we knew we were just going to be the weirdos.
You three also got the biggest cheer. I'd imagine that was pretty intimidating, but also flattering.
JB: It was. It was really lovely to feel the passion and the love for the show and the characters and stories and games. It all came out in a wall of noise. It was deeply heartwarming, and it galvanized us a bit. It made us suddenly realize all the hard work everyone's putting in, people out there are seeing it.
FA: I left with a really warm feeling.
Freya and Anya, when I was watching episode one I had two thoughts: first, you must have been freezing, and second, the food you were eating looked delicious.
AC: Really? Oh wow, I'm glad we made it look delicious.
FA: It was literally a bowl of water with leaves floating in it.
AC: And yeah, it was cold. We were in Slovenia shooting. It was very cold, and on the second day of shooting I remember bawling my eyes out because I couldn't feel my feet, so that was when my journey began this season.
FA: I remember bawling my eyes out too because I was like, 'This is just too much!'
Anya, it feels like this season Yennefer is fulfilling an arc which started back in season 1 relating to motherhood. It feels like she's something in-between an adopted mother and an older sister to Ciri.
AC: She's figuring out that dynamic with Ciri this season. She maybe thinks she has all the maternal instincts because that's what she's wanted for so long, and with her expectations of wanting to be a mother. But they all come down with her ego when she meets her match in Ciri and she realizes she's quite lost on this journey of becoming a mother. But she also understands how much, from experience, she can give to Cirila.
Joey, when we spoke for Blood Origin you hinted at some romantic storylines this season for Jaskier, and you weren't lying!
JB: No, no I wasn't was I? Yeah, there are. There's more than one. I hope people see how excited we were to explore this side of Jaskier and I was most excited to work with Hugh Skinner, who is just amazing. All the scenes were playful, and it's always interesting speaking with new people and seeing how they deal with my improvisation, and Hugh gave as much as I gave. It was a really interesting dynamic on the set, and it felt romantic and loving.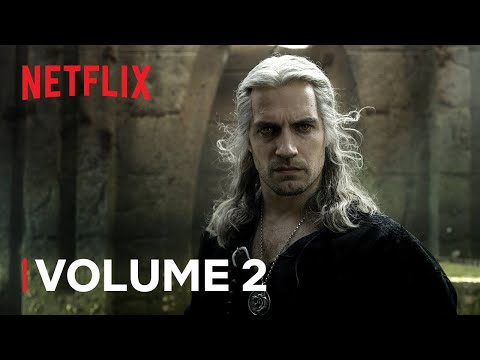 Freya, when I spoke with Tomek a few weeks ago he sang your praises and said he thought this was really becoming Ciri's story. Do you feel the same?
FA: I certainly feel like she's going through so many massive shifts. We've seen her grow so much, and I feel lucky to get to show the entirety of that. I get to play that out. I think she has some massive changes which shift her as a person, and Ciri will be experiencing things she's never experienced.
For more on The Witcher, you can read our The Witcher season 3 volume 1 review as well as our interview with stunt coordinator Wolfgang Stegemann and armorer Nick Jeffries. Or learn more about Aretuza and the Wild Hunt before finding out who was the first Witcher.
You can also take a look at our picks for the best TV series and see what's new on Netflix. If you prefer The Witcher games, you can also check out PCGamesN's guide to The Witcher remake release date and Pocket Tactics' breakdown of The Witcher 3 characters.