Is Shredder in Teenage Mutant Ninja Turtles Mutant Mayhem? The best heroes need the best villains to oppose them and, for the Teenage Mutant Ninja Turtles, that bad guy is the formidable Shredder. Along with Krang, he's very much the arch-enemy of the heroes in a half shell.
We absolutely loved seeing the Teenage Mutant Ninja Turtles return in one of the coolest new movies of 2023 so far. As we wrote in our Mutant Mayhem review, it was a joy to see the reptilian heroes strutting their stuff on the big screen in one of the best animated movies we've seen in a long time.
But were the turtles accompanied by one of the best movie villains in their history? Is Shredder in the new Teenage Mutant Ninja Turtles movie? Let's see if anything's afoot with the Foot Clan and take a look at Shredder's role.
Is Shredder in Teenage Mutant Ninja Turtles Mutant Mayhem?
Yes, Shredder makes an appearance (seen from behind) in the Mutant Mayhem post-credit scene. He's teased as the likely main villain for the sequel.
As the dust settles on the Mutant Mayhem ending, the turtles head off to high school and all seems well. But Leonardo (Nicolas Cantu) and April (Ayo Edebiri) are investigating the shady scientific innovations of Cynthia Utrom (Maya Rudolph) and the Techno Cosmic Research Institute.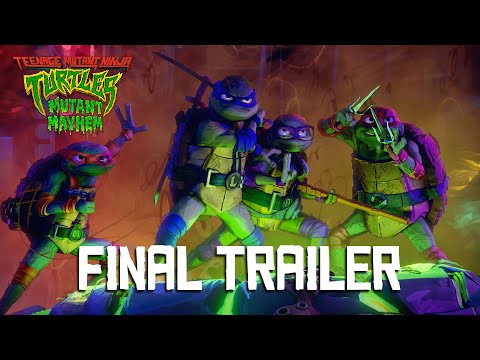 In the post-credit scene, we learn that Cynthia wants to track the turtles down. She declares "bring me the Shredder" and we see that famous silhouette from behind. When the Mutant Mayhem 2 release date arrives, Shredder looks set to take center stage.
Mutant Mayhem's director thought long and hard about Shredder, as he explained to us in our Jeff Rowe interview. But, in the end, he thought it better to keep his powder dry, comparing it to the tease for the Joker in The Dark Knight.
"We had Shredder as the villain early on and we pivoted away because he's too much of a presence. He's such an interesting character," said Rowe.
"It's so much nicer for an audience to meet the turtles, learn to love the turtles, watch them go on this whole journey, and then you could make like five movies about Shredder. He's so interesting. Having him in the first movie took up all of the story, and we needed to focus on the turtles."
If all of this has you excited to revisit one of the best movies of the year, find out how to watch Mutant Mayhem in cinemas and on the best streaming services. We also revealed how TMNT almost included a Superbad reference and looked at the movie's surprising '80s inspiration.
For more great animation, check out our list of the best anime movies and the best animated series. You can also read our Across the Spider-Verse review and look ahead to the Spider-Verse 3 release date.