When is the Spider-Verse 3 release date? It's a great time to be a Spidey fan. We've had our first look at the Spider-Man PS5 game, Amy Pascal has confirmed Spider-Man 4's in development, and we got a new Spider-Verse movie in cinemas in 2023.
Still, like a bloated arachnid, we Spider-Man fans always want more. So, while we may have loved Spider-Verse 2 (check out our Across the Spider-Verse 2 review here but long story short we think it's one of the best superhero movies ever) we're already wondering about the next film, which should come as no surprise because we're always thinking about Spider-Man movies.
So when will we next see Miles Morales and the gang? How will they resolve that cliffhanger? Well, don't worry. We've written down everything we know about the Spider-Verse 3 release date, we've also taken a look at which members of the Spider-Verse 2 cast may return, and we've used our immense comic book knowledge to guess the plot. Warning: spoilers for the upcoming Marvel movie ahead.
Beyond the Spider-Verse release date
Do you want the good news or the bad news? The good news is that we know Beyond the Spider-Verse is on the way. The bad news is that we don't know when anymore, although it probably won't be until late 2024 or maybe even 2025.
Mile's next adventure was originally scheduled for release on March 29, 2024, but Sony adjusted its slate massively in the summer of 2023. Consequently, that weekend is now the Ghostbusters 4 release date and the studio hasn't announced when Spider-Verse 3 will be released.
Even worse, during a recent interview with GamesRadar, Across the Spider-Verse, composer Daniel Pemberton teased that development on the third film wasn't as far along as we'd hoped.
"Don't talk about it," Pemberton said. "Everyone in this film, there's a sort of pact. No one will talk about the next film because we're all still in recovery from the second one."
The suggestion that 'no one's talking about Spider-Verse 3' suggests that the team may be taking a break after Across The Spider-Verse. Indeed, there were reports that production on the Spider-Verse 2 was particularly grueling, so it's very possible the poor animators are being given a well-earned break.
A Sony source has also reported that the 2023 SAG-AFTRA strike is preventing the cast from recording their lines. So unless you want a film about a mime variant of Spider-Man, we wouldn't expect to hear anything about a release date until the current industrial action comes to an end.
A source close to The Digital Fix has suggested they expect the strikes to go until at least April or May 2024 (God, I hope we're wrong). That means realistically, Beyond the Spider-Verse won't be ready until much later in the year, and Sony may even delay it until 2025.
Has Beyond the Spider-Verse been delayed?
Yes, Beyond the Spider-Verse has been delayed. It was originally slated for release on March 29, 2024, but on July 28, 2023, Sony announced a major release date shake-up, and Spider-Verse 3 lost its spot on Sony's slate as a result. According to Sony, the reason for this delay is that the 2023 SAG-AFTRA strike is preventing the cast from recording their dialogue.
Beyond the Spider-Verse cast
We expect all the major players from Spider-Verse 2 to return. This includes Shameik Moore as Miles Morales, Hailee Steinfeld as Gwen Stacy, and Oscar Isaac as Miguel O'Hara.
It's likely, considering the end of the film, that a number of familiar faces from Across the Spider-Verse will come back including Jake Johnson's hapless Peter B. Parker, John Mulaney's hilarious Spider-Ham, and Kimiko Glenn's kawaii Peni Parker.
Our speculative Beyond the Spider-Verse cast list:
Shameik Moore as Miles Morales / Spider-Man
Hailee Steinfeld as Gwen Stacy / Spider-Woman
Brian Tyree Henry as Jefferson Davis
Luna Lauren Vélez as Rio Morales
Jake Johnson as Peter B. Parker / Spider-Man
John Mulaney as Peter Porker / Spider-Ham
Kimiko Glenn as Peni Parker / SP//dr
Nicolas Cage as Peter Parker / Spider-Man Noir
Jason Schwartzman as Dr. Jonathan Ohnn / The Spot
Issa Rae as Jessica Drew / Spider-Woman
Karan Soni as Pavitr Prabhakar / Spider-Man India
Daniel Kaluuya as Hobart "Hobie" Brown / Spider-Punk
Oscar Isaac as Miguel O'Hara / Spider-Man 2099
Greta Lee as Lyla
Mahershala Ali as Aaron Davis
Andy Samberg as Ben Reilly / Scarlet Spider
Phil Lord, Christopher Miller, and David Callaham have written the script, and it's being directed by Joaquim Dos Santos, Kemp Powers, and Justin K. Thompson, who made Spider-Verse 2.
Will the live-action Spider-Man actors be in Beyond the Spider-Verse?
While nothing's confirmed, we're pretty confident that the 'Beyond' in the title refers to Miles, Gwen, and the rest of the Web Warriors making the leap to live action. That means we could see Tom Holland, Tobey Maguire, or Andrew Garfield.
We wouldn't bet on getting all of the live-action Spider-Man actors, like we got in No Way Home, but a came seems possible. We're predicting Garfield, but you can't rule out Holland or Maguire at this point. It just depends if they want to spend the rest of their lives slipping into a red and blue onesie for cameos.
Also, technically, the live-action Spider-Men already appeared in Across the Spider-Verse, although that was admittedly archive footage, so we're not sure it really counts. Maybe other members of the Spider-Man cast will make an appearance, like Kirsten Dunst's MJ? We're desperate to know what she's been up to.
What will Beyond the Spider-Verse be about?
Beyond the Spider-Verse will see Miguel and Miles go to war as the two factions of Spider-People put their philosophies to the test. Miguel is certain that for the Spider-Verse to exist, a "canon event" must happen. Specifically, the police captain must always die.
Miles meanwhile believes that's nonsense and is doing everything in his power to save his dad, who's about to be made police captain. When we last saw Miles, though, he was in a spot of trouble after being captured by the Earth-42 version of him who'd become The Prowler.
Thankfully, Gwen has put together a ragtag group of Spider-People to save him and stop Miguel's Spider-Society. We predict Spider-Verse 3 will open with Miles being rescued before he and Gwen recruit more Spideys to his side before (hopefully) proving the error of Miguel's ways. There's also the growing threat of The Spot to deal with (I can't believe that's a thing I have written).
We're also likely to see more Spider-Man villains from across the Spider-Verse, and I'm personally pretty certain that Eddie Brock, aka the Lethal Protector Venom, will make an appearance. We also know that the new movie will be taking us to the world of Hobie Brown (aka Spider-Punk).
Writer-producers Phil Lord and Christopher Miller revealed in 2023 that Spider-Punk's world will be one of the many mixed media "adventures" in Beyond the Spider-Verse. So stay tuned as we update you on all the upcoming announcements of future worlds and possibly live-action cameos in the future movie.
Beyond the Spider-Verse trailer
The first Beyond the Spider-Verse teaser trailer is likely to drop around 4 months before the release date, so we're not expecting to see one until mid-2024. But with the release date currently in flux that's just an educated guess.
If you're desperate to see a little more of the multiverse, why not check out the Spider-Verse 2 trailer below?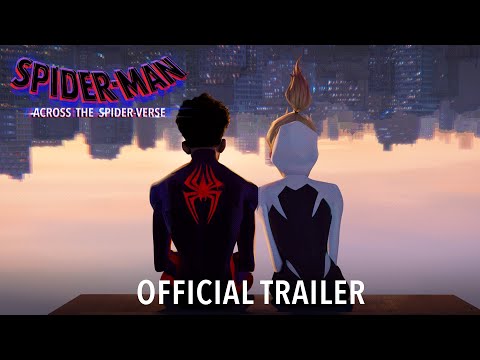 Where can I watch Beyond the Spider-Verse?
Beyond the Spider-Verse, like its predecessors, is going to be a theatrical exclusive, so if you want to watch it, you'll have to grab your web shooters and swing on over to the cinema.
And that's everything we know about Spider-Verse 3 for now, but don't worry; we've got plenty more spider content for you to enjoy.
If you want to know the best ways to watch the Spider-Man movies in order then we've got you covered, and we've also written an exhaustive guide explaining how to watch all the Marvel Movies in order as well.
Still want more? No problem, we've got a guide revealing everything you need to know about the Spider-Man 4 release date, the Venom 3 release date, and the Spider-Man Freshman Year release date.. We also have a Shameik Moore and Hailee Steinfeld interview to dive into.
Finally, if you're bored of Spider-Man then get out. No seriously get out, you're not wanted here. Why don't you go and read about the best movies ever made or all the new movies coming in 2023 if you think you're too good for Spidey!