Who plays Montgomery Scott in Star Trek Strange New Worlds? Spoilers ahead, for the Strange New Worlds season 2 finale.
Slowly but steadily (actually, more accurately: quite quickly) Star Trek Strange New Worlds is bringing each of the core Star Trek characters from TOS into a new era. So far, we have Kirk, Spock, Uhura, Nurse Chapel and, now, Scotty's here too to join in on all the fun. The only two who we're missing are Bones and Sulu (and Chekhov, but he doesn't join the TOS crew until season 2).
Popping up in the finale, Scotty finds himself trapped by a Gorn attack along with the crew of the USS Cayuga and Captain Batel. He's pivotal in helping Batel and Pike escape back to the USS Enterprise, and at the end of the episode he's aboard the Star Trek starship which will go on to become his pride and joy. Here, we introduce you to the actor who plays Scotty in the new Star Trek series.
Meet the actor who plays Scotty in Strange New Worlds
Martin Quinn is the actor who plays Montgomery Scott, AKA Scotty, in Strange New Worlds. Unlike James Doohan, who starred as Scotty in TOS and the six TOS-era Star Trek movies, and Simon Pegg, who played the same role in the Kelvin timeline trilogy, Quinn is actually Scottish.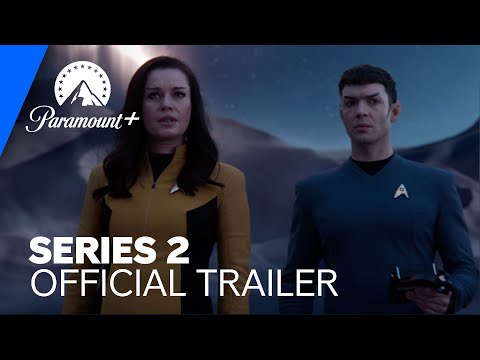 Quinn, who was born in 1996, has years of experience as a stage actor on theater productions. He also appeared in the TV series Derry Girls in a supporting role, and has provided voice work for radio and audio dramas. Quinn's role as Scotty, at this point in the timeline only at the rank of Lieutenant junior grade, is by far his biggest role to date, and will bring him before an audience of millions.
With Quinn's Scotty now onboard the Enterprise with the cliffhanger ending to Strange New Worlds season 2, we know for certain that the actor will be back to reprise his role in at least the first episode of season 3. The question, then, is if he'll become a permanent member of the crew or if he'll depart again to return at a later date.
Either way, Quinn will be back on Strange New Worlds as Montgomery Scott, and we can't wait to see more of him in the role.
For more, read our full Strange New Worlds season 2 review and our interview with Anson Mount and Rebecca Romjin. You can also check out our recommendation on how to watch the Star Trek movies in order, and see our picks for the best Star Trek starships and best Star Trek captains.
To stay up to date with the rest of Trek, see what's going on with the Star Trek Discovery season 5 release date, Lower Decks season 4 release date, and Star Trek 4 release date. You can also find out what's new on Paramount Plus this month, and see our selection of the best TV series of all time.