What is the Star Trek Discovery season 5 release date? Star Trek Discovery is the flagship TV show for Trek fans, and it marked Star Trek's return to TV screens when it began back in 2017.
As the show that brought Star Trek back to the television screen, the Star Trek series Discovery currently has a catalog of four seasons, and will soon be returning with a fifth and final season. With an interesting position within the Star Trek timeline it continues to follow its Star Trek characters dealing with the consequences of being catapulted 900 years into the future.
So what's next for the crew of the USS Discovery, and when is the Star Trek Discovery season 5 release date? To help you out, we've put together a nifty guide of everything you need to know about the series from all the information that's available so far. Let's fly!
Star Trek Discovery season 5 release date speculation
Star Trek Discovery season 5 is currently scheduled to release on Paramount Plus in early 2024. Previously, the series had been due to air in 2023, however a change to the schedule after the announcement that it would be the final season then saw it pushed back several months.
Filming took place throughout 2022 followed by minor reshoots in April 2023, presumably to retroactively give the series a more conclusive ending after the confirmation that it would be the final adventure.
We're still waiting for a specific release date to be confirmed for Star Trek Discovery season 5. However, reports indicate that fans won't have to wait too long into 2024 for the Star Trek Discovery season 5 release date and that it will come in the early months of the year.
Star Trek Discovery season 5 cast
Thankfully for fans of the crew, the entire main Star Trek Discovery cast survived the climax of season 4. This isn't unusual for a Star Trek series, which are typically pretty hesitant to kill off main members of the crew (with the exception of Tasha Yar and Jadzia Dax. We miss you).
This means that audiences can expect to see the return of Sonequa Martin-Green, Doug Jones, Mary Wiseman, Tig Notaro, David Ajala, Wilson Cruz, Blu del Bario, and their respective Star Trek characters.
Ian Alexander confirmed in a February 2023 interview with Bleeding Cool that they will be back as Gray Tal, who found new life in an artificial body during Star Trek Discovery season 4. They said their character is, "going through a lot of major changes," in a new form. "He has his own body again, fully formed and corporeal. He gets to explore and play. That's why we see him change his hair and his look because he was stuck wearing the same clothes that he died in," said Alexander.
A speculative Star Trek Discovery season 5 list:
Sonequa Martin-Green as Captain Michael Burnham
Doug Jones as Saru
Anthony Rapp as Dr. Stamets
Mary Wiseman as Tilly
Tig Notaro as Jett Reno
David Ajala as Book
Blu del Barrio as Adira Tal
Wilson Cruz as Hugh Culber
Callum Keith Rennie as Captain Rayner
Ian Alexander as Gray Tal
Of course, expect a few new faces, as well as the return of some recurring characters like Oded Fehr as Admiral Vance or David Cronenberg as Dr. Kovich. A notable new addition is Callum Keith Rennie, who will star as a new Star Trek captain, Captain Rayner. In addition to the cast, it's been confirmed that long-term Star Trek collaborator Jonathan Frakes will be directing one or more episodes of the season, including the first half the finale.
Star Trek Discovery season 5 plot speculation
The trailer for Star Trek Discovery season 5 (more on that later) hints that Burnham and her crew will be embarking on a galaxy-spanning treasure hunt. Nevertheless, there will be plenty of time for other adventures, so here are some avenues that we think the Star Trek Discovery season 5 might want to explore alongside that.
The first major plotline that Star Trek Discovery season 5 will be almost certain to take a look at is the rebuilding of the Federation. The Federation lost a lot of its power and influence after the cataclysmic event 'The Burn', and has struggled to regain its footing. With Earth set to rejoin, audiences could get to see how the Federation re-establishes itself as a force for good in the galaxy and beyond.
Beyond this, a broad, vague overview of the plot was outlined on Star Trek Day, which fits into the treasure hunt theme. The description explains how Captain Burnham and the crew of the Discovery are set to unveil a galaxy-spanning mystery which will send them on an "epic adventure" to uncover the source of an ancient hidden power.
Obviously, this quest isn't going to be straightforward, as Burnham will face competition from "dangerous foes" who attempt to figure it all out first, and won't stop until they do. We can also expect the Star Trek Discovery season 5 plot to be conclusive, given that it will be the last of the series. Here's hoping we can get something as good as one of the Star Trek finales of old.
Star Trek Discovery season 5 trailer
The first trailer for Star Trek Discovery season 5 was unveiled at New York Comic Con. It gave audiences a glimpse of that treasure hunt we mentioned earlier, but other than that it's light on plot details. Mostly, the trailer consists of gorgeous action shots, and some personal moments, and is backed by a musical piece rather than dialogue to keep things mysterious.
Since then, we've also had the first full clip from the show (available to watch here) which shows Burnham being attacked by what looks like a group of pirates, before hurtling through space and being saved by the Discovery. It's classic Discovery: big, cinematic, with great visual effects.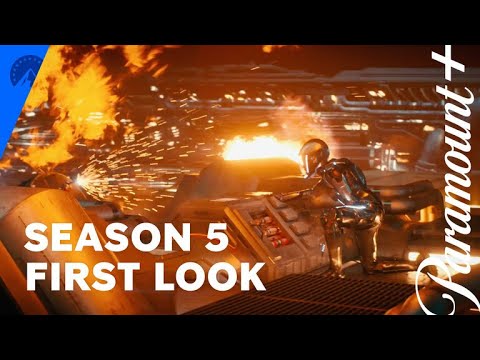 How to watch Star Trek Discovery season 5
Star Trek Discovery season 5 will to premiere exclusively on Paramount Plus, the new streaming service which is the home to (almost) every piece of Star Trek content.
How many episodes will Star Trek Discovery season 5 have?
Star Trek Discovery season 5 will consist of 10 episodes. This is the fewest amount of episodes of any season of Discovery, which has previously had seasons of 13-15 episodes. But sometimes less is more, right?
So, now you're caught up with all the news and speculation related to the Star Trek Discovery season 5 release date. For more on the franchise, check out our Star Trek Strange New Worlds season 2 review and read our interview with Anson Mount and Rebecca Romijn.
For more on when you can expect your other favorite Star Trek shows to return, see what's going on with the Lower Decks season 4 release date, the Section 31 release date, the Star Trek 4 release date, the Starfleet Academy release date, and a guide speculating about the Star Trek Legacy release date.
Alternatively, dig deeper into Star Trek lore (no, not Data's brother) with our ranking of the Star Trek captains, and our picks for the best Star Trek starships. You can also see what's new on Paramount Plus this month.