The news every Star Trek fan has been waiting for is finally here: confirmation of the Star Trek Strange New Worlds season 2 release date has arrived. The second season of the celebrated TV series will be making its debut on streaming service Paramount Plus in June 2023, not too long after the conclusion of Star Trek Picard season 3 and the latest adventures of the veteran TNG cast.
And the good news isn't over: the Star Trek series will be pushing on into a strange new future with the announcement that Star Trek Strange New Worlds season 3 has also been greenlit and is reportedly already filming. So here's the bottom line: if you aren't already in love with Star Trek Strange New Worlds, it's time to get on board.
In anticipation of more sci-fi adventures from Captain Pike, Spock, and Number One, we've stolen a shuttle and raided Daystrom Station to come up with the five things we need to see in Star Trek Strange New Worlds season 2 and beyond.
Star Trek Strange New Worlds season 2 needs more original characters
If the first season of Star Trek Strange New World season 2 could be accused of anything, it was an over-reliance on the names of the past. Partly, that's the unavoidable nature of being a sequel to a prequel, but it was always a joy when the show would introduce new faces with new stories.
Though he was short-lived, chief engineer Hemmer was a bright spot, and his presence felt fresh and fun. His replacement, another new Star Trek character, is a big step forward with Carol Kane coming onboard the Enterprise as fellow engineer Pelia.
The flip side of this is that the sci-fi series needs to move away from bringing back old characters at every opportunity. Yes, there'd be a novelty factor in seeing young versions of Scotty and Bones, but they'd take space away from new, exciting characters. These Star Trek characters have been on our screens for many decades now, and it's time to pave the way for new ones instead.
The show has already done this perfectly once when it brought back famous Star Trek captain James T. Kirk. His temporary return fit within the story and never felt forced. He didn't become a main cast member and just had a guest appearance. More of that, Strange New Worlds season 2, and more new characters while you're at it.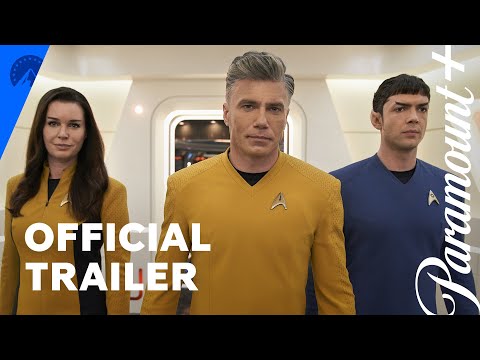 Star Trek Strange New Worlds season 2 needs to embrace the Captain Pike comic book stories
One of the biggest hidden secrets in Star Trek is a short-lived comic book series from the late '90s called Star Trek: Early Voyages. Co-written by Warhammer and Marvel royalty Dan Abnett and fellow Brit Ian Edginton, the comics tell the story of the Enterprise a decade before Kirk's five-year mission with Christopher Pike in command.
Without getting into spoilers, Abnett's comic series is filled to the brim with expertly crafted stories of adventure and intrigue: perfect for adaptation within a TV series. It features a cast of intriguing new characters, as well as the occasional name from the past. With major arcs for each of its main players, Early Voyages is right there – should Star Trek Strange New Worlds ever run out of ideas.
Star Trek Strange New Worlds season 2 needs to figure out its tone
One of the many strengths of Star Trek Strange New Worlds season 1 was its effort to embrace a variety of genres. Each episode was something entirely different, as we were treated to comedy, horror, survival, action, and so much more, all wrapped up in a sci-fi setting.
This strength enabled the debut season to feel fresh, but could also be an obstacle for the sci-fi drama series. At moments it did feel hard to really settle in and know what to expect. What didn't help was that the show would try so hard to balance light and dark within its episodes: Captain Pike or Lieutenant Ortegas would be quipping in episodes about child sacrifice, for example.
So, in Star Trek Strange New Worlds season 2, the show should try and settle into a groove and hone in on a more steady tone. That will only make deviations all the more exciting and welcome when they do come.
Star Trek Strange New Worlds season 2 needs to accept its biggest strength
You just need to look at Star Trek Picard season 3 to see that Star Trek is all-in on seriousness at the moment. With galaxy-spanning conspiracies, terrifying villains and world-ending threats, the franchise loves grand drama.
Offering some blissful variety, Star Trek Strange New Worlds is not that. Instead, the show has embraced the classic Star Trek episodic formula, allowing for a new story each week. This has two major implications: first, the episodes are naturally smaller-scale, and second, the smaller-scale stories allow the show to have more fun.
Not every plot is about life-or-death drama (see Spock Amok for evidence), freeing up space for more straightforward entertainment. This fun, adventurous spirit is intrinsic to Star Trek, and we're ready for Star Trek Strange New Worlds season 2 to bring more of it to our screens.
Strange New Worlds season 2 needs to double down on its aesthetic
Here at The Digital Fix, we love Captain Shaw and his USS Titan. But let's be honest here: we all know it's simply too dark. The bridge is so dark that it's a genuine surprise people can even see what they're doing.
Thankfully, Star Trek Strange New Worlds is here to provide sweet relief. Everything in the show is bright and airy, and the Enterprise itself looks both comfortable and professional: a hard balance. So here's what we want from season 2: even brighter and even bolder. Come on, Strange New Worlds: double down!
By taking note of these five tips, Star Trek Strange New Worlds can cement its position as the franchise's best on-air show and really build a legacy worthy of Star Trek's golden era.
For more on Star Trek, check out our ranking of the Star Trek movies and our guide to the Star Trek Discovery season 5 release date. Or, learn more about characters like Ro Laren, Vadic, Moriarty, and Lore.