Who plays the live-action Prowler in Across the Spider-Verse? Everyone is talking about the many, many Spider-Man variants in the new multiverse-travelling animation, but it's not just webhead who pops up in several different shapes throughout Across the Spider-Verse. Prowler gets his moments too.
Of course, Spider-Man fans will remember that the relationship between our hero Miles Morales and his uncle Aaron Davis was a key part of Spider-Man movie Into the Spider-Verse. The version of Davis from that universe died amid an emotional moment in one of the best animated movies ever, but that doesn't mean there aren't other Prowlers kicking around.
In fact, it turns out that new movies are already making the most of Davis, as Across the Spider-Verse features a Prowler live-action cameo with a very famiiar face. There are, of course, spoilers ahead. Go and read our Across the Spider-Verse review instead, if you want to remain spoiler-free.
The Prowler's live-action cameo explained
Donald Glover appears as the live-action Prowler for a cameo appearance in Across the Spider-Verse, calling back to his role as Aaron Davis in Spider-Man Homecoming.
Glover has been a constant fixture on lists of the best Spider-Man actors who could play Miles Morales since the days before Into the Spider-Verse was even a spider-twinkle in anyone's spider-eye. His brief cameo in Spider-Man: Homecoming was a sly reference for fans who were heavily invested in those internet rumors.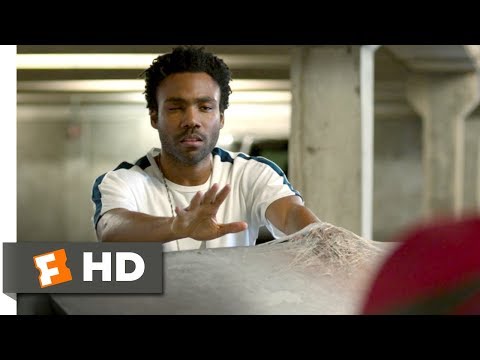 Audiences didn't get to see that version of Davis become the Prowler, but Glover does get to suit up for his brief appearance as one of the coolest Across the Spider-Verse easter eggs. Glover is glimpsed as one of the captives of the Spider-Society. He tells Miles, "It's rude to stare," as Hobie Brown and Gwen Stacy both claim responsibility for tracking him down.
Naturally, you'll now want to know: 'Is Andrew Garfield in Across the Spider-Verse?', 'Who does Jack Quaid play in Spider-Verse 2?', and 'Is Tobey Maguire in Across the Spider-Verse?'. Fortunately for you, we've got the answers.
For more on the best movies to feature Spidey as we look ahead to the Spider-Verse 3 release date, check out our list of five things we want to see in the new Spider-Man movies and find out why Tom Holland's favorite Spider-Man movie is not from the MCU.