Higher, further, faster, baby! The Marvels cast takes to the skies in this Phase 5 movie, which mashes Freaky Friday's place-swapping shenanigans with tried and true superhero storytelling.
The latest Marvel Cinematic Universe outing has a younger slant, much-needed lightness, and tense dynamics between three significantly different MCU characters. Kamala Khan, Monica Rambeau, and Carol Danvers are the trio at the heart of The Marvels, but here's a full list of the actors and the best movies you can find them in.
The main The Marvels cast list:
Brie Larson as Carol Danvers/Captain Marvel
Teyonah Parris as Monica Rambeau/Photon
Iman Vellani as Kamala Khan/Ms. Marvel
Zawe Ashton as Dar-Benn
Park Seo-joon as Prince Yan
Samuel L. Jackson as Nick Fury
Zenobia Shroff as Muneeba Khan
Mohan Kapur as Yusuf Khan
Saagar Shaikh as Aamir Khan
Brie Larson as Carol Danvers/Captain Marvel
Former Air Force pilot Carol Danvers was dealt a nasty case of amnesia and an identity crisis after finding out she once had a life on Earth. Endearingly stubborn and determined, Carol committed to being Earth's protector at the end of Captain Marvel.
The MCU hasn't used her to the best effect, with a long wait between the first film and minor appearances elsewhere — although, when you're the kind of chick who headbutts Thanos you don't need a lot of time to make an impression. Hopefully, upcoming Marvel movies utilize her in more exciting ways.
Brie Larson brings Carol to life. The Oscar-winner was known for indies before making the jump to the biggest franchise in the world. Among her credits are The Room, for which she won her Best Actress award, and Short Term 12, one of the best drama movies about troubled teens and the people committed to helping them navigate life. Most recently, she led the Apple TV Plus series Lessons in Chemistry.
Teyonah Parris as Monica Rambeau/Photon
If you've not seen WandaVision, first of all, don't skip it during your Marvel movies in order rewatch! The best Marvel series brought "Captain Trouble" from Captain Marvel into the fray while she was reeling from the loss of her mother.
During a trip through Wanda's hex, she got super-powered abilities of her own. With an understandable grudge against Carol for leaving her family behind, she's forced to confront those feelings in The Marvels.
Julliard graduate Teyonah Parris is adult Monica. Outside of Marvel's Phase 5, you can see her in Netflix sci-fi They Cloned Tyrone as well as 2021's Candyman remake, where she first worked with The Marvels' director Nia DaCosta. Chi-Raq, Charm City Kings, and Survivor's Remorse are other credits to her name, and next on her docket is Dashing Through the Snow, a Christmas movie.
Iman Vellani as Kamala Khan/Ms. Marvel
Sure to end up in a Young Avengers type of lineup in future new movies, Kamala Khan is the lovable teen we met in Ms. Marvel. Kamala is a Carol Danvers fangirl who was ecstatic to get her extra-dimensional powers from the Noor Dimension — right in time for Marvel Phase 5 shenanigans.
In The Marvels, she struggles to find her footing among a fraught team of more experienced heroes. But her family is there to support her!
Iman Vellani was perfectly cast as Kamala, and the young Canadian actor was a complete newcomer to the screen when she was picked to join the franchise. While she may not have a bunch of other projects for you to watch, Vellani is a self-declared nerd who loved Kamala from afar before playing her. She even wrote a comic mini-series: Ms. Marvel: The New Mutant.
Zawe Ashton as Dar-Benn
Dar-Benn is a revolutionary Kree warrior and an Accuser serving as The Marvels' antagonist. In the comics (616 continuity), she was a general who had become the Kree Empire's Emperor. She also wears a bangle similar to Kamala's. Perhaps not as well known as the best Marvel villains, but she's a threat.
Zawe Ashton plays this version of the character. She's most known for her roles in Not Safe for Work, Dreams of a Life, and the eccentric Netflix horror Velvet Buzzsaw. But if you're a UK fan, you're more likely to recognize her from the TV series Fresh Meat. If that's not enough, Ashton is a playwright. Her talents never end!
Park Seo-joon as Prince Yan
Prince Yan first appeared in 2014's Captain Marvel (Vol. 8) #9. To summarize, Aladna tradition had females choose their mates, with the men not given a say in the matter (a 180-degree twist on real human history). Carol stopped his arranged marriage to his bride but did not wed him.
This might be Park Seo-joon's first blockbuster but he's a South Korean cinema and TV star having been in Parasite, Itaewon Class, What's Wrong with Secretary Kim, and much more. We expect to see a lot more of him in English-language films following The Marvels.
Samuel L. Jackson as Nick Fury
Nick Fury is a Marvel staple, and being the closest with Carol out of the pre-existing faces, it makes sense he's in the sequel. We recently caught up with the Spy and former S.H.I.E.L.D. agent in Secret Invasion. That should have been an Avengers movie, but at least we know what his headspace is now in the timeline.
We probably don't have to tell you about Samuel L. Jackson. He's a household name, one of the most decorated actors of his generation, and received an honorary Oscar in 2022.
Instead, we'll point you to some of his non-franchise movies you might not have seen: Pulp Fiction (joking), Unbreakable, Kingsman: The Secret Service, Jackie Brown (not joking, this Tarantino film gets little of its due), and The Protégé.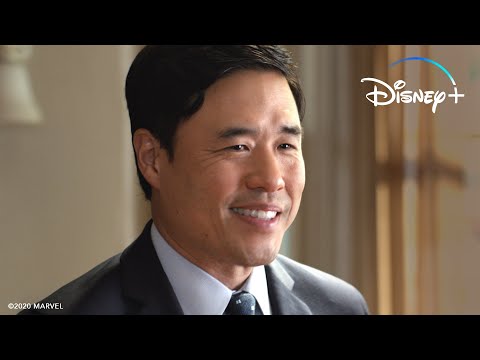 Randall Park as Jimmy Woo
First seen in Ant-Man 2, the charming FBI agent Jimmy Woo was a main feature in WandaVision. A lover of close-up magic who's dedicated to being an upstanding agent, he's been called up for The Marvels, too.
Randall Park was most known for being a lead in the sitcom Fresh Off the Boat before starring in Always Be My Maybe alongside Ali Wong. In 2023, he was in the tasty teen slasher Totally Killer and also lent his voice to Strays. Coming up for him is Aquaman 2.
Tango and Nemo as Goose
A ginger cat, or your worst nightmare? We found out at the end of Captain Marvel. Goose is not a kitty, he's a flerken, a dangerous alien who comes in quite handy when you need an enemy swallowed whole.
In Captain Marvel, Goose was primarily played by an orange tabby named Reggie. The Marvels shot in the UK, so cast two identical new purrfect co-stars: Tango and Nemo. They've had enough of the limelight and space drama and are back home now enjoying the fruits of their labor.
Everyone in The Marvels cast:
Brie Larson as Carol Danvers/Captain Marvel
Samuel L. Jackson as Nick Fury
Zawe Ashton as Dar-Benn
Iman Vellani as Kamala Khan/Ms. Marvel
Teyonah Parris as Monica Rambeau
Park Seo-joon as Prince Yan
Zenobia Shroff as Muneeba Khan
Saagar Shaikh as Aamir Khan
Jessica Zhou as Pink Lady/Skrull
Caroline Simonnet as Kree Soldier
Mohan Kapur as Yusuf Khan
Maria Guiver as Kree Commander
Emily Ng as Space Worker
Vinod Dhawale as Space Worker
Colin Stoneley as Kree Scientist
Jonathan Cope as Alien
Luke Dixey as Skrull
Kei Ichimura as Courtier
We hope you enjoyed The Marvels as much as we did (for more on that read our The Marvels review).
Look ahead with the Avengers: Secret Wars and Deadpool 3. We've also got a deep dive into Captain Marvel's powers explained.