Some Marvel heroes have been around for years, while others are practically babies in the canon. One of the newest additions, Kamala Khan (AKA: Ms. Marvel), has only popped up in the past decade, but she's already made her mark.
So far in her MCU tenure, Kamala's already had her own Marvel series, and is set to return as part of the key trio in The Marvels. No doubt she'll appear in upcoming Marvel movies in Phase 6, too, so it's worth getting to know one of the youngest and most revolutionary heroes in their collection.
Kamala Khan and Ms Marvel explained
Kamala Khan is a Pakistani-American teenager from New Jersey who takes up the mantle of Ms. Marvel after gaining superpowers.
Before we get into Kamala's backstory, it's important to understand Ms. Marvel first.
There have been a handful of Marvel characters to take up the mantle of Ms. Marvel, starting with Carol Danvers (who is now serving as Captain Marvel). Kamala is actually the fourth person to take on the Ms Marvel name, and first appeared in 'Captain Marvel #14' back in 2013, initially just as a background character.
Kamala is one of the most groundbreaking Marvel superheroes. Being a 16-year-old Pakistani-American from Jersey City, she got her own comic book series in 2014 titled 'Ms. Marvel', and became the first Muslim character to headline their own series.
Over the years, Kamala has become known as one of the most relatable Marvel heroes due to her teenage traits. She's a little awkward, struggles to fit into her regular life, and tries to be rebellious in her own small ways. What's more, she's an in-universe Marvel superhero fan (Kamala particularly idolizes Carol Danvers), essentially making her a representation of the audience. She's a fangirl, and we love her for it.
Kamala Khan/Ms Marvel's powers and abilities explained
In the comics, Kamala Khan first got her powers during the aftermath of the 'Inhumanity' storyline, and she has the ability to morph her body into any form.
The 'Inhumanity' storyline, which ran in 2013, saw the Terrigen Mists being released and covering the Earth. This ended up awakening dormant Inhuman genes in many people, including Kamala, who are descended from Inhumans (a form of superhumans created by the Kree long ago).
One night, Kamala disobeys her parents and sneaks out of the house to go to a party. (Hey, we've all done it.) While she's there, some of the more popular kids tease her, meaning she leaves and wanders the streets alone. While she's out, the Terrigen Mists descend onto the city, reigniting her long-dormant Inhuman genes. After this, she took up the name of Ms. Marvel.
Her main power is elongation, which means she can extend her limbs, torso, or neck. Most famously, she uses this to create mega fists. She can also change her size, like shrinking or enlarging. Kamala also has healing abilities, but this can be especially tiring when she uses it extensively or has to recover from a major injury.
A power that she doesn't use that often (but we think she totally should) is her ability to shapeshift. She can actually take on the form of other people and inanimate objects, making her the ultimate transformative superhero.
It's important to note that, in the MCU series, the way Kamala gets her powers is completely different, as well as what her actual powers are. Instead of being caught in Terrigen Mist and unlocking her Inhuman genes, she gets her powers on-screen from a bangle inherited from her grandmother (who also had genetic mutations).
In the series, her powers come from crystalline energy, and although we do get to see her iconic giant hand featured during the show, the similarities end there. She doesn't morph or stretch her body like in the comics and instead uses a powerful energy that comes from the bracelet. That's not to say her on-screen iteration is weaker. In fact, she can use the energy to create shields, and blasts, and can even walk on air.
Kamala Khan/Ms Marvel on-screen appearances explained
Being such a new character in the Marvel universe, Kamala's first major on-screen appearance as Ms. Marvel was in her own self-titled series, which came out in 2022.
The Disney Plus show does throw out the majority of the character's lore. As we've mentioned above, Kamala's powers come from a completely different source, and she boasts other abilities than that of the comics.
Plus, instead of having Inhuman genetics, Kamala is said to be a Mutant, à la The X-Men. (You can even hear the X-Men: The Animated Series theme when this is revealed.) Kamala is played by Iman Vellani, who's also set to reprise the role in The Marvels and likely throughout new movies to come.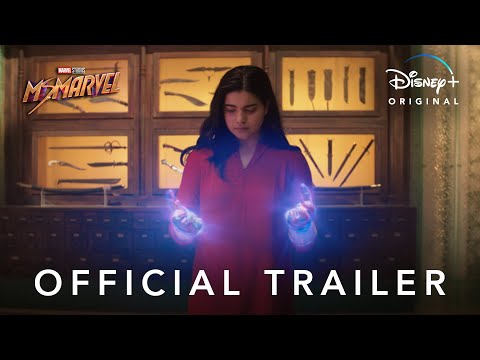 Prior to this, her on-screen appearances have been limited to some animated series, like Avengers Assemble and the 2017 Spider-Man series. Honestly, we've loved seeing Vellani bring the quirky, plucky teen hero to life, and we hope to see more of her throughout the upcoming Marvel movies.
That's Kamala Khan! I mean…Ms. Marvel. For more on the best superhero movies, check out our guide to the Marvel movies in order. You can also look to the future with our Deadpool 3 and Secret Wars guides or see what we think are the best movies of all time.
If you're looking for a little villainy, take a look at our list of the best Marvel villains. Or, for a long read, check out our feature on why Marvel needs to learn that killing characters isn't everything.