Here's our complete guide to the John Wick cast. The hard-hitting hitman franchise has grown rapidly since the original entry in the series and now boasts a glittering array of stars among its cast. But where do you know those familiar faces from?
The John Wick saga has given Keanu Reeves a whole new platform to display his badass action movie skills in some of his best movies to date, and as we rewatch the John Wick movies (for the 57th time), we figured it's time to share our knowledge of everyone involved in the franchise.
While this saga is predominantly a Keanu Reeves movie extravaganza, there are other actors who deserve attention, too. So, here's the entire John Wick cast in all its glory.
John Wick cast and characters
The main John Wick cast list:
Keanu Reeves as John Wick
Ian McShane as Winston
Lance Reddick as Charon
Laurence Fishburne as Bowery King
Halle Berry as Sofia Al-Azwar
Anjelica Huston as The Director
John Leguizamo as Aurelio
Asia Kate Dillon as The Adjudicator
Bill Skarsgård as Marquis de Gramont
Rina Sawayama as Akira
Keanu Reeves as John Wick
There wouldn't be any John Wick movies without Keanu Reeves at the head of it all, and he's a man who hardly needs an introduction at this point.
Reeves' most famous role is probably as Neo in The Matrix, but he's done plenty aside from the science fiction movie series. When he's not busy saving the world in The Matrix movies, you can see Reeves in a wide range of projects, from one of the best horror movies ever made, Bram Stoker's Dracula, to comedy movies like Bill and Ted. What a legend.
Looking ahead, we're excited about the potential Constantine 2 release date, as Reeves looks set to reprise as the DC character one more time.
Ian McShane as Winston
As the owner of the Continental Hotel, Winston is a central character in the John Wick world, and you're very likely to have seen actor Ian McShane elsewhere.
He starred in TV series like Deadwood and American Gods, has popped up in the Pirates of the Caribbean franchise, and has lent his vocal talents to animated movies like Shrek the Third, Kung Fu Panda, and My Father's Dragon.
Lance Reddick as Charon
Lance Reddick starred in John Wick as the concierge of the Continental Hotel's New York branch, and as such, is quite a handyman for John Wick to know. The actor will reprise his role as Charon in the upcoming spin-off The Continental, a prequel thriller series set in the world of John Wick.
Away from the world of hitmen, you can find Reddick in the Netflix series Resident Evil and in one of the best TV series of all time, The Wire. To put it simply, Reddick loved being on the small screen. He passed away in 2023, just as John Wick 4 hit cinemas.
Laurence Fishburne as Bowery King
If you're a fan of Keanu Reeves' work in The Matrix, then you will know very well that Laurence Fishburne also had a key role in the '90s movie as Morpheus. The actor has enjoyed a long and illustrious career, with his big break coming in literally one of the best war movies ever made, Apocalypse Now.
Since then, Fishburne has appeared on both sides of the superhero movie world, playing Perry White in the Superman movie Man of Steel and joining the Ant-Man cast as the MCU character Dr Bill Foster.
Halle Berry as Sofia Al-Azwar
Speaking of superheroes and franchise work, Halle Berry is no stranger to that world. She played the iconic Batman villain Catwoman in her own DC movie, but the less said about that, the better. She has also been in the James Bond movies as Jinx Johnson.
There's no wonder the John Wick franchise wanted her to play such a badass, but Berry also has a more nuanced side to her work. She even won an Oscar for her starring role in the 2000s movie Monster's Ball.
Anjelica Huston as The Director
As John Wick's adoptive mother and the crime lord behind the Ruska Roma, it's safe to say Anjelica Huston was hired to play one hell of a powerful woman, and she flourishes in the role.
You probably remember Huston as the main movie villain from the kids movie The Witches, because if you watched that film as a child, you will have been scarred for life. She also played Morticia Addams in the two Addams Family movies from the early '90s.
John Leguizamo as Aurelio
As far as the criminals in the John Wick universe go, Aurelio's role as a mechanic is pretty tame, but he does deal with pretty much every guy on the most wanted list within the movies. As for Leguizamo, the actor has had a quietly impressive career.
Leguizamo worked with Baz Luhrmann in two musicals; Moulin Rouge and Romeo and Juliet. He also used his vocal talents for the Disney movie Encanto, where he played Bruno, (but we shouldn't talk about him), and voices Sid the Sloth from the Ice Age movies. Most recently, you probably saw Leguizamo in the 2022 movie The Menu.
Asia Kate Dillon as The Adjudicator
As an agent of the High Table and representative of the Elder, Asia Kate Dillon has landed herself a huge role in the John Wick franchise, and this has been her big break on the big screen in many ways.
Before this, Dillon had appeared in hit TV shows like Orange is the New Black, the animated series Gen: Lock, and Billions.
Bill Skarsgård as Marquis de Gramont
And now we come to the mysterious villain in John Wick 4, Marquis de Gramont, played by Bill Skarsgård. If that name rings a bell, it's because he's related to Stellan and Alexander – the Skarsgårds are a talented family indeed!
Bill Skarsgård is best known for his portrayal of the killer clown Pennywise from the horror movie IT, and he was also in the creepy monster movie Barbarian, too. Basically, Bill likes to do either weird films, or be a bad guy, or both. He's one of the best villains Wick has ever faced.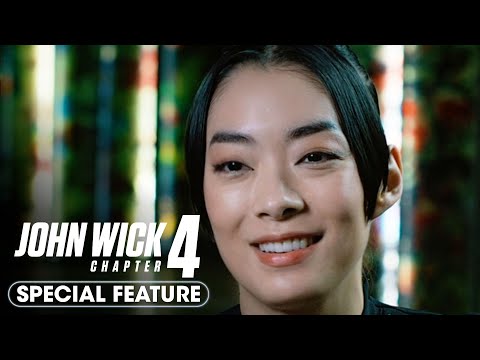 Rina Sawayama as Akira
Also in the John Wick 4 cast is newcomer Rina Sawayama as the deadly Akira, who is also the concierge of the Osaka Continental. She joins forces with John in his battle against the High Table, albeit reluctantly. Akira is just as talented at hand-to-hand combat as John and is a useful and charismatic ally.
John Wick 4 is only Sawayama's second acting credit, having previously been in two episodes of the British TV series Turn Up Charlie. She is also a successful pop singer, though she more than proved her acting chops here. Read our John Wick 4 review for more.
Everyone in the John Wick cast
That's not enough? Do you want more? OK, you asked for it: here's every single member of the John Wick cast.
The complete John Wick cast list:
Keanu Reeves as John Wick:
Michael Nyqvist as Viggo Tarasov
Alfie Allen as Iosef Tarasov
Adrianne Palicki as Ms. Perkins
Bridget Moynahan as Helen
Dean Winters as Avi
Lance Reddick as Charon
Toby Leonard Moore as Victor
Ian McShane as Winston
John Leguizamo as Aurelio
Willem Dafoe as Marcus
Omer Barnea as Gregori
Daniel Bernhardt as Kirill
Thomas Sadoski as Jimmy
David Patrick Kelly as Charlie
Clarke Peters as Harry
Kevin Nash as Francis
Common as Cassian
Laurence Fishburne as The Bowery King
Riccardo Scamarcio as Santino D'Antonio
Ruby Rose as Ares
Claudia Gerini as Gianna D'Antonio
Wass Stevens as Consiglieri
Peter Serafinowicz as the Sommelier
Youma Diakite as Lucia
Tobias Segal as Earl
Chukwudi Iwuji as Mr. Akoni
Yamamotoyama Ryūta as Rajah
Erik Frandsen as The Numismatic
Halle Berry as Sofia Al-Azwar
Mark Dacascos as Zero
Asia Kate Dillon as The Adjudicator
Anjelica Huston as The Director
Saïd Taghmaoui as The Elder
Jerome Flynn as Berrada
Randall Duk Kim as The Doctor
Margaret Daly as Operator
Robin Lord Taylor as Administrator
Susan Blommaert as Librarian
Jason Mantzoukas as Tick Tock Man
Cecep Arif Rahman as Shinobi #1
Yayan Ruhian as Shinobi #2
Unity Phelan as Rooney
Roger Yuan as Huang
Tiger Chen as Triad
Boban Marjanović as Ernest
Donnie Yen as Caine
Bill Skarsgård as the Marquis Vincent Bisset de Gramont
Hiroyuki Sanada as Shimazu Koji
Shamier Anderson as Mr. Nobody / The Tracker
Rina Sawayama as Shimazu Akira
Marko Zaror as Chidi
Scott Adkins as Killa Harkan
Clancy Brown as the Harbinger
That's all on the John Wick cast for now, but if you want to know more about that world, we have a guide on who trained John Wick, and some speculation on the John Wick 5 release date. You can also keep up to date with all the new movies coming this year and see our picks for the best thriller movies of all time too.
Or, keep up to date with Reeves by learning how he performed the best Matrix stunt by himself, and how he married Winona Ryder by accident. Oops.