What happens at the end of Good Omens season 2? After a four year wait, Good Omens is finally back with a second season on Amazon Prime. It's wonderful to finally be reunited with our favorite angel and demon duo – Aziraphale (Michael Sheen) and Crowley (David Tennant). But you may be wondering what happens at the end of season 2, and if it leaves things open for a Good Omens season 3.
Good Omens season 2 has two main strands – present day, in which Archangel Gabriel (Jon Hamm) arrives on Aziraphale's bookshop door naked, with amnesia. And the second strand is made up of substantial flashbacks to Aziraphale and Crowley's relationship through the ages, in the form of 'minisodes.'
Crowley joins forces with Aziraphale to hide Gabriel from the minions of both heaven and hell. But in episode 5 of the fantasy series, a large gang of demons led by Shax (Miranda Richardson) has descended on the bookshop, trying to get in and get to Gabriel. More members of the Good Omens season 2 cast – Maggie (Maggie Service) and Nina (Nina Sosanya) – are also in the bookshop, which was hosting a Jane Austen style ball. Once everything turns hellish, they help Aziraphale keep the demons at bay.
Good Omens season 2 ending explained
Good Omens season 2 ends with Crowley trying to persuade Aziraphale to run away with him, and kissing him. Aziraphale has been asked by The Metatron (Derek Jacobi) to take over as Supreme Archangel, now that Gabriel has run away with Beelzebub. Aziraphale wants to restore Crowley from a demon, back into an angel and have him come to heaven with him, so they can work together. The final moments see Aziraphale ascending to heaven with The Metatron in an elevator, and Crowley driving away in his beloved Bentley.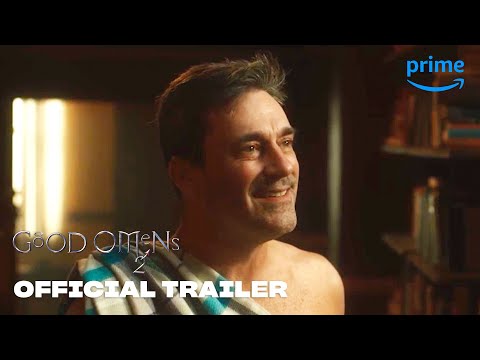 Why did Gabriel leave heaven and why does he have amnesia?
It turns out that the reason Gabriel had left heaven is because they wanted another war with hell and another Armageddon. Gabriel had been secretly meeting with Beelzebub (Shelley Conn) in various bars and pubs on earth, and they had become close. Therefore Gabriel doesn't want a war with hell.
The other Archangels, including Michael (Doon Mackichan) tell Gabriel that he must leave heaven and have his memory wiped. Gabriel says that he's just going to clear out his desk, and takes off his suit which belongs to heaven. Gabriel puts a matchbox from The Resurrectionists pub in Edinburgh inside a large cardboard box. He then turns the box over and writes "I am in the fly" on the underside. When he does this, the matchbox falls out and he leaves it in heaven.
It transpires that Beelzebub had given Gabriel the fly and told him it was a container, in case he should need it. Gabriel puts his memories into the fly, before having his memory wiped in heaven. He then arrives at Aziraphale's door naked, holding the empty cardboard box and with amnesia.
What else happens in the Good Omens season 2 finale?
In episode 6, Maggie and Nina help Aziraphale defend his bookshop and Gabriel from the demons, using fire extinguishers and throwing encyclopedias. While they're doing this, Crowley has gone to heaven with Muriel to try to find out what's going on with Gabriel. Aziraphale finally defeats the demons by using his halo, but is worried that he may have just started a war between heaven and hell.
Crowley, along with the angels Michael, Uriel, Saraqael, and Muriel arrive back in the bookshop. Demons Beelzebub, Furfur (Reece Shearsmith), and Dagon (Elizabeth Berrington) also arrive at the bookshop joining Shax, who is already there. Beelzebub then reveals the whole fly thing involving Gabriel, and they leave together. Beelzebub tells Shax that she can be the new Grand Duke of hell.
This is when The Metatron arrives and sends Michael, Uriel, and Saraqael back to heaven. He gives Muriel one of the best books of all time – The Crow Road by Iain Banks. The Metatron then puts his proposal to Aziraphale, and says that Muriel can run the bookshop in his absence. Maggie and Nina then tell Crowley that it's obvious that he loves Aziraphale, and we are given hope that the question of: Do Crowley and Aziraphale get together will finally be answered.
Do Aziraphale and Crowley get together at the end of Good Omens season 2?
Aziraphale excitedly proposes to Crowley that he come to heaven with him, as his second-in-command. But Crowley wants to be away from the 'toxic' heaven and hell, he wants them to run away together and be an "us." Crowley says "you can't leave this bookshop" and Aziraphale responds; "nothing lasts forever" – which is almost as heartbreaking as Fleabag's "it'll pass."
Crowley says that he can't hear nightingales (which they heard at the end of season 1, and is how the book ends – sob). Crowley kisses Aziraphale and he infuriatingly says; "I forgive you." Crowley responds with "don't bother."
Aziraphale asks The Metatron what the next part of God's ineffable plan is, and he says something about The Second Coming. Which surely must be teeing up a Good Omens season 3? Right, Neil Gaiman, right? We absolutely cannot end Good Omens on this heartbreaking ending between Aziraphale and Crowley, no siree.
So – we apologize that the Good Omens ending explained was somewhat long-winded, but there was an awful lot to cover in that final episode! If you have more questions about season 2, we have some further guides for you – such as When did Aziraphale and Crowley first meet? And When does season 2 take place?
If you love fantasy series as much as we do, check out our guides to Henry Cavill's final scene in The Witcher and The Witcher season 3 volume 2 ending explained. If you're looking for more Gaiman, check out our guide to The Sandman season 2 release date. You can also find out what else is new on Amazon Prime.