When did Aziraphale and Crowley first meet? Good Omens is finally back for a second season on Amazon Prime on July 28. The first season began with Michael Sheen's angel Aziraphale and David Tennant's demon Crowley fulfilling their roles in the Garden of Eden. In season one, episode three, we followed the friends at different points throughout human history. But just exactly how long have they known each other?
In Good Omens season one, episode one, we see Crowley take the form of the serpent who tempts Eve to eat the apple from the Tree of Knowledge in the Garden of Eden. Aziraphale gives Adam his flaming sword to protect them from wild beasts once they are expelled from the garden. We then see Aziraphale shelter Crowley with his wing, as it begins to rain.
Many Good Omens viewers assumed that this is when the angel and demon duo first met. After all, this was as near as damnit (sorry, Aziraphale) to the beginning of time (at least, for humankind). But the Good Omens season 2 release date is finally here, and the first episode of one of the best fantasy series of recent years reveals that the duo have known each other for even longer. So here's when Aziraphale and Crowley first met.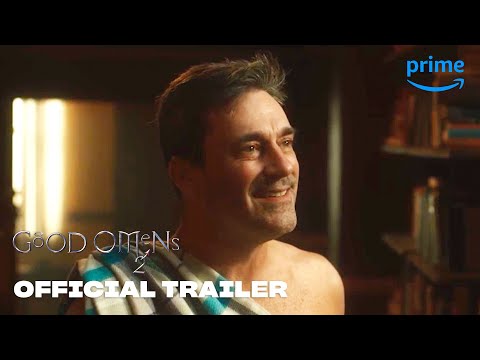 When did Aziraphale and Crowley first meet?
Good Omens season 2 opens with 'Before the Beginning', and we find angel Crowley – that's right, long white robe, big white wings – the whole deal. He's floating in the vastness of space and flags down a passing angel for help. You guessed it – Aziraphale.
Crowley is holding a celestial map, which he asks Aziraphale to hold while he 'cranks it all up.' Aziraphale introduces himself by name, and Crowley responds, "Nice meeting you." So this seems pretty definitively to be their first meeting. Crowley announces; "Let there be matter, let there be gravity…" but nothing much happens until he says; "Let there be light." We then witness the spectacular birth of the universe.
So, Aziraphale and Crowley have known each other since 'before the beginning,' before the Big Bang, before the dawn of time and space. Just in case you were looking for evidence that they're soulmates for some reason.
The duo then have their first tiff when Aziraphale explains that the stars are just there for the people on Earth to marvel at, and Crowley says they're "not just put here to twinkle!" He then says that he's going to put a note in God's suggestion box, prompting Aziraphale to say that he'd hate to see Crowley getting into any trouble. Crowley responds, "how much trouble can I get into just for asking a few questions?" And then a star shower arrives, which Crowley protects Aziraphale from with his wing, echoing the start of season one (sniff).
Aziraphale and Crowley through the ages
In season one, episode 3, we see Aziraphale and Crowley's relationship through time – from God questioning Aziraphale at the Garden of Eden, then to Mesopotamia in 3004 BC, where Aziraphale and Crowley watch the animals going into Noah's Ark two-by-two, for to get out of the rain, then to Golgotha in 33 AD where Crowley explains that he's changed his name from the somewhat snakey moniker of Crawley.
We also see them in Ancient Rome (41 AD) and then Wessex (537 AD), where Aziraphale is a Knight of the Round Table. This is the important moment when Crowley proposes that it would be easier if the angel and demon 'just stayed home' because they cancel each other out and just pretend they've been doing their jobs. They next meet at Shakespeare's Globe Theatre in 1601, then Paris during the French Revolution of 1793, where Aziraphale almost loses his head, then Victorian London (1862), then WWII London (1941), and finally in the swinging Soho of 1967.
The intention of this thirty-minute prologue, of course, is to give us greater context and a deeper understanding of Aziraphale and Crowley's relationship (which goes beyond what we get in the source novel). Neil Gaiman continues this in season 2 with three 'minisodes' – one set in Biblical times, one in Regency/Georgian times, and one in World War Two. Each one provides even more insight into how they've shaped one another through the ages and how they've helped – and hindered – one another at pivotal moments.
So, there's your answer to when and where Aziraphale and Crowley first met and how long they've known one another. For more on the series, you can read our Good Omens season 2 review and check out our guide on the Good Omens season 2 cast list. Or why not look over our list of the best TV series of all time?
If you're in the mood for more Neil Gaiman, check out our guide to The Sandman season 2. If you fancy more fantasy, check out our guides to The Witcher season 3, Wheel of Time season 2, and Outlander season 7.