When does Good Omens season 2 take place? Neil Gaiman's Good Omens finally returns to Amazon Prime on July 28, 2023, after a tortuous four-year wait. Considering the events of the first season, and the gap of time since it ended, it's reasonable to wonder when the second season takes place.
The first season of Good Omens mostly took place in the present day, and the plot surrounded a boy called Adam who also happened to be, um Satan. The Amazon Prime series also gave some insight into the relationship between Aziraphale (Michael Sheen) and Crowley (David Tennant) through the ages – from the Garden of Eden, to Shakespeare's time and more.
At the end of one of the best fantasy series of the past five years, Aziraphale survives Armagedoen and heaven's judgment, returning to his bookshop in present-day Soho, London. The demon Crowley also survives and also returns to London, where he lives out of his beloved Bentley. But now that the Good Omens season 2 release date is upon us, let us clear up when Good Omens season 2 takes place in the fantasy timeline exactly.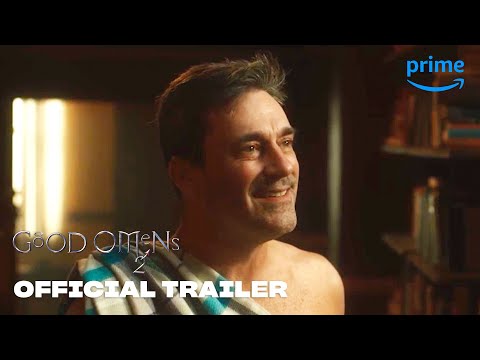 When does Good Omens season 2 take place?
The majority of Good Omens season 2 takes place in present-day London – mostly in Aziraphale's bookshop. It is unclear exactly how much time has passed since season one – it could be the four years that have actually passed between the two seasons.
Aziraphale's neighborhood is explored more this season – with Maggie's (Maggie Service) record shop and Nina's (Nina Sosanya) coffee shop also being important locations. However, episodes 2, 3, and 4 all feature 'minisodes' featuring substantial flashbacks to different time periods in Aziraphale and Crowley's relationship.
This expands upon the 30-minute cold open at the start of Good Omens season 1, episode 3, where we follow Crowley and Aziraphale through significant points in human history.
Chapter 2: The Clue – featuring the minisode A Companion to Owls
A Companion to Owls is set in The Land of Uz in 2500 BC. It follows the biblical story of Job. Satan tells God that Job is only a good person because God has been good to him. So, God takes everything away from Job – his home, his livestock, and even his children – as a test to see if he remains faithful and good. Aziraphale and Crowley get involved as representatives of God and Satan on Earth.
This episode features some fun casting choices to look out for – David Tennant's father-in-law and former Doctor Who star Peter Davison as Job and Tennant's son Ty as Job's son Ennon. Ty Tennant is part of the House of the Dragon cast.

Chapter 3: I Know Where I'm Going – featuring the minisode The Resurrectionists
The Resurrectionists is set in Georgian/Regency Edinburgh, in 1827, to be precise. However, it could be easily mistaken for Victorian times based on the costumes, production design, and atmosphere. Aziraphale and Crowley are hanging out in Greyfriars churchyard looking at a statue of Gabriel and become embroiled in a body-snatching plot.
The reason that this episode is set in 1827 and not later is likely two-fold. Mary Shelley's Frankenstein, which famously features bodies being snatched in order to construct the monster, was first published in 1818 (with a revised edition in 1831). In 1832, the Anatomy Act granted doctors, teachers of anatomy, and medical students permission to dissect donated bodies. It was a response to the public's revulsion at the illegal trade in corpses.

Chapter 4: The Hitchhiker – featuring the minisode Nazi Zombie Flesheaters
Nazi Zombie Flesheaters is set in London during World War Two. Steve Pemberton and Mark Gatiss return as the same Nazi characters who briefly appeared in season 1 – Mr. Harmony and Mr. Glozier. Although, this time, they're zombies sent from Hell to find evidence that Aziraphale and Crowley are in cahoots. Veteran actress Sian Phillips also features as the manager of a West End theatre where Aziraphale tries to perform the bullet-catch magic trick.
Reece Shearsmith, who starred in one of the best comedy series of all time, League of Gentlemen, alongside Gatiss and Pemberton, plays a demon in this episode. Shearsmith also appeared in season 1 as William Shakespeare.
Nazi Zombie Flesheaters was written by the League of Gentlemen's Jeremy Dyson, and Andy Nyman – a writer for illusionist Derren Brown. Nyman brings some zombie experience, as he acted in 2008's Dead Set, about a zombie outbreak on the set of Big Brother.
So, there's an explanation of when and where Good Omens season 2 is set. For more, check out our Good Omens season 2 review and our guide to the Good Omens season 2 cast.
For more historical fantasy series, check out our guide to Outlander season 7. For more fantasy on Amazon Prime, check out our guide to The Wheel of Time season 2 release date. For more Neil Gaiman, check out our guide to The Sandman season 2 release date. Be sure to check out what's new on Amazon Prime too.