Is Ghosted streaming? Chris Evans and Ana de Armas are a rom-com dream double act, with both of them among the most charismatic stars operating in Hollywood today. They've joined forces for Ghosted, in which an ordinary farmer becomes embroiled in the life of a highly-trained CIA operative. Modern dating is a real nightmare.
Chris Evans plays farmer Cole, who gets the silent treatment from Sadie (Ana de Armas, who replaced Scarlett Johansson) after they go on a date. When he tries to find her again, he ends up kidnapped by arms dealers and discovers that she is not who he thought she was. The best rom-coms always feature heavy weaponry, right?
The new movie hopes to bring the best action movies and the best comedy movies together for a perfect combination. If you want to know whether it manages that feat, we've got all of the information you need on how to watch Ghosted, and which of the best streaming services you can use to watch it right now.
Where can I watch Ghosted?
Ghosted is available exclusively on Apple TV+. It's Apple TV you need in order to watch the new movie. It's not available in cinemas for now, so it's streaming or bust.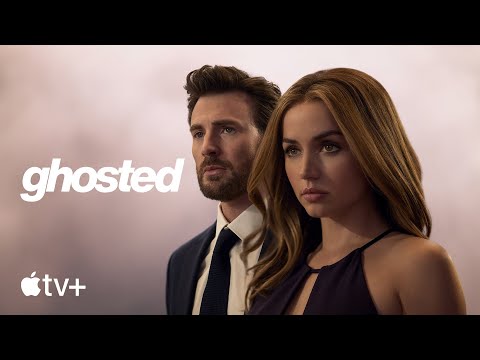 Is Ghosted streaming?
Good news for Evans and de Armas fans, as Ghosted is streaming via Apple TV+. So if you're an Apple TV subscriber, you can watch the movie right now alongside everything new on Apple TV in April 2023.
Can I watch Ghosted online?
You can watch Ghosted online if you're an Apple TV+ subscriber. That streaming platform is currently the only way to access Ghosted online, as it's not available on any other digital services.
Is Ghosted on Netflix?
No, Ghosted is not available on Netflix. As the movie is an Apple TV+ production, it's unlikely to show up on one of its biggest streaming competitors any time soon. It certainly hasn't happened before.
Is Ghosted on Disney Plus?
No, you can't stream Ghosted on Disney Plus. Neither Disney or any of its other companies had a role in making Ghosted, so we'd be very surprised if it turns up on the Mouse House's streaming service.
Is Ghosted on Prime Video?
N0, Ghosted is not available on Prime Video. It's unlikely that Apple will add Ghosted to Prime Video. It certainly hasn't happened with previous movies from the streamer.
Is Ghosted on Blu-ray?
Sorry, but you can't buy Ghosted on Blu-ray. It's not impossible that Ghosted will get a physical release in the future, but we don't have any confirmation for now that it's something we can expect to happen.
If you want to see more from the stars of Ghosted, we've got lists of the best Chris Evans movies and the best Ana de Armas movies, as well as our definitive guide to the best movies of all time.
Meanwhile, we've also got a lot more information on the 2023 movies we're all excited to see this year, including the Indiana Jones 5 release date, the Guardians of the Galaxy Vol 3 release date, the Barbie movie release date, and the Fast and Furious 10 release date.