If you've seen Cocaine Bear, you'd be forgiven for thinking that new movies have nothing more to show you. The action movie positions a group of humans in a national park against an apex predator on a drug-fuelled rampage, delivering horror movie violence of the bloodiest kind.
So, Cocaine Bear 2? It would require even more dramatic licence than the best movies based on a true story, given the fate of the real-life critter that inspired the thriller movie and its onslaught of not-nearly-true carnage. In reality, the bear that found cocaine in the woods died shortly after ingesting it. It's a sad tale that wouldn't have made for half as much riotous cinematic fun.
Any potential sequel would likely have to broaden its horizons beyond its titular animal. Fortunately for screenwriters, the world is a strange and unusual place. There are plenty of events beyond the Cocaine Bear true story that seems tailor-made to inspire a dark comedy movie with even more teeth than Cocaine Bear. And some of these stories are in a class (A) of their own.
Cocaine Astronaut
Hollywood has been making the best science fiction movies for years, hopping across genres as easily as solar systems. Even the Fast and Furious movies have been to space at this point, soon to be followed by Tom Cruise himself. Astronauts are usually devilishly intelligent and in peak physical condition, but that doesn't mean they're always totally free of vices. According to Space.com, there has been more than one instance of cocaine being found at NASA's Kennedy Space Centre in Florida.
Had the likes of Seth Rogen and James Franco got hold of this story in the mid-noughties, there would already be a space-on-drugs franchise spanning multiple movies and various illicit substances. Perhaps the Cocaine Bear team are the ones to make it.
Cocaine Shark
This one has already attracted itself some publicity. In February, authorities in New Zealand announced that they had recovered more than three tonnes of cocaine floating in the Pacific Ocean (via The Guardian). Out there, anybody could've found it. Fortunately for the real world, the police got there before any deadly predators arrived to trigger a chilling Robert Shaw monologue.
Naturally, with the imminent release of Cocaine Bear, social media found this true story and decided Cocaine Shark should be the next film in the Cocaine Animal Cinematic Universe – CACU has a nice ring to it.
Even director Elizabeth Banks is open to making Cocaine Shark, though she's very aware that the canon of best shark movies is a busy one. After all, not everybody can match up to Sharknado. That's the one you were thinking of, right?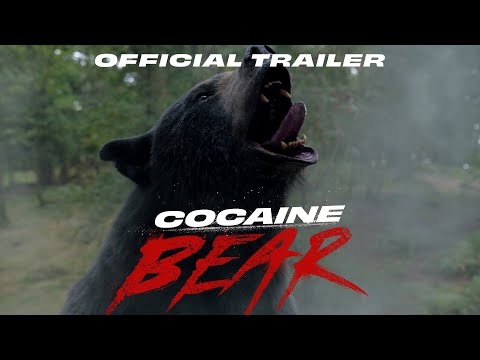 Cocaine Cows
Drug smugglers often disguise their shipments as animal feed, such as in January this year when Spanish police intercepted a livestock carrier with 1,750 cattle on board. The Maritime Executive reported that cops also found 4.5 tonnes of cocaine in the feed silos. There's endless potential in the prospect of more than a thousand massive mammals getting very, very high on a boat. They'd certainly be in an udderly bad moo-d. Sorry.
A slightly more low-key version of this story unfolded in the UK last year when 230 kilos of cocaine were recovered in a delivery to a Somerset farm, according to the BBC. Could the Cocaine Bear sequel have a British edge? Somebody call Simon Pegg and Edgar Wright. Cocaine Farm isn't going to make itself.
Cocaine Caterpillar
In Colombia, cocaine production is big business and a big problem for authorities. They've got their thinking caps on for how they can curb the mass cultivation of the coca plants which are used to make the drug. In 2005, NBC reported, scientists suggested releasing thousands of Eloria Noyesi moths.
But what do moths have to do with cocaine? The plan was that these moths would lay eggs on the plants. Their caterpillars naturally feed on coca leaves and, therefore, have a resistance to the effects of the drug.
But what if something went wrong? That's thousands of caterpillars on cocaine, roaming Colombia. A Bug's Life would have been a very different Pixar movie in that case.
Cocaine Church
"Florida man does/says X" stories are often to be taken with a pinch of salt, with that format something akin to a meme in the world of overwrought news stories. However, a report in Utah-based Deseret News has a few details from 1994 that might catch the eye of those looking at potential Cocaine Bear 2 stories.
The report suggests that a bale of cocaine from a jet being pursued by US Customs fell through the roof of a house, right into a room that just happened to be hosting a neighbourhood watch meeting. That probably didn't require too much watching.
Even more tantalisingly, though, one of the bales of cocaine apparently hit a church and landed in the car park. Hire an imaginative screenwriter to take that one to its logical conclusion and suddenly the infamous church massacre scene from Kingsman looks like a friendly game of football.
If you're keen for more reading on one of the year's oddest movies, read our Cocaine Bear review to find out what we thought of it. We also have a Jimmy Warden interview, in which the writer explains why he just had to pen this script.
We've also got you covered on the best movies heading your way in 2023, including the Barbie movie release date and the Oppenheimer release date. And if horror and violence is your thing, take a look at the Scream 6 release date, the John Wick 4 release date, and the Evil Dead Rise release date.