Foundation is back. Fans of hefty, thought-provoking sci-fi rejoice! Showrunners David S. Goyer and Josh Friedman's take on Isaac Asimov's apparently unadaptable books proved to be a hit and one of the best Apple TV shows when it arrived in 2021. Now, we're back on Trantor for more cloning, androids and most exciting of all, really complicated mathematics. Hooray!
The good news is that Foundation still ranks among the best TV series for those who like their genre stories with a brain. The first season concluded with a familial revelation for heroes Gaal (Lou Llobell) and Salvor (Leah Harvey), as well as the news that the DNA used to create perfect Cleon clones isn't so perfect after all. That's not to mention the staging of a cataclysmic mega-flare, aimed at convincing the Empire that the Foundation has been destroyed.
Apple TV Plus has continued to spend a huge wedge of cash on their best sci-fi series, of course, but the lavish production is secondary to the ideas. And there are plenty of those now that the Foundation season 2 release date has arrived, blasting all of the storylines a century into the future. Let's dive right in…
He gets a little clone-ly
On Trantor, the latest version of Brother Day – he's Cleon XVII – is in bed with his android right-hand woman Demerzel (Laura Birn) when he is attacked by mysterious assailants and almost mortally wounded. Day executes his shadowmaster in the wake of the breach, and tells Brother Dawn (Cassian Bilton) that he and Brother Dusk (Terrence Mann) must submit to a neural audit. He's a suspicious dude.
Day is becoming increasingly paranoid about the Empire's loosening control, especially as the genetic code of the Cleons has been corrupted. He is talking about marrying Queen Sareth of Cloud Dominion (Ella-Rae Smith) and having biological children. That's a big step for a ruling order so devoted to cloning.
Sareth is an exciting and cutting addition to proceedings, hilariously accusing Day of "over-compensating" in their very first meeting when he declares that "evoking awe often trumps efficiency" when ruling an Empire. It's terrific stuff, and Smith looks to be a very welcome addition to the show.
Demerzel interrupts the back-and-forth with a revelation. They've discovered the body of Commander Dorwin (Christian Contreras), which has been floating in space for over a century. His neural implant has a video message revealing that the supposed mega-flare never happened and life in the Outer Reach is alive and well.
Dusk immediately wants the Foundation wiped out, but Demerzel counsels the restraint the Cleons didn't have when they bombed Anacreon and Thespis. Day agrees and suggests they allow the Foundation to play dead while the Cleons determine how big the problem is. Worried by the net of chaos closing in on them, Dusk warns Day to "get your house in order".
Family reunion
We catch up with Gaal and Salvor on the flooded planet of Synnax, just after Gaal learns that the older woman in front of her is actually her daughter (cryosleep has a habit of messing up the ageing process). Salvor wants to know everything about Gaal and her life, as well as their psychic abilities, but the new mom understandably feels a bit weird about the whole thing.
Salvor wants Gaal to activate the Prime Radiant, but Gaal is evasive about it. That'd be because there's a very angry version of Hari Seldon trapped inside. The duo use the Radiant and discover that, in the century or so since they went into cryosleep, humanity has veered from Seldon's path and they're right on the verge of a Second Crisis.
Even scarier, though, is that the upcoming Third Crisis is a tipping point. If not solved, it could lead to thousands more crises and a potentially endless darkness. Nobody wants that.
As the waters get higher, they decide they need to get off this world. This triggers an impressively tense set piece in which the two women dive down to Salvor's ship and manage to salvage it back to the surface. There are some huge mechanical faults though, so they'll struggle to escape without letting Hari out of his prison.
A glass case of emotion
While all of this is going on, Hari Seldon – or at least one of the versions of his consciousness, keep up – is trapped. He sees a vision of his lifemate Yanna (Nimrat Kaur), but soon notes that she is speaking in a rare poetic rhythm he identifies as "anapestic trimeter". That's right; maths and science weren't enough for this show, so now we've got poetry too.
Due to the rhythm, he deduces that she is a manifestation of the mathematician Kalle and he has been imprisoned within the Prime Radiant. More than that, this woman is the Prime Radiant itself and it has gained some sort of awareness. He works out, with her help, that he can unfold his prison and escape. As he leaves, she whispers to him to meet her "in Oona's world".
On Salvor's ship, Hari emerges from the Prime Radiant and angrily growls to Gaal that "it's time you and I had a reckoning". It's quite the cliffhanger.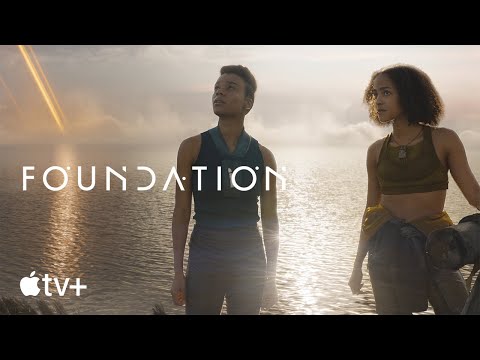 There are a lot of plates spinning in this opening episode, but it's a very solid start to the season. This show is as ambitious as any of the best movies based on books, and you have to respect its willingness to dig deep into the source material's hefty concepts and labyrinthine plotting. If it keeps up this quality, Asimov would be proud.
If you want to know how to keep up with Foundation on one of the best streaming services, check out our guide to the Foundation season 2 release schedule. We've also got everything you should know about more of Apple's biggest sci-fi, including the For All Mankind season 4 release date and the Invasion season 2 release date.
And if that's not enough great TV, we've got a Phil Lord and Chris Miller interview for The Afterparty. You can also find out how Ted Lasso was changed for the better because of this US president and read about the five Ted Lasso spin-offs we want to see.
One of the most beautifully-crafted and ambitious sci-fi series of the modern era is back, and we love being in Asimov's world all over again.