When is the One-Punch Man season 3 release date? It's been some time since we last saw Saitama cream a monster with his signature single right hook, averting disaster in the show once again. The Elder Centipede didn't know what hit it, leaving us all to wonder what's next.
That's a good question because One-Punch Man has become one of the best anime series precisely because of the escalation around the remarkable abilities of its namesake protagonist. Will we ever get a One-Punch Man character that can take more than one of Saitama's hits? Genos continues to grow more and more powerful. Could he ever turn on his master? So many questions!
Based on the manga by Yusuke Murata, One-Punch Man was one of the best TV series of the 2010s. So far, we've had two seasons of incredible threats to planet Earth in the Netflix anime, solved by Saitama delivering an intense knuckle sandwich, with some interpersonal strife thrown in for good measure. Is there another on the way? If there is, when can you watch it? You've come to the right place because we've compiled everything you need to know about One-Punch Man season 3. Warning: spoilers ahead!
One-Punch Man season 3 release date speculation
One-Punch Man season 3 was officially announced on August 18, 2022. We expect to see the series return sometime in early 2024.
However, this is just a guess on our part since no firm date has been confirmed. But, looking at past release patterns and the current climate of new TV and movies with the ongoing strikes, 2024 is the safest bet. One Punch Man season 1 and season 2 had a four-year gap. The last season was released in 2019, and despite the show's popularity and momentum, the global COVID-19 pandemic has caused some shifts in production schedules for season 3.
Another factor that is pushing the next chapter back into the four-year gap between seasons pattern is the central creative forces now busy with other work. Shingo Natsume, who directed the first two seasons, made another film, The Tatami Time Machine Blues. At the very least, we'll need to wait until he has the time and energy for Saitama and co again.
By the same token, there's also the question of what studio will make One Punch Man season 3. Animation moved from the legendary Madhouse, which produced Paprika and Death Note, among many other highly-celebrated shows and films, to the lesser-known JC Staff between seasons one and two. So yeah, there is lots to consider and lots of information we are still waiting for. Stay tuned for updates!
One-Punch Man season 3 cast speculation
We expect Makoto Furukawa and Kaito Ishikawa to return as Saitama and his protégé Genos, respectively. In fact, all of our favorite voice actors should be back for One-Punch Man season 3.
On the heroic side, expect to see the likes of Atomic Samurai, Child Emperor, Metal Knight, and Zombieman, among many others, in the organization's upper echelons. For monsters, besides the above, it's up in the air because most are already dead, thanks to Saitama, but we know Garou and Orochi will both be a major focus. That said, all we can truly count on, for now, is Saitama and Genos.
The expected Japanese One-Punch Man season 3 cast list:
Makoto Furukawa as Saitama
Kaito Ishikawa as Genos
Yūki Kaji as Speed-o'-Sound Sonic
Aoi Yūki as Tatsumaki
Kazuhiro Yamaji as Silver Fang
Kenjiro Tsuda as Atomic Samurai
Minami Takayama as Child Emperor
Tesshō Genda as Metal Knight
Hiroki Yasumoto as King
Takahiro Sakurai as Zombieman
Youji Ueda as Drive Knight
Daisuke Namikawa as Pig God
Satoshi Hino as Superalloy Blackluster
Yuichi Nakamura as Mumen Rider
Mamoru Miyano as Sweet Mask
Saori Hayami as Fubuki
Yūji Ueda as Watchdog Man
Katsuyuki Konishi as Tanktop Master
Wataru Hatano as Metal Bat
Masaya Onosaka as Puri-Puri Prisoner
Yūji Ueda as Amai Mask
Hikaru Midorikawa as Garou
The expected English language One-Punch Man season 3 cast list:
Max Mittelman as Saitama
Zach Aguilar as Genos
Robbie Daymond as Mumen Rider
Erik Kimerer as Speed-o'-Sound Sonic
Rich Brown as King
Ray Chase as Puri-Puri Prisoner
Greg Chun as Garou
Marieve Herington as Tatsumaki
Laura Post as Fubuki
Patrick Seitz as Tanktop Master
Kyle Hebert as Atomic Samurai
John DeMita as Bang
Sara Cravens as Child Emperor
Vernon Dew as Zombieman
Zeno Robinson as Child Emperor
Lex Lang as Flashy Flash
Sam Regal as Metal Bat
Todd Haberkorn as Drive Knight
A subsequent drop in quality was widely remarked upon, and it's unknown if JC Staff will stick with it or if another team will be brought in.
Is there a One-Punch Man season 3 trailer?
One-Punch Man season 3 doesn't have an official trailer but don't worry. We're not going to send you home without seeing your favorite caped-baldy.
In September 2019, original manga artist Yusuke Murata released a short that he'd written, drawn, and animated himself. It's not much, but it's something!
What will One-Punch Man season 3 be about?
One-Punch Man season 3 will see Saitama battle the deadly hero hunter Garou. At the end of season 2, Saitama successfully kills Elder Centipede, a Dragon-level member of the Monster Association. This created a natural end-point for the arc.
In the manga, the story then moves on to Garou (one of the best anime villains of recent years), an extremely adept hero hunter who managed to tap into a power that allows him to rival even Saitama (yes, you read that right).
We'll also see Tatsumaki and Genos explore the Monster Association, and the whole thing builds to a huge war between heroes and monsters, with high-level antagonists like Royal Ripper, Evil Natural Water, and Fuhrer Ugly, and Platinum Sperm getting involved.
This is all speculation, though, of course, and the only thing we can assume is more wild battles. Until Saitama throws a good right hook, that is.
Where will One-Punch Man season 3 be available?
Going by previous seasons, One-Punch Man season 3 will be available to stream on Crunchyroll.
The first season is on Netflix, but the second went to Crunchyroll, suggesting this will be the home from now on. Crunchyroll is an amazing anime platform, so we aren't complaining about the change!
In fact, while we wait for One Punch Man season 3, fans can check out the latest episodes of shows like Demon Slayer, One Piece, and Chainsaw Man on Crunchyroll right now. Check out the trailer for some of Crunchyroll's original shows down below for a taste of what the platform has to offer.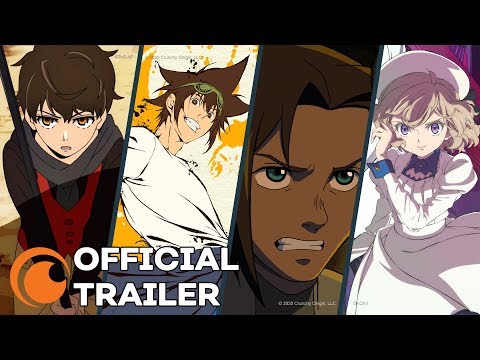 How many episodes long will One-Punch Man season 3 be?
Both One-Punch Man seasons 1 and 2 were 12 episodes long, and we expect the same for season 3.
We'll keep you posted as we learn more. In the meantime, check out our guides to the Baki Hanma season 3 release date and the Chainsaw Man season 2 release date. If you're after some hot takes, though, you need to give our list of the best anime characters a read.
Finally, for more great anime, check out our guides on everything you need to know about Demon Slayer season 4 and the Dragon Ball Super season 2 release date, as well as our new anime guide.