What is the A Haunting in Venice release date? Kenneth Branagh is set to continue his breezy, ostentatiously-accented jaunt through the mysteries of Agatha Christie as he returns to play Belgian sleuth Hercule Poirot – with cinema's Best Supporting Mustache – a third time on the big screen.
A Haunting in Venice is set to continue the thriller movie franchise with another murder for Poirot to solve, surrounded by a cast of famous faces all fighting to be the best movie villain responsible for swinging the bloody blade or firing the smoking gun.
You can check out our Death on the Nile review to find out what we thought of the last Poirot outing. And now, we have you covered on all of the information you need ahead of the A Haunting in Venice release date, including the cast, trailer and plot details for the detective movie.
What's the A Haunting in Venice release date?
A Haunting in Venice will be released on Thursday, September 15, 2023. There was a wait of five years between Murder on the Orient Express and Death on the Nile, but there's a much shorter gap this time around.
Given the pandemic-based delays around Death on the Nile, work had already begun on A Haunting in Venice. Shortly after the release of that mysterious adventure movie, in March 2022, the president of 20th Century Studios announced that Michael Green had completed work on his latest script, having penned the previous two movies.
The filming process began in October 2022, with production split between Pinewood Studios in the UK and, perhaps unsurprisingly, Venice.
Who's in the A Haunting in Venice cast?
The Poirot movies have become famous for their glittering ensembles packed with famous people, and the cast list for A Haunting in Venice is no different.
Kenneth Branagh is, of course, back on crime-solving duties for the new detective movie as Hercule Poirot. There's no word yet on whether there will be further backstory for the mustache.
Joining him as foul play hits the romantic Italian city are Michelle Yeoh, fresh from her Oscar nomination for Everything Everywhere All at Once, as well as comedy movie legend Tina Fey and the Fifty Shades of Grey star Jamie Dornan. Plus, Kelly Reilly of the Yellowstone cast will be joining the fray.
There's also a role for Branagh's new buddy Jude Hill after the young star was cast in the director's drama movie Belfast as a nine-year-old.
Other than Branagh, none of the previous cast members will return, depriving us of the opportunity to hear Gal Gadot yell that they have enough champagne to fill the Grand Canal. We can't have it all, sadly.
Here is a list of the A Haunting in Venice cast:
Kenneth Branagh as Hercule Poirot
Michelle Yeoh as Joyce Reynolds
Tina Fey as Ariadne Oliver
Jude Hill as Leopold Ferrier
Kyle Allen as Maxime Gerard
Jamie Dornan as Leopold Ferrier's father
Camille Cottin as Olga Seminoff
Ali Khan as Nicholas Holland
Emma Laird as Desdemona Holland
Kelly Reilly as Rowena Drake
Riccardo Scamarcio as Vitale Portfoglio
What is A Haunting in Venice about?
It has been confirmed that the A Haunting in Venice plot will be based on the Agatha Christie book 'Hallowe'en Party' from 1969 and will follow a retired Hercule Poirot as he investigates a murder at a seance.
As with many of the best movies based on books, A Haunting in Venice is set to make plenty of changes to its source material, most notably, the setting has moved from the quiet English village of Woodleigh Common to Venice, which is probably just a little bit more glamorous.
The trailer definitely makes a Haunting in Venice look a lot scarier than we were expecting, but we'd be surprised if this turned out to be a full-on horror movie.
We predict that the great detective will see through the supernatural trappings the murderer has co-opted to commit their crimes and save the day. That or he'll call the Ghostbusters. Either way, the day will be saved.
Is there a trailer for A Haunting in Venice?
The first A Haunting In Venice trailer was released at CinemaCon 2023, and it surprised a lot of people, to be honest.
The film looked more like one of James Wans Conjuring movies than a Poitrot story and featured plenty of ghostly goings on. Watch it for yourself above.
The second trailer (below) dropped on July 19, 2023, and showcased more spooky shenanigans. It appears as if Tina Fey's Ariadne is the one who's brought in Poirot to investigate the haunting, though Poirot doesn't seem too convinced by the idea of psychics and ghosts.
That said, by the trailer's end, he seems about as freaked out as the rest of us. Convincing hoax or genuine otherworldly visitors? Looks like we'll have to watch it to find out.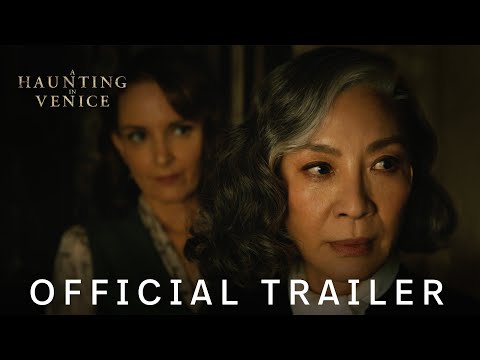 Where can I watch A Haunting In Venice?
A Haunting in Venice is a theatrical exclusive, so if you want to solve this murder, you're going to have to get your coat on and brave your local theater.
After that, we imagine it will head to Disney Plus, since this is the streaming service that both other movies from the franchise have ended up on.
That's everything we know about A Haunting in Venice so far, but we'll keep you posted on further details. In the meantime, we've got you covered on some of the biggest and best movies of 2023 with our Barbie review and Oppenheimer review. If you want to know what else is out there, take a look at all the new movies still set to come.
You can also take a gander at everything new on Disney Plus this month. And, if it's the horror element that has you excited for this new adaptation, get to know the Conjuring movies in order, and find out everything we know about The Exorcist: Believer release date.