No Disney movie has been simultaneously anticipated and dreaded more than The Little Mermaid.
The original animated movie is known as the one that kicked off the Disney Renaissance for a reason. Its vivid animation and sensational songs felt like an ode to every young dreamer out there. For every little girl who yearned for something more and felt like they never quite fit in, the '80s movie seemed to say, 'We see you.' So, needless to say, the sanctity of the OG Disney movie is something a lot of fans are protective over — and let's face it, live-action Disney remakes aren't exactly known for being good.
But when it comes to this 2023 movie, you can breathe a sigh of relief. Not only is The Little Mermaid actually watchable, but it may well be the best movie adaptation Disney has ever done. And yes — that even includes The Jungle Book.
First of all, let's address some elephants (well, fish) in the room. When I saw Jacob Tremblay's Flounder, I, too, went through the seven stages of grief, but the most important stage of all was acceptance. Conceptually, a photorealistic fish that sings and talks with the voice of a ten-year-old boy is never going to look normal.
Because it's such an inherently weird thing, it doesn't matter how the animation is actually executed (and it's executed well) — the end result is always going to be a bit odd.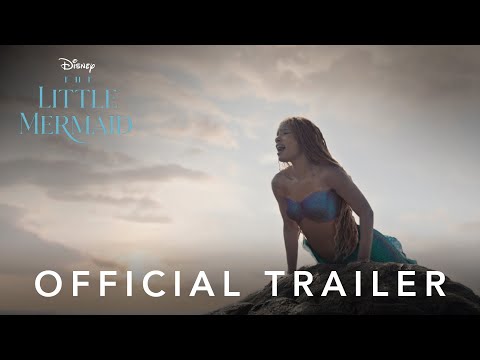 In comparison to Awkwafina's Scuttle (very expressive) and Daveed Diggs' Sebastian (a repeated scene-stealer), Flounder is definitely the weakest in the trio — but he's by no means as bad as social media will lead you to believe.
The same goes for the internet's obsession with how "poorly-lit" the new movie apparently is. Again, this is simply untrue. The underwater kingdom is visually stunning: overflowing with life, color, and character that crescendos in the visual masterpiece that is 'Under the Sea.'
'Part of Your World' will be the song everyone talks about — and for good reason, because in watching Bailey perform it, it becomes clear you're also witnessing the birth of a star — but 'Under the Sea' should also be celebrated for being not just a technical marvel, but a deeply fun and enjoyable number.
As I said Sebastian steals every single scene he's in, and this is no different in his various musical numbers. 'Under the Sea' is the best, but 'Kiss the Girl,' is also a marvelous visual delight. Yes, 'Kiss the Girl' is in the dark, but something Twitter critics failed to consider was that the scene takes place at, well, nighttime. Moral of the story — go into this romance movie with an open mind and leave social media criticism at the door.
But back to the point — these three aforementioned musical numbers along with 'Poor Unfortunate Souls' are in The Little Mermaid's DNA, and getting them right was crucial to this adaptation's success. So, did they do it? The answer is yes, because 'Poor Unfortunate Souls' also slaps, and it's safe to say director Rob Marshall and composer Alan Menken pulled it off.
The film's new musical additions, like the 'Part of Your World' reprises, also helped in adding more depth to Ariel's story while maintaining the spirit of the original songs.
In essence, The Little Mermaid's music, both new and old, succeeds because it is given room to breathe in its live-action setting. By this, I mean that these songs pay homage to their predecessors instead of aiming to be a shot-for-shot remake.
In fact, this approach also applies to the movie as a whole and is probably what makes this version of The Little Mermaid work so well. While it's undoubtedly a love letter to the animation, it doesn't try to replace it.
From the very beginning, as it sets the scene with a Hans Christian Andersen quote, it's made clear that this film doesn't set out to recreate the magic of the Disney original. Instead, the movie aims (and succeeds) to generate its own magic and stand on its own two feet (or fins) in terms of storytelling, style, and character development.
Naturally, the glue that holds this bountiful movie together is The Little Mermaid live-action cast. Melissa McCarthy is both hilarious and terrifying as Disney villain Ursula, while Javier Bardem brings an elevated humanity, complexity, and depth to King Triton. It's a shame that his character and Ursula weren't given more time to develop on-screen, but the good news is that Eric was.
We talk a lot about Disney princesses being one-dimensional and plot devices, but this is also true tenfold in Disney princes, who are often reduced to swashbuckling jawlines on legs. Both the writers and cast member Jonah Hauer-King do a brilliant job of breaking that mold with Eric, with his spirited restlessness and yearning for adventure adding further depth to his relationship with Ariel.
As for Hauer-King's chemistry with his Ariel, you'd think it would be difficult to sell it when one of the romantic leads is literally unable to talk, but the pair's bond and shared passions are truly believable, and really help the relationship feel less superficial than it might have been with other actors (thank God they didn't cast Harry Styles in the end).
And then there's Halle Bailey. She truly is the embodiment of Ariel. The perfection of her casting is apparent from her very first scene, with her hypnotic, sensational voice only amplifying the determination, rebelliousness, intelligence, and fearlessness which made us all fall in love with Ariel in the first place all those years ago.
She epitomizes everything that Ariel means to us and more, and it's her consistently flawless performance that helps nail this movie as a modern classic for people to enjoy for generations to come.
If you're wondering how to watch The Little Mermaid, you can do so in theatres from May 26. While you wait for the film, here's everything we learned from The Little Mermaid press conference.
Or, for more modern classics, check out our articles detailing the best Pixar movies, best family movies, and best feel-good movies.
The Little Mermaid review
I laughed, I cried, and I couldn't stop smiling — there's unbridled joy and adventure in every last drop.