Everyone has their own list of the scariest noises on Earth. There's the creak of a door nobody has touched, the theme from a horror movie like Jaws, James Corden's singing voice, James Corden's speaking voice, and other chilling sounds. But, for me, few things inspire the same level of dread as the siren that signals the imminent arrival of a blue shell on Mario Kart. That is true, white-hot fear.
There's nothing quite as horrifying as that in the Super Mario movie, which serves as the latest animated movie from Illumination – the studio built on the bananas-hued shoulder of the Minions.
It steps into the ignoble shadow of one of the worst movies of all time in the '90s movie take on Super Mario Bros, which everyone involved has spent the rest of their career trying to forget. Thankfully, the 2023 movie is much, much better.
Chris Pratt is the voice behind the famous plumber – his lack of an Italian accent is waved away in a fun early gag – with comedy series veteran Charlie Day as his near-identical brother. We're very much playing into both of their wheelhouses here, with Pratt playing Mario as a fairly generic everyman hero, while Day's Luigi is jittery and absolutely terrified of everything.
While attempting to fix a sewage disaster in Brooklyn, they find a mysterious green pipe and soon end up in the Mushroom Kingdom at the outset of a conflict between tyrannical conqueror Bowser (Jack Black) and benevolent ruler Princess Peach (Anya Taylor-Joy).
It's all pretty standard stuff, with writer Matthew Fogel not stretching many sinews on the emotional side of things. There's some half-hearted context about Mario not wanting to drag his brother into his failures, but it's so underwritten as to be entirely pointless.
Far more effort has been put into the comedy, which mostly lands well thanks to a rapid-fire onslaught of wordplay, meta nods and slapstick. The rest of the time is spent stuffing the adventure movie with as many easter eggs for fans of the Mario games as humanly possible.
This devotion to and affection for the world of the games is often refreshing and certainly served the recent Sonic the Hedgehog movies and Detective Pikachu well in putting them among the best video game movies ever made.
However, occasionally, it feels as if the Super Mario movie is more interested in winking at the fans than it is in crafting a coherent story. If you enjoy recognising musical cues, this is the movie for you. Woe betide anyone who has never played Mario Kart because there are moments that simply won't make sense.
Thankfully, the movie has a not-so-secret weapon in the shape of Jack Black, whose vocal performance transforms Bowser into one of the best movie villains of recent years. He plays the terrifying turtle with a ludicrously deep timbre and a surprising emotional fragility while also relishing the chance to get his talented vocal cords around a rock-inspired piano ballad so good that it makes November Rain feel like a light drizzle. He's worth the price of admission on his own.
The Super Mario movie is a breezy, fast-moving watch at just 90 minutes, and it often feels like it could've benefited from spending a bit longer with certain characters and locations. For example, Seth Rogen's petulant beefcake Donkey Kong is desperate to impress his father, and this could have been fun if explored a little further. However, they mostly just enjoy making an animated gorilla laugh like a Noughties stoner.
Ultimately, though, it seems churlish to complain too much about a completely satisfying kids movie with a thoroughly nostalgic core that will delight those who have spent many happy hours in the company of this particular Italian plumber.
It provides more than its fair share of laughs, and Teen Titans Go! creators Aaron Horvath and Michael Jelenic – on directing duties here – certainly know their way around a kinetic animated set piece.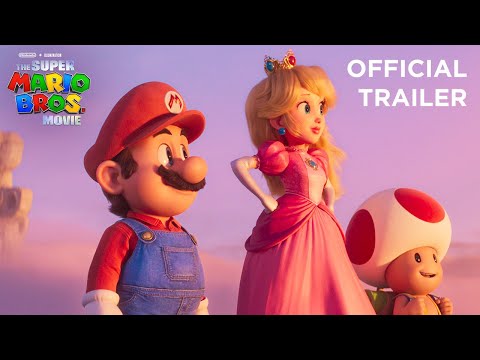 Given the low bar provided for this Super Mario movie by its widely despised predecessor, it was always likely that this slick animation would emerge as a better movie. But all involved deserve credit for transposing a video game phenomenon into something that does exactly what it sets out to do and leaves its audiences plenty of time to head home for a few rounds of Mario Kart before bed.
Just watch out for that blue shell siren. It still sends a chill down my spine.
For more from the best movies in the video game world, find out about the Sonic the Hedgehog 3 release date. Or, for more of the best blockbusters still to come this year, check out our guides to the Barbie movie release date, the Guardians of the Galaxy Vol 3 release date, and the Fast and Furious 10 release date.
Super Mario movie review
It's more like a 'meh' than a 'wahoo!', but the new Super Mario movie washes away the stink of the '90s version and provides a colourful, breezy diversion for families. Okey-dokey!