When is the Super Mario movie release date? Nintendo is bringing Mario back to the big screen, and many of his pals, including Luigi, Princess Peach, and Donkey Kong, are along for the ride.
This time, it'll be an animated movie, significantly reducing the risk of another well-meaning mess like the 1993 family movie. Illumination, the studio behind the likes of Despicable Me, The Secret Life of Pets, and Sing, is handling the production. As you'd expect from the company's previous work, this looks bright, fun, round, joyful, and every other thing you'd expect from the Mushroom Kingdom.
We know who's playing the plumber himself, and the rest of the main cast, for that matter. Since this collaboration was announced, various bits and pieces have filtered out from co-producer Shigeru Miyamoto and Illumination founder Chris Meledandri. Most exciting of all, we know the Super Mario movie release date. So, without further ado, let's-a go!
Super Mario movie cast
The Super Mario movie cast was led by Chris Pratt, who played the titular hero.
Save the princess! The best adventure movies
Rounding out the Super Mario cast, were Anya-Taylor Johnson as Peach, Jack Black as Bowser, and none other than Charlie Day as Mario's spirited brother Luigi. Seth Rogen featured as Donkey Kong, suggesting we're getting a whole range of Mario-related characters in the future.
The confirmed Super Mario movie cast list is as follows:
Chris Pratt as Mario
Anya Taylor-Joy as Peach
Charlie Day as Luigi
Jack Black as Bowser
Seth Rogen as Donkey Kong
Keegan-Michael Key as Toad
Fred Armisen as Cranky Kong
Kevin Michael Richardson as Kamek
Sebastian Maniscalco as Foreman Spike
Mario's long-tenured voice in the platform games, Charles Martinet, will pop up for "surprise cameos". Wahoo!
With the cast including so many characters from the series, it'll be a video game movie that concerns the entire Mushroom Kingdom. What's more, from the inclusion of Donkey Kong and Cranky Kong, it sounds like seeds are being planted for possible franchising in the future too.
Super Mario movie trailer
The full-length trailer for Super Mario was released in November 2022. And the good news is that the kids movie looks great! The teaser clip showcases Super Smash fights, Rainbow Road, and plenty of action and fun.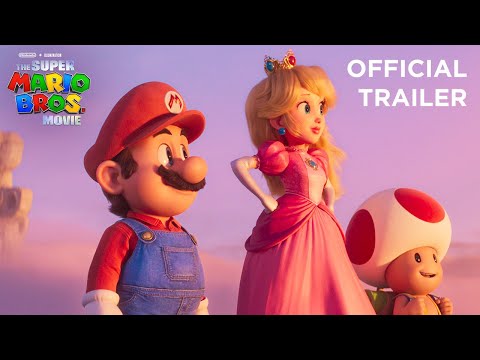 The final Super Mario Bros movie trailer dropped in March 2023.
Super Mario movie reviews and release date
The Super Mario movie was released on April 5 2023. Our own Tom Beasley didn't exactly love the film, but he had a good enough time with it calling it "a colourful, breezy diversion for families." You can read Tom's full Super Mario movie review here.
Unfortunately, the bulk of critics weren't as kind. The Super Mario Bros movie has a rather disappointing 53% critic score and is rated rotten. Still, audiences seem to like it more than the professionals, as it's got a 96% audience score.
Super Mario movie plot
The Super Mario movie saw Mario and Luigi travel to the Mushroom Kingdom for the first time and battle the evil Bowser. Along the way, they made new friends — including Princess Peach, Donkey Kong, and Cranky Kong — and learned that they could overcome anything as long as they're together. Read more about the Super Mario movie ending here.
If you'd like to play more Mario, you can check out the best Mario games on Switch via our sibling site, Pocket Tactics. If you're trying to work out what you want to watch this year, we've also got a guide on all the new movies coming in 2023, or you can broaden your horizons to the best movies of all time.