What is the Succession season 5 release date? Well, Succession season 4 is finally over, folks, and the hierarchy of Waystar has changed for good. But, with a relatively open ending and the Roy family still in turmoil, many fans of the hit show are wondering about a potential new season.
That is right, never say never when it comes to Succession because there is still hope that one of the best TV series of all time will return to our small screens for a new outing. All but one of the Succession characters left the last episode feeling satisfied – meaning there is still plenty of space for more schemes, power plays, and betrayal.
So with that in mind, The Digital Fix are here to break down all the information that you need to know about the potential Succession comeback. From the Succession season 5 release date, cast, and more, here is everything we've gathered on Waystar's future.
Succession season 5 release date speculation
Currently, there is no release date for Succession season 5; however, we expect that if the series is renewed, it will hit screens sometime in 2025.
Succession season 4 is meant to be the ending of the series; however, stranger things have happened when it comes to successful shows, and with the relatively open ending of the Succession season 4 ending, it seems silly not to prepare for a possible season 5.
Jesse Armstrong himself has also left the door open for more on Succession, confirming in a past interview with The New Yorker that there is more to come back to if there's an appetite for it.
"I have caveated the end of the show, when I've talked to some of my collaborators, like Maybe there's another part of this world we could come back to, if there was an appetite?" He said. "Maybe there's something else that could be done that harnessed what's been good about the way we've worked on this. So that is another true feeling."
Keep your eyes on this page as we keep you updated on any details.
Succession season 5 cast speculation
If Succession season 5 does get the green light then we expect to see all the main players back in action. That means Jeremy Strong as Kendall Roy, Kieran Culkin as Roman, and Sarah Snook as Shiv.
Along with the main siblings, major returning cast members Nicholas Braun as Greg Hirsch, Matthew Macfadyen as Tom Wambsgans, and Alexander Skarsgård as the GoJo CEO Lukas Matsson.
Here is the expected Succession season 5 cast list:
Jeremy Strong as Kendall Roy
Sarah Snook as Siobhan "Shiv" Roy
Kieran Culkin as Roman Roy
Nicholas Braun as Greg Hirsch
Matthew Macfadyen as Tom Wambsgans
Alan Ruck as Connor Roy
Alexander Skarsgård as Lukas Matsson
Despite the fact Logan Roy passed away in Succession season 4 episode 3, we are also willing to bet that Brian Cox would return in some aspect. Whether it is through flashbacks, or if Succession season 5 will actually be a prequel – we are willing to bet Logan makes some kind of comeback.
Stay tuned as we keep you posted.
What will Succession season 5 be about?
We don't know what Succession season 5 will be about, but if we were to guess the plot it would follow Kendall's new business venture or be a prequel.
Succession season 4 episode 10 ended with Waystar being bought out by Lukas Matsson as the GoJo deal was successful, with Tom installed as the new CEO of Waystar. So, with Kendall now out in the cold, he will need a new business to focus on.
For Kendall, Waystar was his whole world, so to have it taken away, we imagine he will be adamant on getting enough power to potentially buy it back, or destroy it in an act of cathartic revenge. Either way, it definitely feels like Kendall's story isn't over despite the credits rolling on Succession season 4.
The other possibility for Succession season 5 is that it takes the spin-off route, as we've seen with the other wildly popular Max series House of the Dragon. Just as House of the Dragon showed us the world before Game of Thrones, Succession season 5 could take us on the journey of Logan Roy's media empire – telling the story of his rise to power and how he founded Waystar.
There are multiple avenues Succession season 5's plot can take, and honestly, we'd be keen to watch any of them. Fingers crossed that a new season is confirmed soon!
Is there a Succession season 5 trailer?
Sorry, Con- heads, there is no trailer for Succession season 5, and we probably will be waiting until late 2025 for one (if the show gets renewed at all). Teasers typically release a couple of months before shows hit the small screen, so really a time period for a Succession season 5 teaser depends on an upcoming production schedule.
While we wait for the TV gods to bless us with some good news on a Waystar renewal, here is the trailer for Succession season 4, to recap fans on the latest outing of the Roy family.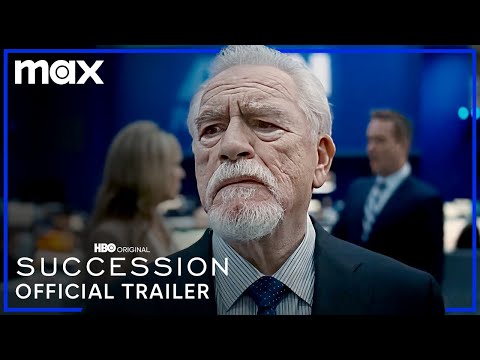 Where can I watch Succession season 5?
Fans will be able to watch Succession season 5 on the streaming service Max in the US and on Now TV in the UK.
Obviously, we have to wait for the firm confirmation that the show is happening first to be sure that we can watch it anywhere – but if it does get renewed, we are willing to bet that it will be available on these aforementioned platforms like past series.
Max costs $9.99/per month, and for our UK readers, a NOW TV Entertainment membership costs £9.99/per month.
How many episodes are in Succession season 5?
While we don't know how many episodes will be in Succession season 5, we expect that the potential outing will have ten, just like its predecessor. Succession season 4 was the perfect length, and we can't imagine that Armstrong will stray from his typical formula, which just works in terms of storytelling.
However, this is just our own speculation right now, and we will keep you updated as soon as any news heads our way.
For more on Waystar, here are our guides to the Succession season 4 ending explained, all of the Succession episodes ranked. We also have a guide on who is who in the Succession cast.
Or, if you need a Roy family vacation, here are our guides to the best movies of all time and all the new movies coming out in 2023.