It's hard to imagine Darth Vader without the dulcet tones of James Earl Jones behind the iconic mask, but George Lucas initially had a very different idea for his Star Wars villain.
Star Wars is full of instantly recognizable images, motifs, and sounds. When you watch the Star Wars movies in order, each film (yes, even the bad ones) delivers incredibly memorable moments involving all our favorite Star Wars characters, but few are as iconic as Darth Vader.
In fact, Vader is so important that he has two actors playing him in the – David Prowse is the actual man underneath that legendary black suit, while James Earl Jones is the voice of the husky Star Wars villain. But, it was very nearly none other than Orson Welles providing the vocals for Vader.
While George Lucas wanted the commanding frame of Prowse to be the one to carry the physical presence of Vader, he didn't really envisage the Sith lord having a Bristolian accent and naturally wanted something more deep and foreboding.
That's where Jones comes in, but Lucas had originally eyed Orson Welles for the voice role. "I created a villain… I knew the voice had to be very, very special," Lucas said at the American Theatre Wing Gala, at an event honoring Jones. "And I had to make a choice — a choice that was a tough choice, but an easy choice, really — between Orson Welles and James Earl Jones… [Jones] won hands down."
Jones himself has even admitted he was aware of that particular duel for the role, and in the book The Making of Star Wars, he said: "I understand that George did contact Orson Welles to read for the voice of Darth Vader before he contacted me. I was out of work, and he said, 'Do you want a day's work?'"
Rather modestly, Jones is adamant that Prowse should get all the credit for the role of Vader. Jones even said in his autobiography how much fun he had in voicing the character and that it barely felt like work at all, while Prowse is the one who "worked very hard to create the character Darth Vader."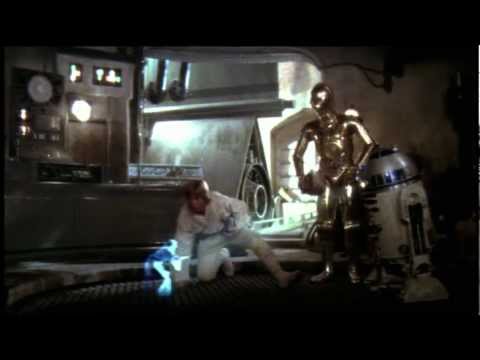 In truth, both Prowse and Jones are essential to the legacy of Darth Vader. The character would never have been such a formidable onscreen villain had it not been for the physical elements Prowse brought to the role, right down to little movements like his trademark point, which is imbued with so much aggression you fear that alone could strike you down. But then, the voice of Jones adds an immense gravitas to Vader that no one else could have matched, not even one of the best actors of all time, Orson Welles.
For more from the Star Wars series, check out our guides to The Acolyte release date, the Andor season 2 release date, and all the new Star Wars movies on the way. Or, step away from the galaxy and learn about new movies like Avatar 3, instead.