It's impossible to imagine anyone other than Jonathan Frakes as Star Trek's Commander William T. Riker. Frakes brought confidence and charisma to his role in the Star Trek The Next Generation cast starting with the very first season, imbuing Riker with a Kirk-ian willingness to gamble, and a bold style of leadership.
That's all part of what makes Riker one of the best Star Trek characters in the franchise's long history. As well as reprising his role in the four TNG movies (two of which he directed) Frakes did it all over again earlier in 2023 with Picard season 3 as the ex-captain of the USS Titan helped his own former captain Jean-Luc Picard to unravel a vast changeling/Borg conspiracy within Starfleet. All in a day's work.
But Frakes' Star Trek career was nearly over before it had even started because the actor wasn't the original choice for the role of Riker: Billy Campbell was. "For the role of Riker, we cast an actor named Billy Campbell, who later did a bunch of other good things," recalled producer Rick Berman in the book The Fifty-Year Mission, which provides an oral history of the franchise.
However, John Pike, who was at one point the president of Paramount Network Television and who had a degree of control over the TV side of the Star Trek franchise, just didn't buy the casting. Berman continued, "Pike didn't like him. He didn't feel he had a sense of command. He wouldn't follow this guy into battle. I think it was really more that he didn't audition that well for the part, and that's when we went to our second choice, who was Jonathan Frakes, who turned out to be a terrific choice."
Billy Campbell himself later commented on the situation, explaining to StarTrek.com that he got, "pretty close," to securing the role, but ultimately, "the best man got the job." A magnanimous man even in defeat, Campbell concluded, "It was actually very friendly in the run-up to auditioning for the part. I was as thrilled for him as I was disappointed for myself. There was never a moment of anything but goodwill."
While Campbell lost one of the best roles in television history, he did eventually join TNG – arguably the best TV series of all time – in a guest role in season 2. In the episode The Outrageous Okona he joined the adventure as the memorable Captain Thadiun Okona, putting in a great performance. Campbell's Okona is one of the most famous one-off characters in TNG history, with his suave charm, instant magnetism, and penchant for seducing anyone he came across.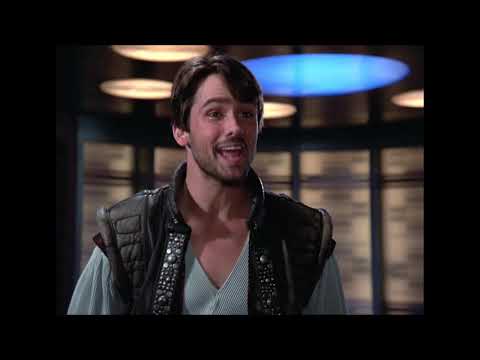 Remind you of anyone? The similarity between Riker and Okona is immediately striking, and Campbell took the chance to prove that he probably would have done a pretty good job as Riker. Pretty good, that is; though not as great as Frakes. After losing the role of Riker, Campbell starred in movies such as The Rocketeer and Bram Stoker's Dracula and recently returned to give his voice as Okona on the animated series Star Trek Prodigy.
Star Trek TNG is now streaming on Paramount Plus. For more on Frakes, check out why he thinks one TNG episode ought to be banned, and how he was Captain America long before Chris Evans. Or, see our guide to the best way to watch the Star Trek movies in order, and check out our complete breakdown of the Star Trek timeline.
If that's not enough, see what's going on with the status of the Strange New Worlds season 3 release date, and a potential Star Trek Legacy release date. Or, keep up to date with what's new on Paramount Plus.