Will there be a Star Trek Strange New Worlds season 3, and what will the release date be? This article contains spoilers for the recent Strange New Worlds season 2 finale.
The final episode of Star Trek Strange New Worlds season 2 is up there with some of the very best season finales of a Star Trek series. While it might not quite have matched the heights of, say, The Best of Both Worlds, Strange New Worlds is now two-for-two when it comes to finishing off a season on a high.
With a few ups and downs (though, mostly ups) Strange New Worlds season 2 has been one of the best TV series of the year as it continues to add backstory to Star Trek characters we already know and love during the Kirk and Spock-era of the Star Trek timeline. So, when will it be back? Now that season 2 has flown by and come to an end, we've put together all our thoughts on the Star Trek Strange New Worlds season 3 release date, with further speculation about who we might see in the cast, and what we might expect from the plot.
Star Trek Strange New Worlds season 3 release date speculation
Summer 2025 is when we're currently expecting Star Trek Strange New Worlds season 3 to release, and the good news is that another season is definitely coming as season 3 was confirmed in March 2023. Filming on season 3 was due to begin earlier this year however, due to the 2023 Writers Strike, the start of production has been delayed.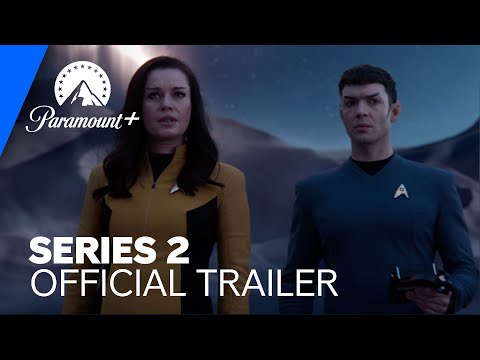 Now, production on season 3 won't start until both Hollywood strikes are resolved and fair agreements for those on strike are reached. This doesn't look like it's coming any time soon, which means that we wouldn't expect filming on Strange New Worlds season 3 to commence until 2024. With Strange New Worlds being an effects-heavy show, time will then need to be made for a long post-production period.
This means that we certainly wouldn't expect Strange New Worlds season 3 to arrive any sooner than mid-2025, though in a worst-case scenario it could even be delayed to 2026.
Star Trek Strange New Worlds season 3 cast speculation
The cast for Strange New Worlds season 3 will largely remain the same as season 2 and 1, with Anson Mount and Rebecca Romijn back as Captain Pike and Number One. Alongside them, Ethan Peck, Celia Rose Gooding, Babs Olusanmokun, Melissa Navia, Carol Kane, Jess Bush, Christina Chong, and Dan Jeannotte will be back in the main cast as Spock, Uhura, M'Benga, Ortegas, Pelia, Chapel, La'an, and Sam Kirk respectively.
Martin Quinn will also return as Scotty, at least for the first episode of the new season unless he stays onboard the Enterprise, and we'd be expecting to see the return of Paul Wesley as James T. Kirk after his recurring guest role in season 2.
Equally, Melanie Scrofano will be around at the start of season 3 as Captain Batel, though things aren't looking too bright for her after she was attacked by the Gorn and the death of her character could be on the cards. Meanwhile, Jess Bush looks set to depart the Enterprise in order to take up her fellowship position with Dr Roger Korby.
The main complete absence from the Strange New Worlds season 3 cast will likely be Gia Sandhu as Spock's fiancé T'Pring. Their tumultuous relationship essentially came to an end in the episode Charades, which sets the stage for their next deadly meeting in the TOS episode Amok Time.
On the other hand, when it comes to additions, we're expecting the return of Captain Angel from season 1, alongside Spock's half-brother Sybok, in some capacity. A future role for them was teased in the season 1 episode The Serene Squall. Of course, there will also be entirely new faces as the crew of the Enterprise continue to travel across the galaxy, and especially with the introduction of Scotty we're now waiting for some sign of Bones or Sulu.
Star Trek Strange New Worlds season 3 cast list
Anson Mount as Captain Pike
Rebecca Romijn as Number One
Ethan Peck as Spock
Christina Chong as La'an Noonien-Singh
Celia Rose Gooding as Nyota Uhura
Babs Olusanmokun as Dr. M'Benga
Melissa Navia as Erica Ortegas
Carol Kane as Commander Pelia
Jess Bush as Nurse Chapel
Dan Jeannotte as Sam Kirk
Rong Fu as Lieutenant Mitchell
Paul Wesley as Jim Kirk
Martin Quinn as Scotty
Melanie Scrofano as Captain Batel
What will Star Trek Strange New Worlds season 3 be about?
As Strange New Worlds season 2 ended on a cliffhanger, season 3 will pick up directly from where the plot was left off as Captain Pike is forced to choose between abandoning La'an and M'Benga to the Gorn, or disobeying orders to save them while putting the crew of the Enterprise at risk. It's a big moment for the character, and reminiscent of the end of The Best of Both Worlds in which Riker had just made the choice to destroy the Borg Cube with Captain Picard on board.
However, if we know Captain Pike (and we're pretty much the experts on Star Trek captains, you can trust us) we think he'll go with the bold, heroic risk. He won't be able to abandon his crew, no matter what the consequences of that might be. Leading on from this, season 3 could focus on a broader border conflict between the Federation and the Gorn, which leads to the events seen in the famous TOS episode Arena.
Away from this, we'd expect to see the relationship between Kirk and Spock develop as Kirk finds more excuses to come aboard the Enterprise. And, sticking with Spock, the half-Vulcan will have to adjust to the loss of Nurse Chapel as their causal relationship comes to a close and she departs to join Korby's research. Of course, there'll also be plenty of episodic adventures too as Strange New Worlds continues on in that format.
Is there a Star Trek Strange New Worlds season 3 trailer?
There is no trailer for Strange New Worlds season 3 yet, as the new season is yet to start filming. A trailer will likely drop in the months before season 3's release. Until then, there's no shame in simply re-watching that glorious first teaser for season 2 on repeat.
Where can I watch Star Trek Strange New Worlds season 3?
Strange New Worlds season 3 will release exclusively on Paramount Plus. The streaming service is the home to most other Star Trek content, including the TOS and TNG-era Star Trek movies.
How many episodes will be in Star Trek Strange New Worlds season 3?
Like season 1 and 2, Strange New Worlds season 3 will almost certainly consist of 10 episodes. That's over two months of Star Trek, which is an absolute treat.
That's absolutely everything we know about Strange New Worlds season 3 so far. For more on Trek, you can check out some of our other Star Trek articles, including our interview with Anson Mount and Rebecca Romijn about Strange New Worlds, and our full Strange New Worlds season 2 review as well as our guides to the Star Trek Discovery season 5 release date, Lower Decks season 4 release date and a potential Star Trek Legacy release date.
You can also see our picks for the best Star Trek starships, as well as our recommendation on how to watch the Star Trek movies in order. Or, see our thoughts on which Star Trek captain would win in a zombie apocalypse. You can also check out what's new on Paramount Plus this month.