Star Trek legend Colm Meaney, who starred as Miles O'Brien in Star Trek The Next Generation and Deep Space Nine, explained that he required some firm "persuading" to join his second Star Trek series following on from his time on TNG.
Colm Meaney is, undeniably, a Star Trek icon. Behind only Michael Dorn, the actor has the second most appearances in the vast franchise thanks to his long service as the relatable Chief O'Brien, one of the best Star Trek characters of all time. Meaney starred as O'Brien in the very first TNG episode (the iffy two-parter Encounter at Farpoint) where his character was positioned at the helm of the Enterprise-D.
Over time, as the character was included in more stories, O'Brien eventually cemented himself as the transporter chief aboard the Star Trek starship, and was given an increasingly important role in the crew as the seasons went by. He has some real stand-out episodes (taking the spotlight in The Wounded, and having supporting roles in the likes of Data's Day and Disaster) and would quickly become a fan-favorite within the Star Trek The Next Generation cast with his humble nature and no-nonsense attitude.
The weight of the affection towards Miles Edward O'Brien would lead to Meaney jumping ship – literally – off the Enterprise-D and onto Deep Space Nine, where he took on a leading role in the cast. However, Meaney had a degree of uncertainty about the transition, and in 2014 he recalled to StarTrek.com how he required serious persuasion that it wouldn't negatively impact his career.
"My concern was that I wouldn't be able to do the movies I wanted to do," said Meany, who starred in Die Hard 2 and Con Air in the '90s. "I took a bit of persuading, but [producer] Rick Berman is very persuasive. He said to me, 'If there's something you really want to do, bring me the script.'"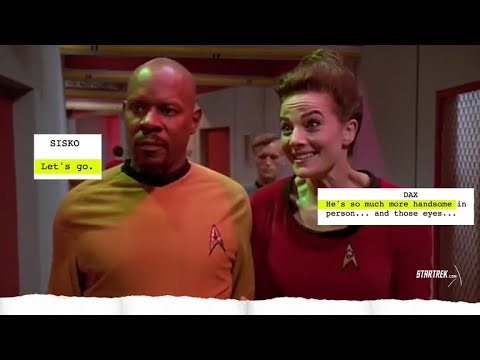 Meaney continued: "Rick basically said, 'If it's a script you really want to do, I'll find a way to make it work for you.' And he was as good as his word."
In the same interview, the actor also reflected on how he found himself becoming more and more involved in Star Trek, following on from his role in Encounter at Farpoint. "Initially it was just that, the pilot, and then there'd be some episodes I was in and some that I wasn't. They just kept calling me back. I can't even remember, honestly, if it was supposed to be a one-off or recurring.
"I was just happy for the work. The character got a name, eventually, and then we saw a little more of him, and then they asked me to do Deep Space Nine." Meaney's O'Brien did, actually, only get his full name during the fourth season of TNG, in the episode family, highlighting that the writing team behind TNG were still figuring out O'Brien's place in the show as they went along.
Unfortunately, there was no place for Meaney's O'Brien in the recent Star Trek Picard season 3, which reunited the the primary TNG cast of characters, including those in supporting roles like Ro Laren and Q. Still, there is some hope for his return, as Meaney has stated that he'd be eager to join a series focussed on Worf, if such a thing were ever to exist. Or, perhaps we might see him in some capacity on Star Trek Legacy.
For more on that, check out our guide to the Star Trek Legacy release date. You can also keep up to date with the rest of Star Trek by reading our Strange New Worlds season 2 review, and our interview with Anson Mount and Rebecca Romijn.
Or, see what's going on with the Star Trek 4 release date, and the Star Trek Lower Decks season 4 release date. You can also check out our explainer on the Star Trek timeline, and our picks for the best Star Trek captains, and see what's new on Paramount Plus.