Evangeline Lilly might have fought alongside the Avengers and solidified herself amongst the ranks of some of the best superhero movies of all time, but it turns out that the Ant-Man cast member might have wound up fighting alongside a very different group of heroes in the Marvel Cinematic Universe.
Alongside her Quantum Realm-jumping adventures and working on becoming one of the major MCU characters, Evangeline Lilly has also stepped into some other pretty significant pop culture contributions. Starring in Lost, and later in The Hobbit movies, she's become a familiar face over the years.
But before taking on the Wasp moniker, she was actually offered another role in another Marvel collective that could have taken her down a very different path. (One that doesn't involve any Paul Rudd movies, so, you know, it all worked out in her favour.)
In an interview on the Happy Sad Confused podcast, Lilly talked about some of her previous near-misses when it comes to the superhero genre, and revealed that she had been approached to potentially join The X-Men.
And not just by anyone, for that matter. In fact, it was only the top dog himself that tried to get her the gig: Wolverine.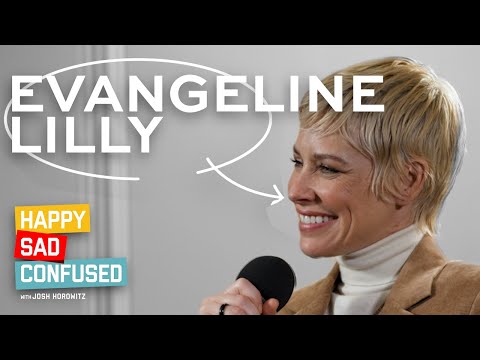 Of course, Evangeline Lilly and Hugh Jackman worked together on the 2011 science fiction movie Real Steel. Whilst taking a break from teaching robots how to box, it seems like Jackman was tasked with putting on a sales pitch to get Lilly into Xavier's School for Gifted Youngsters.
"Hugh Jackman was like, 'Hey, so, the X-Men guys are asking me if I would approach you, because they know that you won't talk to anybody and won't do anything. And you're not reading scripts, and no-one can reach you, so they knew I was working with you and were interested to know if it would ever interest you to maybe do an X-men thing.' And I was like, 'No, that doesn't interest me. I'm not interested!'"
We'd probably have a harder time saying no to the adamantium-clawed antihero, but that's just us.
"Well then I felt like, I was like…I feel like such a dick!" she continued. "Because I'm talking to an X-Men. The X-Men! And I'm telling him, 'No, that doesn't appeal.' Like, what?! I felt so rude."
Perhaps the idea of stepping into the shoes of one of the iconic X-Men characters wasn't tempting enough for Lilly to make the superhero leap at the time.
But it all seemed to fall into place, as she would go on to become a superhero a couple of years later in the form of the Ant-Man character Hope Van Dyne in 2015's Ant-Man debut, eventually becoming The Wasp and battling villains by Scott Lang's side.
Can't get enough of Ant-Man? Why not check out our thoughts on why Ant-Man still has one of the best Marvel movie endings, or discover all the Ant-Man and the Wasp Quantumania Easter eggs you probably missed!
And while you're at it, be sure and check out all the new movies in 2023, like Guardians of the Galaxy Vol. 3, or Spider-Man: Into the Spider-Verse 2!